Tim Dickson and Geoff Helt share how they created a digital operating model and an 'owner mindset' as they successfully built a new revenue-generating digital business at a $4.3 billion global education company.
When you write a white paper or give a Ted Talk, the first thing the experts tell you is to limit yourself to five main points or less. Well, let's start by throwing that rule of thumb out the window. Being a digital CIO is mind-numbingly complex, and requires a little more real estate to explain.

Here's the scenario: Suppose for a moment that you are an IT executive suddenly thrust into the spotlight and given the challenge of building a revenue-producing digital business from scratch. Where do you start? From our experience doing this at Laureate Education, there are 7 shifts that digital CIOs must drive to win big in our disruptive age:

1. MINDSET – Live in the possibility space where anything can happen.


Start with the belief that, given the right access to information, relationships, and trust, business partners and customers will share their challenges with you. If you are willing to listen and empathize with them, you can make wonderful things happen with this information.

Given these new responsibilities, it's up to you to bring a "customer mindset" to solving these problems with both an internal and external technology enablement model. The keys to our early success were:
curiosity and passion for solving the problem,
innovative nature to incubate an early concept of a solution,
the drive to push past the doubters and persuade customers to use an early prototype,
courage to fail fast, gather feedback, and build a product featuring AI.
This mindset has transformed our internal IT team into a fully functioning commercial organization.

2. PERSPECTIVE – Think from the outside-in, instead of the inside-out.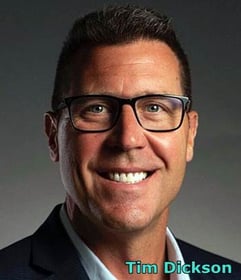 Seek to create innovation in a space where there is a huge opening and no incumbents. Go where there aren't any current dominant players, precedents, or standards and build something special that captures an entire market. "Swim in the seams" was the analogy that a mentor and coach of mine used to communicate this concept.

We followed this advice explicitly to set up a new digital operating model, go-to-market strategy, and P&L for a digital product in the higher education market, all from the friendly confines of an IT organization. It was certainly challenging, but we have been able to turn an internal IT organization into a customer-facing, hyper-focused, product development and marketing machine with real customers and revenue, and a healthy pipeline.

3. VELOCITY – Favor speed over perfection. Take action and make decisions before you have all the answers. Force yourself (and the team) to operate at a higher cadence.

We adopted a DevOps culture and made organizational changes to allow small teams to focus on solving business problems and move with the speed required. Removing inefficiencies and delivering immediate value with small batches of frequent releases was a game changer. We demonstrated to the organization that this new model was real and that we expected to become a best-in-class product development organization. End-to-end testing and release management is what pulled it all together, but without the restructuring and realignment of the organization around "squads", and the culture that ensued, we would not have gotten to market fast enough.

4. EMBRACE INTEGRATION – Accept the associated risks.
"The future of innovation is integration" is something that Geoff said early on. The commercialization and product development strategy that we emphasized to the team was integrating digital components already available in the marketplace. This was clearly new thinking, but since we had limited resources available, the integration approach made sense. And it worked.

Early on, the team was able to stitch together a few AI-based microservices from cloud vendors to build our first use case and version 1 of the product. This demonstrated the true potential and allowed us to deploy to our first internal customer. This approach, which we call "integration anywhere", has become a cornerstone of our digital architecture and is now our product development model moving forward.

5. POTENTIAL – Be fanatical about seizing opportunities in the marketplace.

When we realized what the team had accomplished from a product perspective, the two of us started to form a new digital business model and agenda to turn it into a new revenue stream for the company. Tim would act as the "owner" of this new digital business venture and lead the team getting it off the ground, including contracts, strategic partnerships, pipeline and forecasting, operations and support, and most importantly, a marketing and branding initiative to give us credibility and visibility in a global market.

6. QUIET THE NOISE – What you are building and where you are taking the business requires moxie and some serious chops. Many of your peers do not believe you can pull this off. It is imperative that you tap your own voice and trust it.


Change management was definitely needed, and we began to see leadership transformation taking place both individually and as a team. We were not marketers, nor did we have a big budget, but we needed to become "digital marketing savvy" in order to get the word out to a global audience. We really needed to put ourselves out there from a brand perspective.

We setup a website, a LinkedIn page, and Facebook and Instagram pages, and allocated a full-time social media resource to manage all of this. We began speaking to industry analysts, presenting at conferences, and visiting customers. As a result, we generated a healthy customer pipeline and an initial set of customer pilots at some very recognizable global university brands. Managing the P&L component became very real, and for the first time in company history, an IT executive was able to include a revenue figure in the annual IT budget and be accountable for generating sales through a digital operating model. Tim was now "carrying a bag" and he was really excited about it.

7. EASE OF EXPERIENCE – Thanks to Amazon and other digital pioneers, customer expectations have gone through the roof and continue to escalate. It pays to "design the heck out of the experience" and solve customers' problems completely.

Applying the latest digital technologies to create the best user experience in the higher education sector was a top priority for our digital agenda. The focus on a positive student and faculty experience was a must for us in the market, especially with our AI-powered solution approach. Using AI to shape the learning paths for students that allow for rapid skills development is the next wave of learning. When you are dealing with capabilities like facial and voice recognition, the complex combination and online interaction of video content and data, along with AI notifications, could create severe human factors implications if not designed with the right user in mind. Through multiple iterations with customers, the team managed to land on a user experience that has become the envy of the higher education industry.

These are still early days, but the possibilities are endless for this product and this team. Expectations, aspirations, and morale have reached levels we've never seen before. None of this could have been possible without the hard work by an inspired product team changing the game in the higher education space, and the assistance that Tim received from Geoff to help him transform from an IT executive to the owner of a true digital business.

We feel that this is where the rubber hits the road. You can make this happen as well. To do so, you must go deeper, unlock your courage, imagination, and resilience like never before.