How I Landed My CIO Job: Kristin Darby, CIO of Envision Healthcare, is the latest subject of our series that features senior IT leaders reflecting on their recent job transitions.
Heller Search: Where were you employed prior to your CIO position at Envision Healthcare?
Kristin Darby: Prior to this position, I was CIO at Cancer Treatment Centers of America, a specialty oncology hospital and ambulatory care system, where I led efforts to transform traditional healthcare information technology (IT) delivery within a clinical environment. We focused on merging medical record data with advancements in genomic medicine, patient preferences and quality-of-life outcomes to deliver personalized treatment options for every patient.
Traditional electronic health records systems (EHR) cannot hold genomic information, and they don't have a consumer-based design that incorporates patient preferences into the record. Our platform was built to leverage a customer relationship management (CRM) system to enable the combination of these data elements.
How did you hear about the CIO opportunity at Envision Healthcare?
An executive search firm contacted me about the role. I wasn't actively looking, but we had accomplished a lot as a team, and it was the right time for me to transition – both professionally and personally. I also like challenging myself, embracing new opportunities and looking for ways to improve IT in the healthcare system.
What piqued your interest in this role and this organization?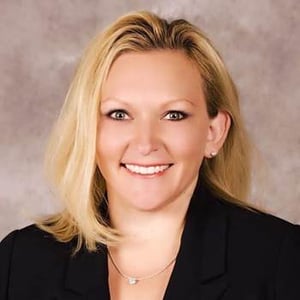 First, I love Nashville, so moving here would be a plus. In addition, Christopher Holden, Envision Healthcare's President and CEO, was well-revered, and people in my network said great things about him. When I met with him, I learned more about the company's mission and how we could work together to advance it.
Envision is one of the largest medical group practices in the country, and I was attracted to its diversified portfolio. The company delivers physician services in six primary specialties – anesthesia, emergency medicine, hospital medicine, radiology, surgery and women's and children's services – to healthcare facilities across the nation. It also provides outpatient care through its ambulatory surgery centers, and home health and hospice care.
The diversified portfolio along the care continuum aligned with my past experience at Vanguard Health System and Fresenius Medical Care, which provided dialysis services at 2,300 sites. The geographic spread and scale of operations at Envision felt familiar, but it also presented a new challenge because the business model was different.
Throughout the interview process, Envision leadership demonstrated a customer-driven operating style, which focuses on delivering value to the patients and healthcare partners we serve. This philosophy aligned with my passion for delivering transformative and valuable solutions to patients and those who contribute to the overall delivery of care.
What else was attractive about the opportunity?
The radiology service line has a proprietary product that is based on its distributed radiology service model and continues to have advanced and distinctive capabilities. That would provide me with the opportunity to leverage my skills in genomic medicine around machine learning and AI within the clinical care delivery solution for radiology. It was yet another parallel with my previous work experience.
About Envision Healthcare
Envision Healthcare is a physician-led organization and one of the nation's leading providers of healthcare services. The company went through a transformational merger in 2016, which combined Envision Healthcare, a then provider of hospital-based and post-acute care physician services and a now divested emergency medical services transportation unit, with AMSURG, an ambulatory surgery center operator and physician services company. Envision now provides multispecialty physician services at more than 1,800 clinical departments in healthcare facilities in 45 states and the District of Columbia and owns and operates more than 260 surgery centers in 35 states and DC.
What was Envision Healthcare looking for in their new CIO?
Given the organization's rapid growth, diverse product offerings and talent pool, the leadership team was looking for someone who could navigate complexity, who understood the delivery of technology at scale and could quickly develop a comprehensive strategy for transforming the IT function into a core strategic capability. They wanted a CIO who would be a strategic business partner for the other organizational functions with a focus on developing aligned solutions that drive competitive distinction and maximize customer value. Envision sought to focus on customer-centricity, and use technology to build better experiences and provide value to those we serve – whether through deeper insights based on data, operational efficiency or better outcomes for patients, providers, partners, hospitals and health systems.
How did you prepare for your job interviews?
It was a fairly rapid process. My interview preparation and strategy focused on understanding the organization and the capabilities of each of its business segments. When evaluating Envision's suite of services, I asked, "What is the product offering?," "What does the overall ecosystem look like?," and "What assets would I have to work with to grow and transform the organization?" In addition, it was critical that the executive leadership team viewed technology as a powerful strategic lever that could deliver transformational enterprise capabilities.
I also had to consider the larger, macro view of the healthcare system, which is constantly evolving, and understand how those changes affect each of the business segments at Envision, the competitive environment and the regulatory environment. We are always assessing the opportunities for technology to connect the different business segments in ways that improve integration and care coordination, and ultimately, enhance the delivery of care for clinicians and the patients we serve.
What would you say was most memorable about the discussions you had during your interviews?
The discussions that stood out the most were about how data could be leveraged to transform the organization, make it smarter, more proactive, and able to uncover new opportunities. Envision cares for patients through more than 35 million encounters per year. With that volume of data, we can create new areas of clinical excellence, improved care pathways and better treatment protocols, and we can conduct clinical research that will benefit patients. We can see meaningful patterns earlier when we are constantly analyzing that volume of data.
I have deep experience in different facets of data and in building analytic models and comparative databases that drive those insights. The chance to leverage data and my relevant experience to add value to the organization was interesting and exciting.
Who do you report to at Envision Healthcare?
Karey Witty, Executive Vice President and Chief Operating Officer.
What is the headcount in IT?
Approximately 550.
When you arrived, did you find anything that was in need of your immediate attention?
A major division of the company, American Medical Response (AMR), was divested in August 2017. When I joined in the fall of 2018, Envision was still in the process of separating from the company. It was a complex and time-intensive process that required several resources.
During that time, we were under a transfer of services agreement. There was a tightly integrated technology environment that needed to be physically separated so that both parties could become independent. We had to make sure we were delivering assets and systems to AMR in a reliable, high-quality manner so they could operate without any service interruptions. The physical separation was completed nearly a year later, and that allowed us to shift our focus to integrating services and building for the future.
In addition, we shifted from a public organization to a privately-owned organization in late 2018. Our immediate focus was aligning the strategic objectives for the company and evaluating resources so that we could make advancements in technology, talent and leadership development.
What changes have you made to the culture and structure of the IT organization?
With the merger still recent, multiple IT teams were supporting various functions and often working independently. One of my early priorities was structuring the teams and aligning our strategies. As a team, we identified the commonalities, strengths and areas where we needed to advance.
When you look at how technology solutions are viewed through the customer's lens, your priorities often shift. What might be valued internally for operating efficiency may not translate into the same level of value for those you are serving. I want to ensure that we are advancing our IT capabilities and transforming our organization so that we deliver the highest value to employees, partners and patients.
What else?
We are transitioning from a project delivery methodology to a program management one. Many of our technology solutions are longer-term roadmaps, as opposed to start and stop events. This is a different way of thinking and organizing teams, and it has really changed our organization.
We have been doing pilot projects that include our partners. They attend morning standups and are highly engaged. It is that fully engaged partnership we desire and believe delivers better value to the organization.
In this market, how do you attract and retain top IT talent?
Technologies are changing at a very rapid rate, so finding individuals with the right mix of talent for your portfolio is certainly challenging in this market. As a solutions-oriented company, we are fostering a culture that empowers employees and encourages engagement. Part of the agile work methodology is moving to communities of practice. Someone responsible for a particular domain of technology is tasked with creating the guidelines, methods and structure for how a certain function will be delivered. The other individuals know that as long as they are following those methodologies or guidelines, they are empowered to solve the problem.
You can attract better talent this way because people know you trust them and value their contributions. Rather than measure people on tasks or deliverables, we are measuring them on overall outcomes and the relationship value they develop with the customers they serve.
We are bringing in younger talent and creating professional development tracks to enable them to develop new skills in areas where it is harder to recruit. Robotics Process Automation (RPA) is a great example. We have hired some junior people just out of college and are offering them training programs that enable them to develop certain capabilities. We are also very focused on identifying veterans that have technical training and experience that can be applied within our environment. We have a culture in which employees are growing and want to be a part of the company because they are valued, empowered and believe they are contributing to a greater cause.
The last element – and one that keeps me in the healthcare system – is that we recognize how our work impacts patients. Envision provides care and comfort to patients often when they are most vulnerable, and IT is a crucial part of that care delivery. We are making meaningful contributions to clinical quality and the patient experience, and when employees know they are making an impact, they are invested in the work and company.
About Kristin Darby
Kristin Darby serves as Chief Information Officer for Envision Healthcare. She is recognized globally as an executive with more than 25 years of experience in healthcare IT, finance, mergers and acquisitions, strategy and leadership. Prior to joining Envision Healthcare, Darby served in chief information officer roles at Cancer Treatment Centers of America, Vanguard Health Systems/Tenet and Risk Management Foundation of Harvard Medical Institutions (CRICO). Darby has a Bachelor of Science in Accounting and Management Information Systems from the University of South Florida and a Master of Business Administration from the Henley Business School in Oxfordshire, England. Darby is a certified public accountant, certified fraud examiner and certified healthcare CIO.