Jeffrey Frazee, SVP & CIO of FCCI Insurance Group, is the latest subject of "How I Landed My New CIO Job."
Heller Search: Let's start with your career background. You have been a CIO in the insurance business for quite some time.
Jeff Frazee: That's true. My first Senior Vice President role was at Mutual of Omaha in 2001, where I learned an extensive amount being a senior IT executive and how to effectively navigate at that level. Next, I held a divisional CIO role at GE, which was insurance-related, and since then I have held the SVP & CIO position at four insurance companies, including my present position at FCCI.
Has it been a deliberate strategy to stay in the insurance business?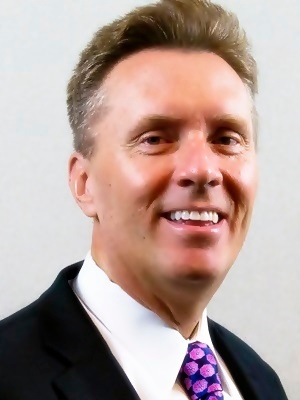 Not entirely. I have spent about six years of my career outside of insurance. But I've been regularly recruited by the insurance carriers throughout my career, and I've had wonderful opportunities to work for companies ranging from large global insurers down to regional carriers.
Most insurance companies seem to be in need of a transformational leader in the CIO role; someone to drive significant change and modernization. This is the professional brand I've built over 25+ years of leading significant change.
Did you set your sights on the CIO role early in your career?
No, quite the opposite. I was happy as a techie and I had no real desire to be a CIO or even a manager during the first five years of my career. After joining Mutual of Omaha as an Information Services Manager, I was very fortunate to experience rapid advancement. I was promoted to Assistant VP, Vice President, and then Senior VP in charge of a large IT division within a nine-year period. It was during this part of my career that I realized that I thoroughly enjoyed leading people and wanted to run an entire IT organization someday, not just a division.
To what do you attribute your swift rise?
I've always believed that, in a large corporate environment, one must take risks if you want to be recognized as a strong leader capable of taking on more responsibility, and I was fortunate to have been presented with some high profile opportunities. For example, I was given the opportunity to lead an extensive $50 million transformation initiative of all of our financial and HR systems across the corporation, a high profile 3-year effort. Later, I had the opportunity to put together the first extensive IT strategic plan for all of Mutual of Omaha. That initiative gave me important exposure to all the senior executives across all major functions of the company.
Younger team members ask me about this all the time. They want to know how they can move up into more prominent leadership roles—how to get recognized and promoted even when your experience in some domains may be limited. I always say "you have to take some risks with your career and show senior management that you have more to offer the company than just the role you are performing today."
Of course, all risks come with rewards and potential failures. When there is failure or a setback, my advice is to take it seriously, reflect on what you could have done differently, and learn from the experience and apply that knowledge thoughtfully going forward. Whether it is a project failure or a political failure, I still believe the greatest growth opportunities come from setbacks and career "moments of truth."
How did you hear about the CIO opportunity at FCCI?
I was contacted directly by Martha Heller, whose team was recruiting the role for FCCI.
Were you actively looking for a new CIO role at the time?
I wasn't actively looking, but I had received a few calls about other CIO opportunities, and before I knew it I was having serious discussions with two different employers. Then I thought to myself, if I am considering these two that happened to pop up, perhaps I should cast a wider net so that if I do make a move, I make the best move for myself and my family. When I accepted the offer at FCCI, I was looking at four different options.
What piqued your interest in FCCI?
I was particularly interested in FCCI's growth story. I was intrigued by the chance to take an IT organization that showed great potential and mold it into something substantially more modern and advanced.
I especially liked the warm culture of the company. Before my first round of interviews, I had the opportunity to go out to dinner with the COO and the EVP of HR, and we had a very nice casual, non-business-oriented conversation. Often these types of "get to know you" meetings happen on the back end, not on the front, and I thought that was a nice touch. It demonstrated warmth, and that they were interested in me as an individual as well.
When I interviewed with the CEO, I felt we had good chemistry. Our perspectives clicked and I felt right away that it would be a good partnership if I were chosen for this position. If you don't have that chemistry up front, I think that it may not be the right opportunity for you, so be very cognizant of the need for this chemistry.
What about your professional background was attractive to FCCI?
They were looking for a very experienced CIO, meaning someone with more than just a year or two of experience. They also wanted extensive property and casualty insurance industry experience given all the major projects they were anticipating surrounding policy administration, billing, and claims management. Beyond that, the right cultural fit was hugely important to them as well, and we talked a lot about that aspect of the position.
How did you prepare for your interviews?
I researched the leadership team and the company's growth story. I had a robust dialogue with Martha who, to her credit, didn't try to just sell me on the role, like many recruiters. She focused on explaining the culture and challenges at FCCI to me—what it would really be like working here. This demonstrated true professionalism on her part in ensuring the right candidate for FCCI wanted the role based on understanding the full picture of the position and company.
How did you prepare to start your new role?
Before my start date, I requested information on key projects, any cultural or morale challenges I would face, and I received a thorough download from my new boss on his near-term priorities, including the biggest fires I needed to put out once I arrived.
To whom do you report?
The CEO and Chairman of the Board, Craig Johnson.
What other steps did you take to learn the business and build relationships?
FCCI did a very effective job with the onboarding. My first 30 days were completely planned out in advance. When I arrived our EVP of HR provided me with a comprehensive schedule, which included set meetings with all the officers at the company. It was an excellent start and I feel it provided me with ballast for the future.
I held skip level and three-on-one meetings covering every teammate in the IT organization to get to know their backgrounds. I asked them all what was working well, what was not. And, "What would you pay particular attention to if you were me?" I met with the sponsors of all the major initiatives currently underway to get their perspective on the health of those projects.
So early on, I not only got to know my department, but I had a solid 360 degree view of the company.
During my first 30-60 days, I always develop a journey map outlining my plan (by quarter) for improving the IT function. The journey map is usually broken down by people, processes, technology, and future state vision. Once assembled, I review the journey map with senior executives and all of IT to ensure everyone understands where we are attempting to go over the next 1-2 years.
What was 'on fire,' according to your new boss, and needed to be dealt with right away?
We had several long-running strategic initiatives that were behind schedule, and missing delivery dates. The largest of those initiatives centered around our policy administration system consolidation/replacement program. The other main area of concern was recruitment of a very strong team as several members of the prior team were let go before my arrival.
What else have you been working on?
A lot. We've developed the company's first IT strategic plan, which is a five-year plan carefully aligned with business priorities.
Recruitment and IT restructuring has been a huge focus. Our IT organization was very flat and was missing several key functions that needed to be added such as an enterprise architecture team. Looking back over the past year, 69% of the IT leadership team is either new, or new in their current roles.
We've also taken a close look at the governance and prioritization structure that oversees IT spend. What was in place was not working so that has all been redone to the CEO's satisfaction. In my experience, regardless of where I've ever worked, business demand always outstrips IT supply so effective IT governance is critical.
What significant technical changes are you making?
There is a massive modernization effort going on. We are changing out our core insurance systems and digitizing a lot of the business. This has affected, or will affect most business functions across FCCI over the next several years.
In addition, we are addressing internal plumbing. We are putting in a brand new enterprise integration program to simplify connectivity between all the systems. This includes a suite of products, APIs, BPM, web development tools, and mapping technology between systems and data sources.
What exactly do you mean when you say 'digitizing a lot of the business'?
A lot of our business processes required manual intervention along the way. Digitizing the business means removing as much waste and as many manual steps as we can, from the time we produce a quote, all the way to when we get cash in and issue a policy. We don't want to be passing around paper or manually intervening between business processes and departments. We are also trying to have everything be mobile ready, and device agnostic in the long run.
What new technologies are you most excited about?
I have been watching a lot of things in the auto industry, like the potential for driverless cars and ride sharing, because it will have a massive impact on the insurance industry at some point in time. This is not "new" news but I believe all carriers should be planning for how these changes will affect them as technology evolves. Commercial auto claims severity has also been on the rise due to distracted driving, which is an issue that must be planned for and eventually improved.
In the commercial insurance world, Internet-of-Things devices will provide the ability to detect fires and other catastrophes that can happen at a location when there is no human present. New developments coming in IoT can help prevent major losses, so we are watching these capabilities as well
How do you know when your IT organization is succeeding?
The biggest barometer I use is the feedback provided to us by the business. I like to first get human validation. I've also put together a detailed scorecard for IT, and we regularly look at which of those metrics are improving or not improving.
We are always asking ourselves, "Are we providing more value to the business?" "Are we getting things done that the business needs, on time and on budget?" "Are we making the right investments?"
We are on a mission to redefine how we govern IT investments, and right now we are putting together a new methodology for that. In the end, IT is here to support and partner with our business colleagues toward running an efficient and effective insurance company, and we can never lose sight of that.
What advice do you have for an IT executive thinking about entering the current job market?
The first thing to do before you start looking is reflect heavily on what it is you'd like to have in your next role. If you don't have a picture of why you are making a job change, you could end up in the same role you have now, and just a new set of challenges and a new office. Don't accept the first opportunity if it isn't what you are seeking, because you will just end up leaving again.
Network with recruiters, friends, associates, and vendors and you will hear about job opportunities that aren't even publicly available. Ensure your LinkedIn profile is up to date as many recruiters use it for prospecting.
And lastly, make sure you have a strong resume. That is the first opportunity many people will have to see what your brand is. You tend to get recruited for what your resume reads like so you should ensure it properly represents the type of role you are seeking.
About Jeffrey Frazee
Jeffrey Frazee is a seasoned CIO with over 25 years of global and domestic insurance and financial services experience. He has been in Senior Vice President and CIO roles for the past 16 years working for various Fortune 500, Global 500, and regional operating companies including FCCI Insurance Group, Alfa Corporation, Aviva Plc, West Bend Mutual, General Electric, and Mutual of Omaha. Frazee and his family reside in Sarasota, Florida.