How I Landed My CIO Job: Our interview with Darren Person, who was promoted to Global CIO at The NPD Group in October, 2019. He had joined the company as Chief Data Strategy Officer nine months earlier.
Steve Rovniak: How did you first become interested in technology?
Darren Person: I actually started programming when I was about eight years old, and when I was 12, I partnered with a great friend to create an early days Bulletin Board System, or BBS as they were called back then. For those that remember, a BBS was the only way to interchange information between computer systems prior to the Internet.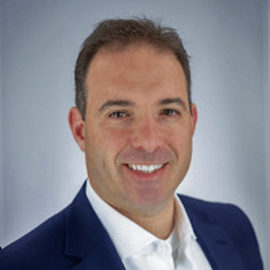 From there things progressed and my passion for technology grew each day. It wasn't long before I knew that I wanted to spend my career in technology, well before having a career working with computers became popular. Growing up as a "computer geek" definitely was not the cool thing that it is today.
I received my undergraduate degree in Computer Information Science and recently completed my executive MBA from Columbia University. As an undergrad, I looked for internships and small side jobs that would let me work with and somehow integrate technology. Even when opportunities arose that didn't involve technology, I would find a way to turn it into a technology opportunity.
Where were you before joining NPD?
Prior to joining The NPD Group, I was at a great company called Elsevier for nearly a decade. The parent company is now called RELX Group (formerly Reed Elsevier). I was initially hired as the Enterprise Chief Architect to help transform a 100+ year-old publishing company into a digital media company. During my tenure, I introduced a cloud-first strategy in close partnership with Amazon. This was a time when talking about moving to or migrating to the cloud was considered unorthodox given its infancy. People were skeptical of the cloud and would always say things like, "it's a fad" or "it will go away".
I'm excited to see how many organizations have now adopted this same cloud-first strategy. In addition, my team and I also worked closely on a number of key projects including a global rollout of Adobe Analytics to enable cross business usage data and analytics, a personalized recommendation engine and big data platform, natural language processing for search and many other new capabilities that enabled us to turn our content into data and data into knowledge, and ultimately into insights that could drive new research.
It was a fantastic transformation and it was an exciting time working with some of the best industry leaders across the world.
When you joined NPD as the Chief Data Strategy officer in January 2019, were you positioned as the successor for the CIO position?
Yes. NPD is a transparent organization and their CIO had announced he was retiring at the end of the year. Their goal was to bring someone in early who could work closely with the team to understand the current technology stack. My role was to create a vision for the future technology direction of the company and help shape what a "next generation" platform would ultimately look like. The former CIO was a great NPD colleague and we still maintain a strong relationship.
How did you hear about the opportunity at NPD?
The initial contact came through an executive recruiter. The role was described as a "chief data officer / future CIO-ish" role. While I was not actively looking at the time, some personal challenges encouraged me to evaluate a new opportunity closer to home. I had been with Elsevier for almost a decade through a very exciting transformation and it felt like it could be the right time to start a new journey. I was intrigued by the idea of challenging myself to see if I could help enable new capabilities for another high growth organization.
What piqued your interest?
The NPD Group, at its foundation, is a pure data company. Most companies today are striving to be what NPD has been for the last 50+ years. Everyone is trying to figure out how to take their content and turn it into data, to commercialize it and to sell that data back into a market.
It was extremely exciting to see a company where data, data science and machine learning, and data analytics are at the core of the business – NPD was doing big data before big data was even a concept. To find that such a company existed on Long Island, where I live, made it even more attractive. Technology companies on Long Island are sparse. Many of the big firms like Computer Associates and Arrow Electronics are no longer here, Amazon is no longer coming and I truly believe this creates a great opportunity for NPD to attract talent and to build out a technology hub on the island in addition to our global footprint.
We are also a privately held company, and our leadership team is wholeheartedly committed to our clients and to our staff. We are investing in the future to enable new client experiences. When you put all of these things together, it is an amazing place to be.
How did you prepare for your interviews?
Any time I go in to meet with a company, I try to do as much research as possible. I reached out to colleagues in the industry and to other CTOs in the retail and manufacturing sectors to find out what they knew about NPD and the people who worked for the company.
When I received my Executive MBA at Columbia, I had done some coursework with a colleague who worked at NPD, so I had some good firsthand background on the company and the value they delivered. These preparations provided me with enough industry awareness and background that I felt great about the company itself and more than confident that my skills were a match for their new ambitions.
What would you say was most memorable about the interview process overall?
I remember that towards the end of the interview process, the CEO and the Chairman were interested in meeting for breakfast so that we could get to know each other on a more personal basis. I thought that was an incredibly nice gesture. I met them in New York City and it was just the three of us. We sat down and had a wonderful conversation. I was able to get to know them a little bit more on a personal level, and ultimately, that breakfast meeting sealed the deal. I realized that I was getting an opportunity to work not only for a great company, but for people that I would really enjoy spending time with and learning from.
About The NPD Group


NPD offers data, industry expertise, and prescriptive analytics to help its clients grow their businesses in a changing world. Over 2000 companies worldwide rely on NPD to help them measure, predict, and improve performance across all channels, including brick-and-mortar and e-commerce. NPD has offices in 27 cities worldwide, with operations spanning the Americas, Europe, and APAC.
Who do you report to?
I report directly to the CEO, Karyn Schoenbart.
What is the headcount in the IT organization?
Our Global Technology organization, which is comprised of Technology and Operations, consists of about 850 people, including onshore and offshore.
You said "Global Technology" when I asked about the "IT" org. Can you talk more about this?
The IT label has had a negative connotation since it's usually associated with break-fix situations. I wanted my new organization and team to think of themselves in a positive and forward thinking way. In order to help embed this new way of thinking, I felt it was important to label the team based on this aspiration.
Can you explain the Operations function?
Our operations team has many different aspects to it, from helping collect our data, addressing data quality issues, handling classification of our data and ensuring that client deliverables meet NPD's high standards. The Operations team leverages the tools that the Technology team builds to manage, cleanse, coordinate and organize data. They make sure that what we deliver to our clients is of the highest quality so that they can be most successful in what they're trying to accomplish.
What is your next priority?
As Global CIO, my job is to develop the team and deliver on NPD's next generation platform. We are evaluating our cloud strategy, assessing how we introduce a more loosely coupled system architecture, advancing our Machine Learning capabilities and bringing new API's to the forefront of our platform. All of this will be enabled by a rigorous training program to develop our existing talent and partnering with 3rd parties to infuse expertise in the new technology to the organization.
What changes are you making to the organizational structure?
We have an aggressive vision and strategy for where we want the company to go. There's a lot of technology involved in order for us to get where our customers are going, before they get there. As we have started to reimagine this, our goal is to make the distribution and integration of our data fast and seamless.
This will require us to upskill and reskill the team with some next generation capabilities. We have to invest in our people, enhance their understanding of how to apply new technologies to solve problems and continue to develop critical problem-solving skills all in the context of being commercially minded.
In addition to general classroom training, we've begun to partner with third parties who are experts in the new tools and skills we need. In order to drive learning, we are looking to do more pair programming with our new partners leading and our team learning. Eventually, flipping it over to let our team lead, with the partner in the role of coach and mentor. I have found this to be the most effective way to help a team accelerate their technology transformation.
In this tight market, how do you attract and retain top IT talent?
Technologists love challenges. They love problem solving. They love seeing their efforts help people do things better and work smarter. So for me, first and foremost, it is being able to tie what we do and how we do it to real business outcomes.
At NPD we provide data and insights to retailers, manufacturers, financial companies and government agencies throughout the world that help them build better products. By building better products, they're driving down costs for consumers, providing products consumers want, and ensuring a better user experience for everyone. Being able to tie that back into every line of code that someone writes, every piece of data analysis that someone does, is a key tangible asset for recruiting and retention.
Also, and it sounds a bit cliché but we are creating a culture of innovation. Letting the teams have the freedom to create the approach to answering clients questions not just be handed the solution for them to implement. Instead, we are giving them a vision and letting them come up with how they think we should get there.
How do you know when your IT organization is succeeding?
To me, knowing whether your technology organization is succeeding comes down to the feedback you receive around the company and from clients. It's hearing our internal teams and clients tell us that what we delivered really helped them.
When we launch a new tool that automates a process or add a feature that saves a client hours of work, just seeing or hearing about how much we've improved their user experience – creating a "magic moment" for someone – there is nothing better.
What career advice or suggestions do you have for aspiring CTOs and CIOs?
This is a great question and it's one that I am asked about most often, especially from upcoming mentees and college students getting ready to enter the workforce.
First, make sure you have a north star – an idea of what it is that you aspire to be. If you don't know yet, that's perfectly fine, then your north star is to figure out your dream. My core advice is to find something that excites you. To find a career that let's you wake up everyday looking forward to the possibilities of what you can accomplish. I've been fortunate that my favorite hobby became my career, I would hope that others are as lucky in being able to follow the same path.
Second, continuously review where you are against your aspiration. Do an annual career check-up. Meet with recruiters, review job postings and descriptions of your aspirational role and then compare it to what you have accomplished today. Be patient and don't expect to make a direct leap. Rather, realize that your career is a journey and that each subsequent role you choose should help fill a gap in your experience to assist you on your way.
Lastly, find someone who you admire and engage with them as a potential mentor. They can be inside or outside your company. Use all the tools at your disposal including LinkedIn. I think most people will be surprised at how willing senior leaders are to share their knowledge and experience with others. If all else fails, reach out to me on LinkedIn, I'm always open to a cup of coffee (or tea in my case) and the opportunity to meet amazing people interested in continuous personal improvement.
About Darren Person
Darren Person joined NPD as Chief Data Strategy Officer in January 2019 and took the helm as Global CIO in October 2019. Person is a Silicon Alley technology executive with more than 20 years of experience across a wide spectrum of industries. Prior to joining NPD, Person was with RELX Group, the global information and analytics company, where he held a number of key roles driving the technology vision, strategy and execution from cloud migration to implementations of enterprise scale data and analytics. Before RELX, he was CTO for CBS Television Stations and held senior technology and product leadership roles with Lifetime Entertainment, Adecco and USA Networks.