This may or may not be the time to pursue an ambitious innovation agenda. As a technology leader, have you earned the right?
Before pursuing ambitious innovation, your priority as an executive is to get core operations to run well. These operations can be represented as the flywheel of your business. The flywheel concept is a cycle where additions in one area increase the velocity and momentum of the whole.
For a company, this means every business outcome is also an input that makes the company grow faster. Jeff Bezos created a clear definition of Amazon's flywheel in 2001, allegedly on a cocktail napkin.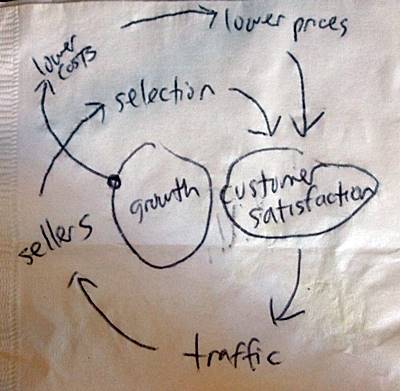 Amazon Flywheel
This Amazon flywheel is simple. Significant growth will deliver lower costs. In turn, this will reduce prices, which generates more customer satisfaction. More customer satisfaction creates more traffic. More traffic brings in more sellers and thus creates more selection for customers. This increases customer satisfaction and creates growth. This will lower costs and the cycle continues over and over.
Amazon has never stopped optimizing their website and delivery network. Over time this has created a seemingly insurmountable competitive advantage. If you read Bezos' letters to Amazon shareholders over the years, you can see the flywheel becoming clearer as his thinking evolves. There was relentless prioritization placed on optimizing Amazon's core operations.
What Does This Mean for the Technology Leader?
To be an effective technology executive, you must be a business leader first and lead the technology group second.
Ask yourself the following questions:
Do you understand your business model?

Do you know which parts of your business have the largest competitive advantage?

Do you know which parts are most profitable?

Can you draw the flywheel for your business? If you need inspiration,

Uber's flywheel

is another good example.

Being able to draw the flywheel comes down to understanding the economics that make your business work. Knowing this must be the foundation for every strategic decision you make as a technology leader.
Clarifying What Really Matters
Drawing the flywheel for your company will help you understand the key processes that create your company's competitive advantage. When you have these clear in your (and your team's) mind, and documented, you can now define the critical business capabilities.
The business capabilities must deliver these processes in an efficient and effective manner. This clarity allows you to get the basics right and enables you to prioritize extending your competitive advantage. As Michael Porter said; "The essence of strategy is choosing what not to do." Counterintuitively, this clarity and ruthless prioritization improves and expands business capabilities. This is how you start to speed up the flywheel and work towards building your organization's insurmountable competitive advantage.
Is there ever a situation where you should innovate before you have focused on your core processes? As most consultants would say ,"it depends", in this case on your environment and your business. I personally would always optimize activities within my flywheel first. This is a type of innovation itself – it is process innovation.
What's Next?
When the core business runs well, your markets are safe and margins are being generated. When your organization continuously takes actions to speed up the flywheel, you can look toward the future. Now you have the opportunity to add scale, or volume. This can be an expansion of products and services into new markets, or geographically bringing your business into new areas.
Now you have earned the right to innovate for growth. Today a lot of growth activities are led by technology. How can you deploy technology to reduce customer friction and become the vendor of choice for your customers? How can you integrate data into your products to increase competitive advantage over others in the same market?
A simple example for me is Avis. When I am traveling by air and rent a car, I prefer to use Avis because it removes a hassle. When I land, the Avis app offers me specific cars right in their mobile app. I can just walk to the designated parking spot, take the car and show my driving license on the way out of the lot and drive to my destination. If I were to switch rental companies, I would have to register, go to a rental counter, etc. Reduction of friction is a major selling point. People with disposable income are more willing to pay a premium to save time.
As a technology leader, you have the opportunity to work with your board to create long-term value through investments in technology. Your role is to help grow the business and position it for long-term success. Now you are a true business leader. This is leveraging your technology and business expertise as an executive to help your company grow. You have earned the right to innovate! And honestly, this is a lot of fun!