The fourth annual CIO recommended reading list - books on leadership, technology and business recommended by Heller Report readers.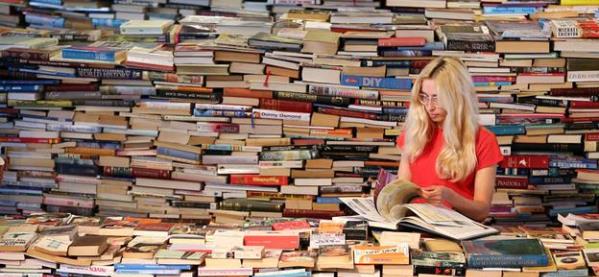 At the end of each calendar year, we invite the members of our extensive IT leadership community to recommend their favorite books on leadership, business and technology to their peers. It has become one of our favorite rituals here at Heller Search Associates. Herewith, the fourth annual installment of the CIO Recommended Reading List. Thanks to everyone who made a recommendation!
Feel free to add your favorite book to this list using the Comments section below.
Team of Rivals: The Political Genius of Abraham Lincoln, by Doris Kearns Goodwin
"A masterpiece in leadership. President Lincoln lead this country through turbulent times, by surrounding himself with the most able people in the country - a diverse team that included many rivals with high ambitions and strong personalities. This approach ensured thoughtful debate and constructive conflict for the ultimate benefit of our nation."
-O.H.
"Lincoln has for a long time fascinated me as a leader but this book really brought home to me what made him such a great leader. In hiring his biggest rivals and winning them over to be part of his team, Lincoln exhibited a rare ability to inspire and motivate a set of people that would have been dysfunctional otherwise, to work together in harmony. It also showed the magnanimity of the man as well as his complete confidence in himself not to be perturbed by people with a greater public profile than his. Good reading for CIOs entering the fray in an organization where s/he may have to contend with rivals both within IT and in the broader executive team."
-L.P.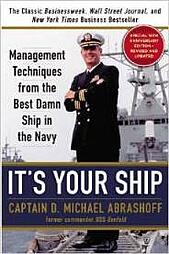 It's Your Ship: Management Techniques from the Best Damn Ship in the Navy, by D. Michael Abrashoff
"This book was published two years ago, however it's a must-read for any executive. Great insight into how the author was able to turn one of the worse performing ships in the US Navy into the best performing ship through his ability to empower his crew, listen to their concerns and ideas for improvement, communicate constantly and consistently, establish a disciplined environment that was transparent, fair, and consistently applied. There are many lessons to be drawn that can be applied quickly and simply to any organization or function."
-C.W.

Necessary Endings: The Employees, Businesses, and Relationships that All of Us Have to Give Up in Order to Move Forward, by Henry Cloud
"The book illustrates the need to complete necessary endings in our personal and professional lives, and provide guidance. Often times, CIOs are reluctant to make changes -- especially endings.
-A.Q.

The Machine That Changed the World: The Story of Lean Production-- Toyota's Secret Weapon in the Global Car Wars, by James P. Womack , Daniel T. Jones, and Daniel Roos
"This is a re-read after many years, but still a knockout. I pulled this off the shelf for a collegue who really only needed to read one page, but once it was off the shelf, I reread the whole thing."
-H.N.

Competing on Analytics: The New Science of Winning, by Thomas Davenport and Jeanne Harris
"I am really focusing on analytics and how it can change the game, so this book is on track."
-H.N.

Wins, Losses, and Lessons: An Autobiography, by Lou Holtz.
It is very well written and a terrific reminder of how adversity can be turned into positive changes in a person's life.
-D.S.

Scaling Up Excellence: Getting to More Without Settling for Less, by Robert I Sutton and Huggy Rao.
"The authors discuss a key challenge facing many organizations - growing effectively and not losing your soul (what make your organization great in the first place) in the process. They use real world case studies and articulate approaches leaders can use to preserve and perpetuate excellence through out their organizations."
-R.M.




The Blue Line Imperative: What Managing for Value Really Means, by Kevin Kaiser and S. David Young
"This book analyses management and organization's culture from a value perspective, with lots of examples and profound insights. It reminds us, the IT community, that even though value creation is hard, it is the way to lead for IT success."
-D.P.

A Practical Approach to Large-Scale Agile Development, by Gary Gruver, Mike Young, and Pat Fulghum
"A terrifically inspiring book detailing how Gary led a DevOps transformation for HP's LaserJet Firmware product line. We made it required reading for our Engineering, Operations and Systems Engineering leaders. This is a must read for anyone driving a DevOps model in their organization."
-B.B.

Creativity, Inc.: Overcoming the Unseen Forces That Stand in the Way of True Inspiration, by Ed Catmull, and Amy Wallace
"This is the best book on leadership and management that I have ever read. It focuses on leading a creative enterprise (the author is one of the co-founders of Pixar), but its insights apply to all business situations. This is a book all leaders and managers should read."
-H.C.

The Zero Marginal Cost Society: The Internet of Things, the Collaborative Commons, and the Eclipse of Capitalism, by Jeremy Rifkin
"This book is about what happens to business procedures when the marginal cost of your product approaches zero. In short, everything changes. This is what is happening with the digitization of business. The author explains the pairing of technologies and how they have created economic revolutions. Essential reading for anyone leading and managing in business.
-H.C.

Zen and the Art of Motorcycle Maintenance, by Robert M. Pirsig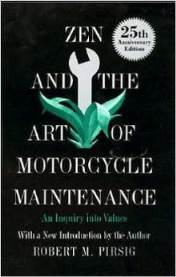 "Should be required reading for any person in an IT Leadership position. In fact, it is an important read for any human. But as IT professionals, Pirsig's exploration and dissection of quality is particularly important for us, since we often struggle to define and deliver quality to a diverse user base, each of which has their own definition of quality. The semi-autobiographical novel is wrapped in the context of the author's trip across the country on a motorcycle with his son. ZMM is listed amongst the most influential philosophy books of all time by multiple credible sources.
-L.D.

Thinking Fast And Slow, by Daniel Kahneman.
"Written by a Nobel prize winning economist, one of the best books I have ready in recent times which explains why we think and act the way we do. While at parts it is heavy reading, it is a really effective way of analyzing our own behavior to make us more effective decision makers and leaders.
-L.P.

Zero to One: Notes on Startups, or How to Build the Future, by Peter Thiel, and Blake Masters
"One of my favorites of 2015 for those who like to think about technology, innovation, and business."
-T.C.

The Family Fang, A Novel, by Kevin Wilson.
"A novel about family life. Touching and funny. Soon to be a movie."
-F.S.


The Naked Leader: The True Paths to Success Are Finally Revealed, by David Taylor
By a great influence on my career. Well worth a look."
-I.C.


Now, Discover Your Strengths, by Marcus Buckingham, and Donlad O. Clifton
-I.C.

Leading Digital: Turning Technology into Business Transformation, by George Westerman, Didier Bonnet, and Andrew McAfee
-M.J.

The Innovators: How a Group of Hackers, Geniuses, and Geeks Created the Digital Revolution, by Walter Isaacson
-R.E.

The 20-Minute Networking Meeting: How Little Meetings Can Lead To Your Next Big Job, by Marcia Ballinger, and Nathan A. Perez
-R.G.

The Second Machine Age: Work, Progress, and Prosperity in a Time of Brilliant Technologies, by Erik Brynjolfsson, and Andrew McAfee
-L.A.


Plato at the Googleplex: Why Philosophy Won't Go Away, by Rebecca Goldstein
-N.L.
Honorable mention:
A book included in last year's list which was recommended again by several of our readers: The Phoenix Project: A Novel about IT, DevOps, and Helping Your Business Win, by Gene Kim, Kevin Behr and George Spafford
Heller Search also recommends these books written by our esteemed guest bloggers:
Primal Teams: Harnessing the Power of Emotions to Fuel Extraordinary Performance, by Jackie Barretta
Implementing World Class IT Strategy: How IT Can Drive Organizational Innovation, by Peter High

Confessions of a Successful CIO, by Dan Roberts and Brian Watson
The Strategic CIO: Changing the Dynamics of the Business Enterprise, by Phil Weinzimer
The Tech BuzzKill: How Top IT Leaders Fend Off the Tech 'Buzz' to Focus on the Business, by Gerry Robinson and Manish Sharma
The Talent Triangle: How to Always Make the Right Hiring Selections, by Christopher Barron
Disrupt IT: A new model for IT in the digital age, by Ian Cox
IT Business Partnerships: A Field Guide: Paving the Way for Business and Technology Convergence, by Joseph Topinka

See the 2014 CIO recommended reading list