How I Landed My CIO Job: Our interview with Steve Aschettino, who joined Deciphera, a clinical-stage oncology drug company, as CIO in March 2019.
Steve Rovniak: Can you provide some career history leading up to your CIO position at Deciphera Pharmaceuticals?
Steve Aschettino: My first job out of business school was at The Medicines Company, in Cambridge, Massachusetts, which at the time, was a small, clinical-stage biotech. I believe I was employee number 50. The company initially struggled financially, and when the head of IT left, they didn't immediately replace him. I took over his responsibilities and when the company's trajectory changed, I found myself thrust into a leadership position early in my career. I was really fortunate—during my four years there I got to experience my first IPO, FDA New Drug Application submission and approval, and a commercial drug launch. It really helped accelerate my early career.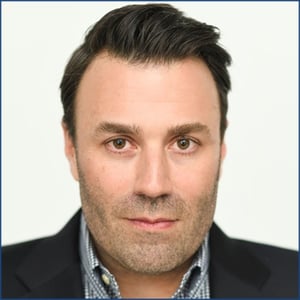 While I had a lot of fun, and learned a lot about the industry during my early time in biotech, I wanted to further hone my IT skills, and thought the best way to do so would be in the tech industry. I spent the next decade leading IT at a few tech companies, the last of which was Imprivata, a healthcare IT security company. However, I missed working for companies where the mission was to help patients. I decided to transition back into biopharma, and in 2013 joined Sarepta Therapeutics to build and lead their IT function.
Were you actively looking when you heard about Deciphera?
I wasn't consciously looking. An executive recruiter had contacted me about the position. By then we were about two years post-launch at Sarepta. I had been a company builder since early in my career, so when the opportunity came along to prepare another company for launch, build a team, commercialize a drug, and contribute to the impact on patients' lives, I jumped at it.
What else about this opportunity piqued your interest?
When you're considering joining a biotech company, there are a few different things that you need to consider. Do you believe in the mission? Deciphera's lead drug candidate aims to treat patients with gastrointestinal stromal tumors (GIST)—a rare form of stomach cancer. Backing a company dedicated to treating rare cancers was an easy decision. The science, of course, is also important in making an informed decision, and in the case of Deciphera it was clear the company had a promising lead drug candidate and a strong R&D pipeline. Most biotechs ultimately fail before they get to commercialization. If you're evaluating multiple opportunities, you have to pick the right horse to back, which can be challenging without a science background. Before joining Deciphera, I spent a lot of time talking to industry experts and researching how the organization came about. I liked what I heard and quickly realized that Deciphera was a company founded with passion, integrity, and a lot of potential.
In some ways, by joining a biotech firm, you are placing a bet.
Absolutely. There is an inherent risk you take when you join a late stage drug development company. Drug development isn't easy, and there are so many highs and lows along the way. But, although there are challenges, the potential to help change the lives of patients, particularly those with cancer, is truly rewarding.
What else did you find attractive?
When I first met Deciphera's CFO, Tucker Kelly, there were blueprints on his desk for the new headquarters Deciphera would soon be building. I had managed facilities as part of my responsibilities in the past, so I asked him to show the blueprints to me. And he said, "Oh, you know how to manage facilities? If you were to join us, would you be interested to have facilities report into you also?" I was excited by the chance to have the added responsibility. I do currently manage facilities and I believe having that constant link between IT and facilities is so important. Both departments are key when it comes to scaling a company and they need to be on the same page in order to do so successfully.
What was Deciphera looking for in their new CIO?
For the CIO role, they needed someone who knew how to build the foundation of the IT organization in alignment with what the business needed, in a highly regulated industry. Commercialization systems and processes were high priority during this stage. I had that exact experience from my six years at Sarepta and previously, The Medicines Company.
What else?
Deciphera understood the importance of creating a positive corporate culture and hiring accordingly. When Dan Flynn (the founder and chief scientific officer of Deciphera) created the company 17 years ago, he put a huge emphasis on culture, and to this day that emphasis is still there. They wanted a CIO who was a good cultural fit with the company. I didn't realize how much I was going to enjoy working here until after I had started.
How did you prepare before your interviews?
I started making connections. In biotech, we often joke about the "six degrees of separation" in the industry. I had three full-day interviews, and met five or six people each day, so I did hours of research on who each person was, where they went to school, and other possible connections. I love to be able to find common ground when I talk to people.
Then there was researching the company as well. As I mentioned earlier, I spent a lot of time researching the science and genesis of the company. I read through 10ks, earnings reports, and listened to company presentations. I also examined a number of analyst reports—they do a great job of translating science into plain English.
Thinking back on your interviews, does anything stand out?
When I met with the CFO, I outlined the number of people we needed to hire in IT in order to facilitate the launch of our product correctly. It was big change from what the company had been doing—not just in IT, but across all aspects of the organization. It was important that my vision aligned with the vision the organization had, as opposed to finding out after the fact that they didn't agree.
Who do you report to at Deciphera?
I report to our Chief Financial Officer, and am a member of the executive leadership team.
Did you find that anything that was "on fire" and needed to be dealt with right away?
When I came on board, there as an immediate need to focus on the facilities part of my job. The new office construction was set to start shortly after I joined, so I came in just in time to take over the lead on that. I've always loved the intersection of facilities and IT, especially when you're building things like conference and collaboration rooms, and figuring out how to make sure everything ties together between different sites and technologies. We have since built out our new corporate headquarters in Waltham, Massachusetts and are currently planning a revamp of our R&D office in Lawrence, Kansas.
What about the IT side?
The company needed an ERP in order to do a potential commercial drug launch. So essentially, on day one, we started working on what our ERP roadmap would look like and making sure we would have financial systems in place. We launched Oracle ERP Cloud a few months ago, so we've been very busy. We've also been partnering with our Commercial Insights and Operations team on building out the various commercial systems needed to support a potential drug launch.
Can you share a little about how you've designed the IT organization?
First, I wanted to focus on building out the end-user services (EUS) model. I believe that an IT organization builds credibility with the business through the effectiveness of its support staff. Fortunately, one of the IT people already in place at Deciphera had run end-user services for another biotech company previously, so I had her build out her team first. With rapid hiring—we brought on nearly 200 employees and contractors last year—and expansion of facilities, onboarding people and getting them up and running quickly was critical for the company's success.
Next, I put in place a business partner model, which is sometimes referred to as business relationship management, or BRM. Our responsibilities cover G&A apps, R&D apps, clinical apps, regulatory apps, commercial systems, and quality apps. Fortunately, they already had someone perfect to lead this group. He'd been in IT for 15 years with the company, and had the perfect skillset, attitude, and historical perspective to lead the new team. My goal was to hire senior people to handle those different functions within the business partner team. In my opinion, that's how you build an effective IT organization, and then you can start showing value to the different parts of the business. They will support you because you are supporting them.
In this tight market, how do you attract and retain top IT talent?
It helps to have a good story. A late-stage biotech company is certainly not for everyone. Some people prefer to get into a biotech when the company is young and nowhere near commercialization. They believe it provides job security for a few years. Others prefer to go straight into a commercial stage organization.
There are risks with any option. Some early-stage companies run out of funding, whereas late stage companies have the possibility of getting acquired or failing if the data doesn't turn out as expected. Ultimately, I think you've got the risk wherever you are.
In order to get someone to come in at this stage, they need to understand the big picture. We're trying to launch a drug. This is not a cushy job. You're going to be working hard, you're building from scratch, and you're hoping that the company takes off. I think you learn pretty quickly who's ready for it, and who isn't.
How do you know when your IT organization is succeeding?
Part of it is certainly feedback, especially around the business partner model. I remember having conversations with our CEO, Steve Hoerter, before we hired one of our senior directors. The CEO pressure tested the position – is this right job description? Is this the correct level? Are these the accurate job responsibilities? I believed that this role was critical to launching our drug. I received feedback recently from someone within the group that he supports that essentially said, "It was a great move to bring him in (that senior director). He's like a part of our team. We don't even realize he's part of IT. We wouldn't be where we are without him!" When I get feedback like that, I realize that we're doing things right.
When you are not at work, what new consumer technology do you find exciting or fun?
When I am not focused on work, which of course includes long hours at home, I actually enjoy going offline, doing things that I call 'analog activities'. I play men's league hockey, and coach my son's mite hockey team, for example. It's great to put the phone down for an hour and get out there and skate. Constantly learning new technologies, is such a big part of the job that it's nice to step away from that for a little bit.
What advice do you have for an IT executive who is thinking about entering the job market?
Think hard about what really drives and motivates you. For me, I realized that I love being in biotech and part of building out a commercial organization. It's incredible to see these drugs get developed that help people and give them more time with their families. It is both challenging and personally rewarding. You know, we're not selling widgets.
About Steve Aschettino
Steve Aschettino is the Chief Information Officer of Deciphera Pharmaceuticals, a clinical-stage pharmaceutical company preparing for the potential launch of its first oncology drug for the treatment of gastrointestinal stromal tumors (GIST). Before joining Deciphera, he served as the Chief Information and Chief Privacy Officer at Sarepta Therapeutics and has previously lead IT functions at numerous security and biotech companies. Steve is a co-founder of the Cybersecurity at MIT Sloan Life Sciences Executive Roundtable group and has a BS in Management of Information Systems from Babson College.
About Deciphera Pharmaceuticals
Deciphera develops drugs that improve the lives of cancer patients by addressing key mechanisms of tumor and drug resistance that limit the effectiveness of many cancer therapies. Their pipeline of drug candidates is designed to stop cancers from growing and spreading by inhibiting mutant forms or over expression of a family of enzymes called kinases. The company is headquartered in Waltham, MA and has a market value of approximately $3 billion (NASDAQ: DCPH).