An interview with Hilton Sturisky, CIO at Crawford & Company, and the latest IT leader featured in our career series, 'How I Landed My New CIO Job.'
Heller Search: Can you briefly describe Crawford & Company, and its business?
Hilton Sturisky: We are an independent global processing company for insurance claims. When someone files a claim, their insurance company needs an adjuster. We will send someone out to examine the damage, and we have all the processes, tools, technology, experience, and knowledge to ascertain the value of the damage accurately and fairly. In addition to property and casualty and auto insurance, we work in many other areas including workers compensation.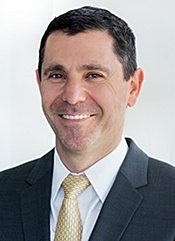 Most of our customers are insurance companies, but our mission transcends being the world's leading provider of claim services – we're here to help people restore their property and get back to their normal lives as fast as possible. Our goal with each claim is to process a payment that is fair to both the insurance company and their end customer who experienced the loss.
Were you actively looking for a new CIO role?
Yes and no. I had been the CIO at Spirit Airlines for two-and-a-half years, and I had been commuting from Atlanta to Fort Lauderdale. Ultimately, to continue in that role long term I would have needed to relocate my family to Florida, which was not feasible.
How did you hear about the CIO opportunity at Crawford?
I was contacted by an outside executive recruiter who was working on the search for Crawford. I had known this recruiter for many years.
What piqued your interest in the job?
I knew it was a global organization in an interesting, challenging, and changing industry, which was attractive.
What really got my attention, though, was that like so many organizations, Crawford had been spending a significant amount of money on technology, with limited return on their investment. They had made some non-strategic decisions and investments in technology, resulting in incomplete, "Band-Aid" solutions. They procured or built tools that people didn't use extensively, their user community was not being fully served, and finally, their IT governance model needed rebuilding.
Also, it seemed that they were looking for a change agent – someone to come in and make a significant difference. This suits my role as a professional IT executive. I saw Crawford as a 75-year-old public company, with a new CEO who was very focused on growth. And major shareholders were also extremely committed to investing in the future of the company.
What were you looking for in your next job or CIO role?
The opportunity to influence significant change, build an environment of IT innovation, and enable significant future growth.
In the insurance industry, there is also a large amount of disruptive technology, e.g.,: AI, machine/deep learning, robotic processing, image recognition, etc. etc. That was important because I want to be a relevant CIO. I want to keep my skills topical, contribute to the strategic direction, and, quite frankly, stay current as a professional.
What was it about your professional background that Crawford found attractive?
Crawford was seeking a candidate with a successful background in progressive high transaction volume organizations coupled with the ability to influence change and lead the company in a new direction.
The work I had done at BCD Travel, a global travel management company, was directly relevant to Crawford's business. BCD Travel and Crawford both have global customers with a growing desire for information, data analytics and better insights. Stakeholders in both companies value and expect technology to help them shape strategy, reduce costs and mitgate risk.
Both BCD Travel and Crawford have globally dispersed teams. But more importantly, technology had disrupted the travel industry, just as it is now disrupting insurance. For example, WeGoLook, a Crawford acquisition, is deploying mobile technology to process claims quicker through independent field agents who perform on-demand inspections.
Both BCD Travel and Crawford are B-to-B-to-C companies, meaning that their clients are corporations, but they interact with and provide an experience to those clients' end consumers. While Crawford's paying client is typically a large insurer, our people interact directly with the consumer who is filing the claim.
How did you prepare for your interviews?
I developed use cases around disruptive technology in insurance. I took advantage of a lot of thought leadership on this topic that is publicly available from consulting firms like PWC, McKinsey and Booz Allen.
The whole process moved very quickly. It was just three-and-a-half weeks from my first interview to when I received a job offer.
Did you need to get smart about the insurance industry?
Not necessarily because I knew I would be gaining a fantastic team of industry subject matter experts in Crawford's IT department and all around me in the company. What I needed to bring to Crawford was a repeatable, reliable, end-to-end process for leveraging innovative, disruptive technology – and the ability to implement it.
Can you give some examples?
For example, you probably know that photos are taken by an adjuster of damage to a vehicle after an accident. But rather than have an adjuster review them and estimate the cost to repair the damage, there is AI technology that can examine the images, review relevant data and estimate the cost. That technology exists, but it is not at the point where we can implement it just yet.
Drone technology is another big opportunity. Rather than have a claims adjuster climb a ladder to inspect damage to a roof after a hurricane, you send up a drone. Not only can the drone do the work, but the adjuster may not even need to be on site. So my challenge – what Crawford needs me to do – is figure out where and how to insert and leverage these technologies. We are not short of ideas – pragmatic execution is key to success.
What is the headcount in IT?
There are 400 full-time employees in IT, and another 500 contractors (on and off-shore).
Who do you report to at Crawford?
I report to the CEO, and I sit on the nine-member Global Executive Management (GEM) committee, which is comprised of five C-level shared services executives plus our four business unit heads.
From day one, what are some of the steps you took to learn the business and build relationships across the enterprise?
In the interview stage I met with the board, and I had developed a presentation for them based on everything I had learned during earlier interviews – pain points, opportunities and so on. The meeting went well, but I never even opened the presentation!
But I am glad I built it because as I met with other GEM members, partners and my leadership team, I found myself showing that material to validate my assumptions, invite feedback and evolve my own knowledge about the industry and about Crawford.
Did you find anything that was "on fire" and needed to be dealt with right away?
We had reporting issues in the UK that had to be addressed. There were also platform issues causing service disruption. As the new guy, I received a lot of requests from day one, but I appreciated it. It provided a chance to learn quickly and build trust and credibility. Some of the problems were easy to fix, and therefore, quick wins.
One of the decisions I made quickly was to replace Lotus Notes email with Office 365. It may not sound like a big deal, but it has significant impact for our global employees and was a $1 million investment.
But even more importantly, the culture in IT needed changing. IT needed to be more accountable for results and quality, and take more pride in the work it delivered. I saw an opportunity for team members to build their individual capabilities and grow as professionals.
It has been eight months since you started your role. What have you been working on and what has gotten done so far?
We have accomplished a great deal. We have reshaped the IT organization from a disparate decentralized function into a single global shared services function with clearly defined roles and responsibilities. This model maintains flexibility for future business changes and represents the first truly global shared services organization at Crawford.
I also created a completely new digital and data analytics function that is forward-thinking. This group is focused on the capabilities we will need in the future and how we architect for them now.
What new consumer technology do you find exciting personally?
I am obsessed with home automation – controlling the lights, the thermostats, sprinklers, garage doors, security cameras, etc. I sit on the couch and change the thermostat or dim the lights just for fun. It sounds pathetic, I know, but I love it.
How do you know when your IT organization is succeeding?
After I arrived, I quickly assembled benchmark data on IT spend and performance for the industry, which I presented to the board. We are tracking our numbers to help us see where we are improving and where we have more work to do. We are also implementing ServiceNow. This will help me better manage the "business of IT".
Our collective goal within IT is become an extension of the business – not just doing what they ask us to do, but influencing how they run their respective businesses or departments, ultimately driving our internal stakeholders in becoming a better overall company.
About Hilton Sturisky
As global chief information officer of Crawford & Company, Hilton Sturisky is responsible for the company's technology, including its strategic global systems roadmap, business intelligence and analytics, cyber security and worldwide innovation programs. Previously, he served as the CIO of Spirit Airlines and BCD Travel.