IT leaders should take advantage of their unique perspective, and their curiosity, to lead boldly, writes CIO-turned-executive coach, Doug Moran.
"If you are just going to be my IT leader, I don't need you."
How is that for a kick in the gut? It was especially hard criticism coming from a boss who I was expecting to praise me for a series of successes my team had delivered since I'd joined the business unit several months earlier.
Fortunately, before I could react, he finished his thought. "We are a small, fast growing business unit, and if we are going to succeed, we all need to think beyond our areas of responsibility. You are doing great things, and I need more. You need to engage in every aspect of this business, because you see things in ways that no one else on the team does."
I've told that story dozens of times. This exchange changed the way I worked and led as an IT executive. It helped me come to recognize that all leaders need to think beyond their functional boundaries (and that some are better positioned than others to do so). In fact, I believe that IT leaders in particular are better positioned than their peers to see risk, threats, opportunities, and challenges confronting their organizations.
More importantly, they can see the interconnectedness of these issues.
The Integrated Nature of Technology
Disruptions ripple across organizations in surprising ways. An issue in sales can have implications in finance. A benefit to operations can create problems for human resources. Seemingly unrelated problems can be solved using a shared solution. Nuisance issues that are tolerable to one group can be devastating for another.
Good IT leaders respond to these situations. Great IT leaders exploit their unique perspective to anticipate issues, identify connections others can't see, recognize risks and rewards, and understand issues in their entirety. They can then provide integrated solutions that are best for the enterprise as a whole. This demands a leadership competency that isn't typically associated with IT leadership – boldness.
As a CIO turned executive coach, I have shared this assessment with hundreds of IT leaders, and they almost all bristle at my assessment of our collective lack of boldness. They are quick to point out that some of the boldest innovators come from the world of information technology
Not Just Any Kind of Boldness
This is true. Twenty of Forbes' top 30 Innovations of the last 30 years come from IT (and most of the rest are highly dependent on it). However, the boldness that our colleagues and teams need from us isn't about sexy new technologies or revolutionary innovations. It is about using our unique perspective to facilitate business critical discussions that others are ignoring or dismissing as unnecessary or irrelevant.
In my book, If You Will Lead: Enduring Wisdom for 21st-Century Leaders, I describe boldness in terms of the risk-taking that is "essential to individual and organizational growth." It means having the ability to see and seize opportunities that others can't or won't see. It is rooted in a healthy level of curiosity. It means using our integrated perspective to engage in every aspect of the business, even when there aren't technology implications.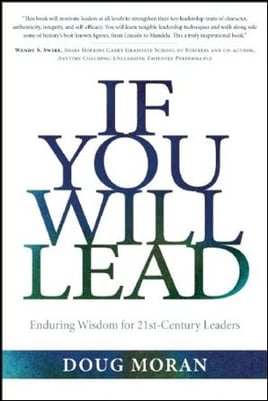 This requires that IT leaders know enough about their business to ask hard, probing questions about every aspect of it. We must be willing to invest ourselves in learning enough to turn our unique perspective into a platform to be bold, and to help our peers recognize and exploit the opportunities.
Unfortunately, sometimes our hard questions are perceived as dumb questions. We can't let that discourage us. Boldness means taking risks, but we can't stop there. We must build cultures that encourage healthy risk-taking – cultures that allow for (and even encourage) failure. Leading with boldness means encouraging others to use their unique perspectives to "see and seize" opportunities.
Build a Foundation of Boldness
Things you can do to build a foundation for boldness:
Ask your colleagues to help you be bold. Start with peers with whom you have the best relationships. Tell them what you are going to do and why. Give them a few examples of the types of things you have noticed but were hesitant to bring up.


Build your business acumen. If you want to minimize your dumb questions, invest in continuous learning. Take stock of what you truly understand (and what you don't) about the business you support. Collaborate with colleagues to determine how much you need to know about their domains. Set goals for yourself and invest time and energy to achieve them.


Broaden your conversations. Look for opportunities to engage your team and colleagues to think more boldly. For example, set up specific meetings to encourage your team to discuss the broader business implications of the initiatives they are working on. You can also integrate boldness into existing meetings by asking questions that broaden the conversation.
All leaders need to be bold. We must be able to see and seize opportunities. We must be able to recognize the potential in the challenges we confront. We must appreciate that our perspectives influence what we see and how we see them. As IT leaders, we have a choice. We can react to the opportunities that are presented to us, or we can take advantage of our unique perspective and boldly lead. I say, "Be bold!"