A collaborative approach to innovation has helped PHI CIO Doug Myers successfully deploy iPads to field operations for the power utility.
Guest blog by Doug Myers
I heard a story once about a private school that was about to open its doors for the very first time. The campus and buildings and classrooms were all ready for the school year. There was only one task yet to be completed. There were no paved walkways between the buildings. The Construction Manager wanted to know where to start digging and paving, but the Head of School wasn't ready to commit to a specific layout. An innovative solution eventually emerged, but more on that later.
That scenario applies in the IT arena, as well. There's always more work to be done, more functionality to provide, more potential innovations waiting to be uncovered. It's a question of how best to proceed and where to commit.
How Best to Drive Innovation?
There seems to be no disagreement that innovation is essential to the CIO's mission, but what is the best way to drive that innovation? Is it better to rely on the insights of individuals or on a centralized group that has rigorous and repeatable processes? Is innovation best left in the hands of "the business," or entrusted to IT? Should a well-documented plan and quantified business case be required to secure funding, or should things be allowed to happen organically? Is it better to be slow and methodical or to be fast and intuitive?
Here at PHI, an electric and gas utility holding company serving over 2 million customers in New Jersey, Delaware, Maryland, and the District of Columbia, we've had success of late with a hybrid approach. While a regulated utility may not feel the same pressure to rush solutions to the market as an unregulated company, we are always looking for ways to do things better, faster and at a lower cost. Because we are always looking for ways to drive customer satisfaction, service quality, and shareholder returns.
Deploying Mobile Solutions in the Field
With that as context, in 2012 the IT leadership team at PHI concluded that the Utility Operations group within our Power Delivery business unit could get real benefit from using "consumer mobile technology" like iPads in the field. This idea was met with some headwinds though. First, there were no readily quantifiable, "big dollar" benefits. Also, there was a perception in some quarters that iPads were not rugged enough for utility field workers. Finally, there was the concern that the devices would not end up being used for the intended purposes.
Nevertheless, my team and I firmly believed that we could help generate significant operational improvements and efficiencies through changing the technology paradigm for our field workers. We felt that the efficiencies and improvements that mobile technology could help unlock would more than offset the relatively minor investment in devices and application development.
We had strong advocates for this approach within IT and, even more importantly, a "true believer" in a leadership role within Field Operations. So we decided to try an experiment in collaborative innovation. We started with an informal team of three – an applications development leader, an IT infrastructure leader, and the Operations manager. They identified resources from their areas to bring to the table, as well.
"IT earned a lot of respect simply by trusting the business to take the lead in shaping what got built."
These individuals did not have extensive experience collaborating with each other. In fact, they acknowledged later that they'd gone into this with some healthy degree of skepticism and some preconceived notions of how the others operated. The application developers knew that the IT infrastructure team would ensure a stable and secure solution, but were concerned that too little attention would be given to functionality or "time to market." The IT infrastructure team knew that the application developers would be committed to meeting the needs of the users, but felt that they might not fully appreciate the long term benefits of the foundation put in place on which to build and maintain these applications.
As for what "the business" thought of all this at the outset, here is what the Operations manager told me a few weeks ago: "We knew we could do great things with this technology," he said. Then added out of the corner of his mouth, "but we never thought IT would let us do any of it."
I asked our collaborative innovators to start with a short list of value propositions.
Find paper within the field workers' processes and eliminate it. If one is looking for a shortcut to identifying process inefficiencies, one could do a lot worse than simply eliminating paper. Paper inspection forms, for example, were still in use in a number of areas. So too were hardcopy job aids, maps, and manuals.
Find ways to do things now (in the field) rather than later (in the office). This could mean enabling supervisors to complete administrative tasks remotely that had previously kept them at their desks. It could also be about allowing field workers to make informed decisions and to respond faster to an issue, rather than having to "go back to the office to log on and look something up."
Find ways to automate existing flows of information (and, in some cases, to create new flows of information entirely). One of a utility's most important responsibilities is safe power restoration after major storms. An even timelier and more accurate assessment of damage in the immediate aftermath of a storm could help a utility get the lights back on that much quicker. We believed that iPads could do that in ways that the limited functionality mobile terminals in their trucks – and eyeballs, no matter how experienced – could not.
As you've probably noticed, these value propositions were driven more by informed common sense than by intense analysis. They may also resonate with many of you, regardless of the industry in which you work. Most importantly, we believed they represented a very fruitful place to start the collaborative discussion because they would be clear and relevant to all participants in the innovation process.
We established the following guiding principles to steer our approach to bringing new technology to non-traditional areas to better serve our customers.
Fast adoption trumps slow perfection. We may look back in ten years and conclude that, in retrospect, there was an even more efficient path than the one we took. But rather than engage in time-consuming study upfront in an attempt to find that one best path, we took an approach that maximized a different variable: user adoption. Even the best-implemented technology solutions are failures if they aren't being used.
The business needs to drive, but IT has to have a seat in the car. The business has to use what gets built, IT needs to support it. That outcome can't be optimized unless both parties trust and respect the other. In our case, IT earned a lot of respect simply by trusting the business to take the lead in shaping what got built.
Security is functionality. Much gets made of the tradeoff between security and functionality. When done properly, it eventually becomes clear that security is functionality. Time spent upfront in ensuring a secure and stable platform pays off down the road in reliability. Articulating it in those terms helps the collaborative innovation process.
The outcome of this experiment was remarkable.
We have worked together to deliver a range of capabilities that have been adopted at a rate we've never seen before. We have this very high adoption rate because it's a productivity toolkit that the users themselves design. It ranges from something as simple as an administrative tool that "tablet-izes" what had always been a workstation activity, to fairly sophisticated applications leveraging data from our recently-implemented smart meters. In all cases, the idea originated with the users who supervised or performed the work in the field.
New IT Innovations Triggered by Success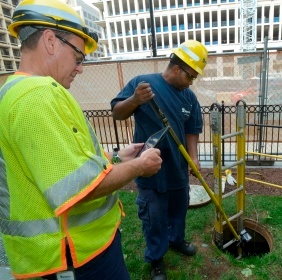 Over time, this collaborative innovation has taken the form of a simple but powerful process. IT lays out the ever expanding capabilities of mobile technology to start the conversation. The business identifies what they'd like to be able to do. Where there's overlap, an idea takes shape. Those ideas get prioritized by the business based on their evaluation of the benefit and IT's assessment of the complexity of the effort. It all gets built on a secure and sustainable platform. Rinse and repeat.
The solutions that are delivered trigger new ideas. The more solutions in place, the more suggestions we receive for the next release. The Operations manager helped deliver results in his area that got the attention of others in his region, and then the attention of other regions altogether. More regions, more possibilities.
Here is some of the feedback that continues to come in from our resources in the field, never the easiest crowd to please.
"We can now receive changes and last minute orders without returning to the office. This is becoming one of the best tools we've had since I came to the department in 1998."
"The amount of money saved in fuel and the additional time that the crews are spending serving our customers is significant."
"This has changed the way the crews work by leaps and bounds. The team has embraced the ever-changing technology. With new apps coming out monthly, it has enhanced our ability to serve our customers with better efficiency and reliability."
Out of all this came answers to some of those questions and concerns about innovation that were posed up front. In retrospect, we found a way to get the best of both worlds. Rather than place the accountability for innovation solely within IT or the business, we intentionally blurred the lines and gave it to both. Rather than default to either individual insights or group rigor, we opted for what might be best characterized as group insights. Rather than choosing either a formalized business case or open ended exploration, we established a mindset of structured exploration. Rather than invest months in process documentation, we looked for quicker ways to find potential efficiencies in a focused manner.
For me, personally, the most valuable lesson was in determining what comes first and what can wait.
And as for that school with no walkways? A month into the school year, the students had collaborated on an answer. The Head of School and the Construction Manager saw where the grass had turned to dirt from the paths the students had adopted.
"Let's pave here."

Doug Myers has been VP and Chief Information Officer for Pepco Holdings, Inc (PHI) since 2010. PHI delivers electric and gas service to 2 million customers in New Jersey, Delaware, Maryland and the District of Columbia.
Photo credits: PHI