How I Landed My CIO Job: The executive featured in this edition is Ty Tastepe, who joined the fast growing women's fashion retailer, Altar'd State, as Chief Information and Digital Officer in April 2019.
Heller Search: Where were you working before you joined Altar'd State as Chief Information and Digital Officer?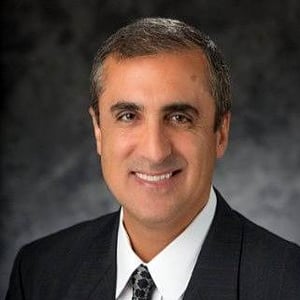 Ty Tastepe: Immediately prior to this position, I was Senior Vice President, Global Solutions Delivery at Universal Parks & Resorts. We were on a large scale, multi-year digital transformation journey, and we had recently delivered major new capabilities. Our team's achievements were recognized by the industry in the form of back-to-back Digital Edge 50 awards. We were shifting our focus to international locations, and I was traveling extensively, especially to Japan. That's when I got the call from an executive recruiter about this opportunity.
Were you actively looking for a CIO role?
Frankly, I was more open to opportunities at that point than before in my career. One of the reasons was that my youngest son was graduating from college and I was becoming more flexible. Over the years, I had turned down a number of CIO and CTO level opportunities because I really wanted to be present in my children's lives during their school years. I coached them in sports and we traveled when they were playing matches. I preferred to be with them during those years. And when the last one was about to graduate from college, I felt like it was perhaps time to be more open to opportunities that came my way.
Why did this opportunity pique your interest?
While Altar'd State is a mid-size company in the retail space, it is growing fast. It had been focused on brick and mortar store growth until recently. The CEO wanted to also focus on digital, and they were looking for someone who could drive the digital transformation and balance the portfolio between the physical and digital experiences. That was the landscape that was presented to me. And I wanted my next role to be one where I could make a bigger impact with a growing brand.
What else were you looking for?
I wanted it to be more than just a traditional CIO role, and to include all things digital. I had spent a good portion of the last two decades leading and playing significant roles on digital transformation initiatives in companies like Disney, Hilton, Universal. Leading transformational initiatives really is what motivates and energizes me.
How did you prepare for your interviews? Did you have a strategy?
I did online research into the company, visited a couple of stores, and I had plenty of information to review that was provided by the recruiter. But during the interview process, I really wanted to be as authentic as I could possibly be, to understand if there was a good cultural fit and whether I would be able to deliver what they were looking for. I would say that my strategy was to let my true self come out during the interview process so that there would be no buyer's remorse.
What were some of the signs early on that there was a cultural fit?
Altar'd State is very focused on giving back to the community. We're in many communities across the country and we also do international outreach. We are very much focused on exceeding guest expectations and always doing the right thing. That's one of the mantras here. The company is willing to challenge preconceived notions in the retail industry, so I sensed that this was a unique and different environment, all of which resonated with me. It was pretty clear to me and to the company's leaders that we were on the same page and operating on the same model.
I spent quite a bit of time with our chairman and CEO, and it was lengthy conversations rather than a set of questions you might expect to hear in an interview. It was more about getting to know each other at a personal level. The way he puts it is that he wants to make sure that he gets to know the person he is inviting into the family. And that's why he spent quite some time getting to know me.
About Altar'd State
Altar'd State is a rapidly growing women's fashion brand with more than 100 boutiques in 30 states. The company seeks to inspire through action and supports a mission of standing out for good in the world.
How did you prepare to start your new role?
I had exposure to large-scale retail in organizations like Disney and Universal, but retail by itself was relatively new to me. So, I did a lot of research and reading about the industry, and the competitive landscape. Who are the competitors for Altar'd State? What sort of technology leverage are each one of these competitors focused on, and how far along are they in that deployment journey? I also talked to my soon-to-be direct reports before I started, to get their perspective. And I spent most of the first few weeks getting to know my partners and understanding the business while I began formulating my strategy. I would continue to refine it as I had those conversations, and developed my understanding of the immediate versus the longer-term needs. That helped me to think about the things that we could accomplish as a group.
Who do you report to?
The Chairman and CEO, Aaron Walters.
As the head of IT and digital, how is your team structured?
IT and digital are one organization. We have teams focused on core technologies, store systems, e-commerce and CRM, and our Guest Services and Help Desk teams ensure we take care of our internal and external guests.
Did you find that anything that was 'on fire', and needed to be dealt with right away?
I wouldn't say there was anything on fire. The team already in place was doing a good job running the systems and meeting the day-to-day business needs. There were a few areas waiting for my arrival in order to make a decision and take action. We started to focus on those quickly as a team. I met our current service providers as well as some potential future partners. While addressing some of the lower hanging fruit, we also started to build the longer-term strategy.
Since starting, what have you been working on?
We launched our new website during the summer. We've focused on deploying technologies in support of new store openings. We had a large number of store openings in the second half of this year, so our teams have been quite busy lately. And we also replaced some of the in-store technologies to improve the services that we were delivering. We rolled out IoT sensor-based new traffic counter technology, started rolling out a store workforce management solution, and a few more capabilities are coming soon as well.
Have you made any changes to the technology organization?
We identified some key leadership and other staffing gaps in the organization, and we're in the process of recruiting those roles. We have associates who have been with us for a number of years, and they're always willing to go above and beyond to get the job done. As we expand our capabilities, we will provide new opportunities for them to grow as well.
What does digital transformation mean at Altar'd State?
For us, it's about leveraging technology in smart ways to provide frictionless experiences for our internal and external guests. Our associates are who we consider to be internal guests, and obviously, customers who shop at our stores and online are our external guests. Digital transformation is about leveraging technology to drive efficiencies and building an ecosystem that supports the growth of our business. Our stores are already second to none in terms of delivering a unique physical guest experience. We want to enhance that experience by introducing technologies that blur the lines between physical and digital, and that's one of our major focus areas over the next year or so. It's going to be about unifying the retail experience across all of our sales channels, expanding those channels, and making it easy for our customer to shop where and when she wants to shop.
In this tight market for technology talent, how do you attract and retain the best people?
It's challenging, given almost full employment and the competition for technology talent, especially in the retail space. Technology is changing fast and it's difficult to find the right people whose talents are in tune with the latest offerings. We have been certified as a "Great Place To Work" two years in a row and were recognized in November as one of Fortune magazine's Best Large Workplaces in Retail, so those help to get the word out as a preferred employer. We will continue to grow our internal talent and provide plenty of opportunities for our existing team members to grow into, which helps us retain our best people. We're also planning to partner with local universities to introduce interns into our pipeline for future growth.
How will you know when your IT organization is succeeding?
I think we will know we're succeeding when we meet and exceed our internal and external guests' expectations, provide growth opportunities for our associates with new and challenging initiatives, and help grow our business with new capabilities we're introducing.
What is your favorite place to travel on business?
Domestically, I would say San Francisco and Boston are on the top of my list. Internationally, it would be France and Japan.
Do you have an airport vice?
Not really. I usually like to visit the airport bookstores to browse and see if anything catches my eye. Often, I will pick up the latest copy of Condé Nast Traveler, or Harvard Business Review.
What advice do you have for an IT executive thinking about entering the job market?
I would say, 'life is short', so seek what you are passionate about. Don't go for a job because of the title or the pay. You really have to enjoy what you're doing and feel that you're making a difference. Be open to taking on new challenges and learning new things.
About Ty Tastepe
Ty Tastepe serves as the SVP, Chief Information and Digital Officer for Altar'd State. Prior to Altar'd State, Ty spent almost two decades delivering large scale digital transformation programs at global entertainment and hospitality brands including Universal Parks and Resorts, Hilton Worldwide, and Walt Disney Parks and Resorts. Most recently, Ty served as Senior Vice President, Global Solutions Delivery at Universal Parks and Resorts. He has an MBA from Villanova University and received a B.S. and M.S. in Electrical Engineering from Drexel University.