The latest subject of 'How I Landed My CIO Job' is Abe Lietz, CIO of KinderCare Education, which cares for over 170,000 children every day.
Heller Search: Where were you working prior to joining KinderCare Education?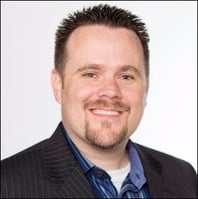 Abe Lietz: Prior to KinderCare Education, I was the CIO of Curves and Jenny Craig. I had joined Jenny Craig as CIO when it was still owned by Nestle. Nine months into the role, the company was sold to a private equity firm that also owned Curves, and the two companies were merged.
Both companies were in similar places in terms of their digital capabilities, and both needed a refresh. I was there four and a half years, and was doing very well working on IT transformation and making IT healthy. Eventually, I took over customer service as well, so I had a dual role of CIO & SVP Customer Service Operations.
What piqued your interest in this role at first?
Around the time I received the call from KinderCare, I had started to contemplate what industry and type of roles might be the best for me in the future. Honestly, I didn't jump at this opportunity at first because I wasn't certain that I wanted to work in another multi-unit, retail-like industry. However, I agreed to an initial meeting with a small group of KinderCare's executives to decide whether to even pursue it, as I didn't want to waste anyone's time.
Learning about the mission of the organization was a big turning point. I value culture and leadership above all and coming in, learning about the mission and seeing how it influenced everything they were doing as a company made an impression on me. I have young children, so the mission resonated strongly. After that first meeting, I went from lukewarm to extremely interested.
Can you briefly describe KinderCare's business?
KinderCare Education is the largest private provider of early childhood education in the nation. We have more than 1,800 centers and sites across the country, where we teach and care for over 170,000 children every day. We employ nearly 32,000 people. Our business includes KinderCare Learning Centers, KinderCare Education at Work, Champions Before- and After-School Programs, Cambridge Schools, Knowledge Beginnings and Grove Schools.
What was KinderCare looking for in their new CIO?
First, they wanted someone to come in and improve the health of IT and improve the relationship that IT had with the rest of the business.
They know that the company's future is reliant on technology, not only to support the business, but also to grow the business. They were looking for a leader with a track record of driving IT transformation as well as business transformation. That is, using technology to help transform the business.
Lastly, they were seeking a leader who was fully aligned with the company's culture, mission and goals. KinderCare is an experience-based company and is fanatical about building great experiences for its families and clients – something that we have in common.
What were you looking for in your next job?
I wanted a clear opportunity to make a positive impact on the business. Not just a better IT organization — that's table stakes. I wanted to be able to see a clear line from what we could achieve in IT to value creation for the business including better customer service, increasing revenues, and higher profits.
I strongly preferred a company that fully understands the need for digital transformation, a company interested in using digital tools appropriately, eventually throughout all areas of the business. A company ready to invest in change, and do more than just say the right things about transformation; a company ready to start modeling new behaviors.
What do you mean by 'modeling new behaviors'?
By that I mean the actions that leaders outside of IT take with their own teams that indicate they are ready for digital transformation. That can be reorganizing a department in such a way that is more digitally aligned. Or writing job descriptions that include digital responsibilities or alignment.
It can be something very simple too. For example, when I joined the company, I would go to meetings where everyone was still handing out a lot of paper. Moving away from that to online, real time resources is one example of the behaviors I am talking about. These small developments are evidence of a commitment to change behavior, and the culture.
Did you have an interview strategy?
My strategy centered around asking people questions to help me determine how ready the company was for transformation. I wanted to see if the leaders were in agreement, and saying some of the same things. Did they really understand the value that technology could bring to the business?
Secondly, I tried to communicate to the people I met a view of what the future might look like here. I knew I would be able to learn a lot about transformation readiness from the reactions I received to my descriptions of what the future would hold.
Was there anything else particularly memorable about your job interviews?
Just that the overall candidate experience here was the best I ever had, from the moment I started to when I sat in my chair as CIO. Taking this job required a move for me from San Diego to Portland, Oregon. They made it comfortable for all of my family at a time when things are naturally uncomfortable. The resources and tools KinderCare provided were amazing, and they involved my entire family. The experience spoke highly about the company and reinforced that my decision was the right decision.
How did you prepare to start your new role?
I put together a first 100 day plan. I wrote down what I wanted to achieve. Then, I had some introductory conversations with a few key executives before I arrived to test my plan. It spanned the three domains of IT: people, process, and technology. My goal was that at the end of the first 100 days, I would be able to produce a high level three year plan for IT.
I also went onto the website and registered as if I were a new lead, a potential customer, which is realistic because I have small children. And I visited a center in San Diego.
Who do you report to?
Paul Thompson, our CFO.
From day one, how did you learn the business and build relationships?
I spent a lot of time visiting our facilities – experiencing the diversity across different centers, talking to the employees, getting a view of their use of technology and day to day operations. I asked a lot of questions about how we do things, and why we do things a certain way. And I was able to talk to customers in the centers and get their perspective, as well.
The company has instituted mechanisms to bring together leaders from the field on a regular basis. Within my first 30 days I attended one of these events with hundreds of district leaders. It was a great opportunity to meet them in a closed setting and learn exactly how they operate and the challenges they face on a regular basis.
Lastly, I became a customer for real by enrolling one of my kids.
Did you find that anything was 'on fire' and needed to be dealt with right away?
Nothing was on fire, but I took a few actions right away. For example, we did not have a clear incident management process in place for responding to IT emergencies. Right after I joined the company we had a server problem that impacted our customers. Our response was non-integrated, communications were poor and no one really knew what was going on.
So, I put a process in place for incident management to formalize how we communicate when there is a major IT issue. Equally important was how implementing this process reset the tone inside and outside of IT about how seriously we'd take such incidents moving forward – we'd be much more diligent about quality.
Our new Center Management System is a critical system. It had been in development quite a while. When I joined, development was well underway and a rollout plan existed. Again, with an eye toward quality, I changed the rollout plan to better balance risk with urgency. We had to be sure the rollout would be successful given how impactful the system would be on employees and customers. It has since begun and it is proceeding successfully.
What have you been working on, and what has gotten done in your first year?
The vision statement for IT was to be a true business partner. In order to do that, we had to change things technically, process-wise and people-wise to get ourselves away from the "engine room" mentality. As part of that, we made the decision to be 100 percent cloud based in the future. We will use SaaS, and anything we have built ourselves is going to move to the public cloud.
I was asked by the board and the executive team to lead our strategy around digital transformation. I sat down with board and crafted the digital strategy, which drove a strategic conversation about what that means for us, and how it will transcend the organization operationally. Several months later, I completed a tactical plan for our digital transformation, with specifics about changes in operations, behavior, and an investment plan. We are beginning to execute on that.
What can you share about KinderCare's digital transformation?
I can't be too specific, but suffice it to say that we're looking across all our experiences – the end to end journeys of prospective and current families, children, and employees. For each, we are building "to-be" journey states that include digital and non-digital activities. The truth is we have a significant physical presence, and that is not going to change anytime soon. But we are changing the way we show up on the web, we're enabling mobile, and putting better tools into the hands of our families and staff, using personas and journey maps.
Have you made changes to the IT organization?
The three year plan included a completely new IT leadership structure and team. We have created new roles in governance, architecture and digital that are helping bolster our ability to be better business partners.
What does digital transformation mean at this company?
We are an experience company first. We use digital tools and new capabilities to enhance the experience at all of our touchpoints.
We have also focused a lot of attention on the way we actually get work done. In the past, everything was done in "waterfall" style, but now we are driving toward being more agile and iterative. Perfection isn't the goal, but rather getting it good enough, then iterating and improving it over time. We're embedding that way of thinking and working into everything we do and showing it to our business partners through examples. A year later, we're seeing more and more of that way of working outside of IT.
How do you know when your IT organization is succeeding?
I use three indicators. One is when we (not just me but others) are asked to be part of strategy setting across the business and engaged as a true business partner; not just as an IT "order taker".
Number two is our dashboards that measure how we are doing and aggregating that over time. We have almost 32,000 employees all around the U.S. The dashboards show us where we are moving the needle on improving IT services.
Third is the amount of time the IT organization is spending on value creation as opposed to "lights on" operations. I would love that to be 60 to 70 percent, but that is a future target. Right now, we are still spending the vast majority of resources on operations.
If you were granted a 'redo ' on your first 100 days, what would you do differently?
I would spend even more time visiting centers and engaging with people there – because that's who we are. It is so important that everything we do in IT connects back to those employees and our customers.
What advice do you have for an IT executive thinking about entering the job market?
Know what is important to you as you are talking to perspective companies. Know what your "non-negotiables" are.
The other big thing is use your network. Ask people what they know about a company you are talking to and try to find the inside track on an executive that they may know.
About Abe Lietz
Abram P. (Abe) Lietz is SVP & CIO at KinderCare Education, a position he has held since December 2016. Prior to KinderCare, Abe was CIO of Curves and Jenny Craig. Lietz earned a bachelor's degree in business from Washington University, St. Louis.
Images courtesy of KinderCare Education.