The subject of this edition of 'How I Landed My CIO Job' is Rohit Lal, of the $1.4B trucking company Saia, Inc. After 10 successful years at Coca-Cola, Lal was interested in his first CIO position, and he knew that a mid-market company would make the best fit.
Steve Rovniak: Can you tell me about your career leading up to your CIO role at Saia?
Rohit Lal: I started in the industry as a developer, then I joined a startup ERP software company as a developer, moved into implementation, then sales, and sales management. After that, I spent eight years with a consulting firm that provided strategic IT consulting, process improvement, development and solution implementation for global and mid-market clients in CPG, food and beverage, personal care products, industrial and electronics.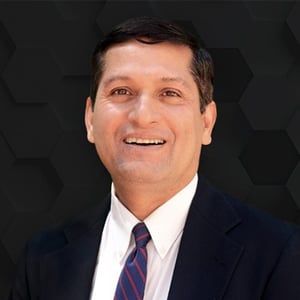 In 2007, The Coca-Cola Company engaged me to manage an RFP for a large managed services project. I wrote the RFP and engineered the infrastructure for a new global SAP solution to replace a legacy AS400 based application that would serve company-owned bottlers as well as franchisees. The contract was awarded to IBM, and in 2008, I joined them full-time to manage the contract, the SLAs and governance. That is when I moved into infrastructure.
About four years later I moved into a technology strategy role for CONA (Coke One North America), which developed, deployed, and operated technology solutions to run the end-to-end business of six of Coke's largest North American franchise bottlers. At CONA, I was responsible for defining the enterprise architecture, IT strategy and the technology roadmap
Were you actively looking for a CIO role?
I wasn't actively looking, but I was keeping my eyes open. Having done everything from development to implementation, infrastructure and strategy, to sales, I felt that the next logical step in my career was a CIO role.
What were you looking for in your first CIO role?
Primarily, I was looking for the ability to make an impact – perhaps at a company that was a little behind on technology, where I could come in a make a difference. Coming from Coke, I had been exposed to a lot of exciting innovation. I wanted to bring what I knew to a company where I would have support from the leadership to make a difference, and the freedom to make it happen. I also wanted to be in a culture of transparency, where there weren't a lot of politics.
How did you hear about the CIO opportunity at Saia?
A friend of mine told me about the available CIO role here, so I sent an email directly to the CEO, which is how it all started.
Can you briefly describe Saia's business?
Saia is a 94-year-old Less-Than-Truckload, or "LTL", freight company. We cover most of the mainland USA and Puerto Rico ourselves, and we have partnerships covering Mexico and Canada. We have a network of 5,000 trucks and 160 terminals that operate in a hub and spoke model, much like an airline. We also have a logistics division. Saia is publicly held. We did $1.4 billion in revenue last year, and we are growing fast. We will generate considerably more revenues in 2018.
At first glance, what was appealing about Saia and the role?
I felt I was a good fit for the industry, given my background. I was comfortable with ERP and supply chain, which made sense for a logistics business. A CPG business would have worked too. My ideal target size for a CIO job was the mid-market, which describes Saia. I feel a mid-market company is small enough to be nimble, but large enough to make considerable technology investments. Aligning IT priorities is a slower process at large companies like Coke.


"A mid-market company is small enough to be nimble, but large enough to make considerable technology investments
."

What was Saia looking for in their new CIO?
Technology had been underfunded at Saia, like at a lot of freight companies. They wanted someone to help transform the business and drive revenue growth through the implementation of technology. They also wanted a CIO who understood supply chain, changing consumer expectations, and the consumer experience.
What type of cultural fit were they looking for?
At Saia, there are a lot of employees who have worked here a long time. They needed a CIO to come in and make changes, but to also be deliberate and sensible about how changes were introduced. Dictating and forcing too much change all at once would not work out. To be a good cultural fit, the CIO would need to paint a picture of the future for everyone, develop a roadmap, and work hard to bring people along.
How did you prepare for your interviews?
I knew supply chain in general, but I didn't know the LTL business, so I learned all about that – its nuances. I also read up on the company. Because Saia is a public company, I could access the financials, analyst reports, SEC filings, and learn about the risks and challenges to the business.
Looking back on your interviews, does anything stand out as particularly memorable or unique?
Only that everyone was completely open and transparent with me about Saia's challenges. I had five one-on-one interviews with the leadership team and absolutely everyone spoke openly of their problems and was honest with me about what I'd be walking into. That impressed me. Overall, interviewing here was a very positive experience.
How did you prepare to start your new role?
I talked to several of my CIO friends and sought advice on how to get started, seeing as this would be my first CIO job. Since they were more experienced, I figured they could coach me a little. I wanted to come in on day one with a plan, but I was careful not to overpromise. It summarized what I had heard of Saia's challenges, and how I want to approach our technology and business transformation. It was more of a pre-plan that I used to set everyone's expectations.
Who do you report to at Saia?
The CFO.
What is the headcount in IT?
Around 55 FTEs, with a number of additional contractors and SOW-based supplier relationships.
Did you find that anything that was "on fire" and needed to be dealt with right away?
Not really. There are tons of things to start thinking about, but our existing systems worked well, so I was able to focus on the future, and prioritizing.
Since starting, what have you been working on, and what has gotten done so far?
We have been working a lot on enhancing our infrastructure and our network, which includes our AT&T relationship. We are moving from an on-site data center to a tier one facility for a more robust infrastructure, and we are virtualizing our environment down from 300 physical servers.
We are pulling data from our legacy iSeries/ AS400, Lawson and Microsoft Dynamics CRM environments and are building a new SQL data warehouse. We are harmonizing the data there and exposing it to the business in the form of dashboards instead of reports.
We have introduced Agile into the IT organization and we are now in Agile mode on two large projects. We will continue on the bimodal development path.
Before, we didn't really have a service desk, so we implementing ITIL processes and we're currently rolling out the ServiceNow ITSM modules for ticketing, problem and change management.
Lastly, we are rebranding our company web site, doing a lot of work on marketing automation, and rebuilding our portal.
What about changes to the IT organization?
This had been a very old style, siloed IT organization. We needed a business relationship management (BRM) group to interact with the business, and we needed governance. My first hires were around PMO and BRM. All this was about alignment with the business.
I have reorganized development under two directors: one is Corporate Systems for systems of record, and the other is Emerging Technology, which is focused on our systems of engagement.
What does digital transformation mean at Saia?
Digital transformation means automating as much as we can by eliminating manual and paper processes end-to-end, from quote to proof of delivery, and removing inefficiencies.
How do you know when your IT organization is succeeding?
One way is receiving unsolicited feedback that says we are doing a good job. From a KPI perspective, it is when the volume of tickets goes down - our metrics are trending in the right direction. But at the end of the day, when the speed with which we are delivering solutions get faster, we are doing good.
What is your favorite place to travel on business?
I have 2.5 million Delta miles and love to travel to places where I can absorb the atmosphere. I like San Francisco, Las Vegas, New York City - places where you can do something different.
What advice do you have for an IT executive thinking about entering the CIO job market?
I'd say three things. First, don't underestimate the importance of fit. The company has to fit your style.

Second: you have to learn the business. You can't talk IT and expect to be credible. You have to understand how to create value in the business or industry in question.

And third: expect that it will take a while to change people's mindsets about what technology can do. It takes more work than you think to bring people along with your vision. There is no magic wand to get people to do what you want them to do. I thought I knew that coming in here, but it was even more involved that I expected it to be.

I have been fortunate. Saia has such as supportive, positive culture, and when you are running on all cylinders, it is really fun. If you have the right cultural fit, and you know the business, this is exciting job. It is an exciting time to be a CIO.

About Rohit Lal

Rohit Lal is VP and Chief Information Officer of Saia, Inc., a $1.4B LTL freight company founded in 1924 with 160 terminals and over 10,000 employees across North America. Lal is responsible for the enterprise-wide technology for the data center, infrastructure, telecommunications, operations, solution portfolio and application development and implementation. Prior to joining Saia, Lal spent 10 years with The Coca-Cola Company where, most recently, he was responsible for the technology strategy and architecture for an end-to-end SAP-based system servicing twelve of the company's largest North American bottlers, and supporting $22 billion in revenues. He has a Chemical Engineering degree from The Indian Institute of Technology (IIT).