By maximizing connection and collaboration with clients and across teams, Ramesh Razdan and his IT organization have Bain firing on all cylinders.
Steve Rovniak: Where were you working prior to joining Bain & Company in May of 2019?
Ramesh Razdan: I was the Chief Technology Officer for BCG, Boston Consulting Group.
Were you actively looking for a new role at the time?
When the opportunity at Bain presented itself, I initially wasn't convinced that I wanted to make the move. In fact, I didn't respond to multiple inquiries. However, once I engaged in discussions with Bain leadership, my interest level in the role increased.
What piqued your interest in this CIO opportunity?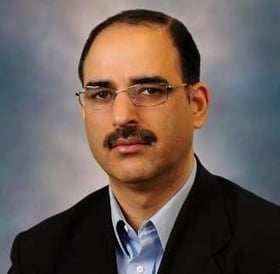 After talking to multiple people about the CIO role at Bain, it became clear that they were looking a transformational leader who not only could transform the firm internally, but also be responsible for driving holistic digital transformation, including building software products for client-facing teams, and unleashing new ways of working with modern tools. I realized it was a fantastic opportunity. It was strategic role that built on my strengths and skills to deliver tangible value, which excited me.
Why do you think your background appealed to the hiring committee at Bain?
They wanted somebody who could connect strategy to operations and deliver results. I think that was a big part of why they found my background appealing. I had been an operational executive for more than 25 years and always thought about technology strategically. However, I also maintained my focus on executing on the strategy with disciplined rigor. The Bain opportunity felt like a perfect marriage of my skills.
What is your approach to preparing for a CIO job interview?
The most important aspect of the interview process for me is the ability to understand needs and expectations of the role. This needs to be connected to your areas of expertise and background to understand clear value proposition and your fit to the role. In addition, it is critical to understand the culture of the company. Once you have good grasp on these two fundamental facts, then specifically for each personal interview, I would recommend doing some basic information gathering about the interviewing person. This will help you to prepare better and be able to have productive conversations.
About Bain & Company
Bain & Company is global consultancy headquartered in Boston, with 59 offices in 37 countries. The firm was was founded in 1973.
How did you prepare to start your new role?
Unfortunately, there was not a lot of time between jobs. But, I had an advantage because I have a deep understanding of the broader industry. I had also been a client of Bain, so I had some insight into what they do and how they serve clients.
Who do you report to?
The CFO
What is the headcount in IT?
Just over 350
Where did you focus your time at the very beginning?
I had made it clear up front that I wanted to understand the culture and intimately learn the business to understand and appreciate culture and capabilities of the firm. The good news was that, for two and a half months, I overlapped with the CIO who was transitioning out, and that gave me time to go around the world, so I could listen and learn on the ground.
I spent the first 30 days learning what was going on globally. What is the feedback about IT from the organization? What's working? What's not working? And I spent a lot of time listening to the partners, because a partnership is very different than a traditional business. Having the chance to understand the sentiment across the globe—from the teams, from the stakeholders, from the employees—was a fantastic experience.
Bain has earned its reputation as one of the best places to work. As a new leader, making sure you're collaborative and appreciate the company's core values and culture is a critical piece of the puzzle.
But, part of the reason I was hired was to help evolve the firm. How would we digitally transform the firm, not only from an IT standpoint, but from a digital product standpoint? Therefore, I outlined the new digital technology strategy with a clear roadmap and timeline for a multi-year journey.
About once a month, I give the board an update on our progress. We have made amazing progress so far and the key to ongoing success will be to continue to listen, connect, and earn the trust of Bain's leadership and team members across the globe.
Where have you made progress?
We have transformed the organization to more of a product-centric model that is 100% agile. I would say we have accelerated Bain's modernization process by at least 18 months.
The most important asset for Bain is how well we collaborate, how we connect, how we deliver the work. We have completely transformed that experience. We have designed and delivered a complete toolset for new ways of working and replaced virtually every legacy tool on a highly accelerated schedule.
In addition, we are in the middle of an SAP implementation for a core financials backend. We have also delivered significant value on the data and analytics front, established an automation center of excellence, and have six agile teams constantly pushing our technology thinking and delivery. In addition to this, we have embraced cloud-first with embedded security and are making strides to drive this agenda.
To compliment this, we have put in place a number of trainings and tools to help our team members and leadership grow. Teams are communicating on an ongoing basis. We have received a record high employee net promoter score, or NPS (Bain's satisfaction measurement), so I feel like we're firing on all cylinders. It is really wonderful to see the significant amount of progress we have made in such a short amount of time.
What effect has COVID-19 had on your transformation roadmap?
Honestly, it has accelerated our transformation rapidly. 100% of Bain has the ability to work in a very productive remote environment. People are missing the physical collaboration, so we have enabled virtual collaboration, which has been fantastic. We use tools like Zoom, Miro, Trello and MS Teams to collaborate.
We rolled out Office 365 Cloud email to everybody. You power up your laptop and the email is there. Connectivity is smooth and seamless. A true modern experience that is available on your device of choice and people truly love it.
COVID has turned out to be a burning platform for us to move faster. We have delivered more due to necessity, made our networks more resilient globally, and have strengthened our security posture quite a bit.
How is leading IT during a pandemic different? What have you learned?
Technology is the glue and the critical enabler now. If technology or tools like Zoom don't work, teams are reaching out and asking why. Technology has become the center of attraction and we always have to be ready to take on this critical responsibility that supports the company.
It can sometimes feel overwhelming to some people, but honestly, I get excited. Chaos is not difficult for me. I can organize chaos. As a leader, it is critical to maintain a positive mindset, but also be practical about what can be done with the available resources. Setting realistic expectations with leadership is also essential. Leading through ambiguity, remaining calm during critical times, making sense of the chaos, accelerating delivery and communicating frequently are critical leadership attributes that have helped me deliver real value during challenging times.
It's also important to understand the emotional component of your team. I have doubled or tripled my communication with my team. I am giving them extra freedom, new tools, telling them that it's okay if their child or pet shows up on a Zoom call. Or if they have to step out, that's fine too. I have written more than 10 blogs during this time sharing my own experience. It is critical for team members to know that they have my full support.
Another thing I have learned through this process is that people can handle a lot more change than we actually anticipate. So, if you think about where we were before the pandemic and where we are today – and I even tell this to our board – this team can move mountains. Prior to the pandemic, we had done a Zoom pilot and were planning to roll it out company-wide over the course of the following six months. Instead, we did it over a single weekend. We've learned that we can do a lot.
Are there any silver linings to the COVID experience?
There are definitely key learnings that should be continued going forward –

1. Our speed, ability to deliver, and decision-making across various levels of the technology organization is awesome. We intend to take some of these learnings and embed them in our day-to-day operating model.

2. We have also learned that a lot more value can be delivered working remotely than we first anticipated and there is an opportunity to bring the best of both work-from-home and work-from-the-office to deliver a unique value to the organization.

3. We also have learned a lot on a personal level. There is the ability to spend more time with family and loved ones. I can exercise more and spend more time doing things I've never had the time to do before, like gardening. As such, it is very important to live and enjoy the current moment.
I sympathize with all who have lost their loved ones to this virus and hope and pray we will be on the other side soon.

About Ramesh Razdan

Ramesh Razdan has been the Global CIO for Bain & Company since May 2019. Previously, he was the CTO of Boston Consulting Group, and held senior technology positions at Dell EMC. Razdan is a recognized industry expert, thought leader, and public speaker on technology topics including big data, ML/AI and cloud architecture. He earned a degree in electronics engineering from Savitribai Phule Pune University, India.