Sandeep Sakharkar of GXO Logistics, a 2021 spinoff of XPO Logistics, is the latest subject in our CIO career series.
Steve Rovniak: Can you provide an overview of your career leading up to your current CIO role at GXO?
Sandeep Sakharkar: My career is divided roughly into three phases, which is a bit unusual for a CIO. The first phase is not IT, but engineering. I worked in sales and business development of engineered materials for companies like 3M and Saint Gobain.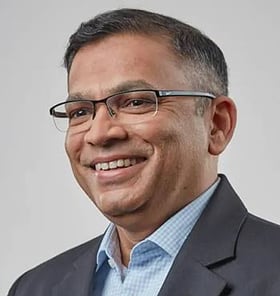 The next phase was business and technology consulting, applying the experience that I'd gained doing sales and business development.
And the third phase, the past 17 years, has been working within business technology and IT functions, primarily at three organizations: Johnson & Johnson, where I spent 12 years, Foot Locker, and now GXO.
I have thoroughly enjoyed every part of my career. It's been a purposeful journey where I have built upon each experience to ultimately be doing what I'm doing now.
As a business technology leader, I'm focused on innovating and modernizing technology to drive positive business outcomes. I've also made a lot of effort aimed at establishing strong engagement between IT and the business, which I drive by using a structured, value outcome-based planning process. And equally important has been the ability to build strong, talented technology teams that are aligned with shared goals.
You were first hired by XPO Logistics as a Senior Vice President, and then you transitioned to GXO as CIO when it was spun off.
That is correct. When I joined XPO, my role was planned to transition to CIO of GXO. That's my position today. I consider myself fortunate for the foresight the company had to bring me in before the spin-off because the technology split was a big part of the actual spin. It was a valuable knowledge gaining experience useful for my current role.
When you were first learning about this CIO opportunity, what got your attention? What was most appealing?
It was appealing to know that the role would have a seat at the table, and that technology would be at the forefront of GXO's strategy. That was a big deciding factor for me.
Secondly, as I started interacting with the organization, I saw a culture that welcomed innovation. If you have an idea, if you have the drive and the energy, the sky is the limit. There is a huge appetite for that at GXO. I could sense it while talking to everyone I met.
The third part is that the supply chain field had been behind the scenes for the last couple of decades. Today, the emphasis is on the customer experience. There's a renewed focus on making supply chains more transparent, more accurate and more optimized. This is a tremendous opportunity for our industry today.
About GXO Logistics
GXO Logistics, Inc. (NYSE: GXO, $8B) is a leading global contract logistics provider with approximately 120,000 team members across more than 900 facilities totaling 200 million square feet. The company was a spin off of XPO Logistics in 2021 and is headquartered in Greenwich, CT.
What do you think XPO saw in your background that appealed to them for this role at GXO?
The team was looking for someone who was experienced with a diverse background that spanned both engineering and IT. I was excited to bring experience from relevant industries, including CPG, pharma, and retail.
Together with the right experience, they were looking for a leader with a track record of driving technology change, and business and IT team transformation.
Having that time at XPO before the spin-off of GXO must have been beneficial.
The idea was to have someone come in to understand the DNA of the new role, as well as the company's supply chain operations. That way, on day one as CIO I would be fully operational.
The spin was done in record time – eight months from start to finish, and in impeccable fashion, without interruption to customers. It was done for quality, speed and operational stability.
Who do you report to?
I report to the CEO of GXO, Malcolm Wilson.
What is the headcount in IT?
There are about 1,000 people on the team.
How have your structured your operating model?
We organize technology into three areas: customer-facing technology, including the physical technology that moves the product around. This includes automation like robotic arms, cobots, robots, along with sorting, storage and retrieval systems.
The second part is differentiated software and integration technologies. These are applications that help drive the process within the supply chain.
And the third part is data-driven technology. That's predictive analytics, AI and machine learning.
What have you and the team been working on?
The supply chain industry is in the middle of a very interesting time of disruption. However, that creates new opportunity. GXO is at the forefront of using technology as a strategic pillar to drive the business and generate revenue. Technology helps us tailor our warehouse processes to our customers' needs.
One interesting example is what we call cobots, or collaborative robots. These are robots that work alongside a person. Nearly 50 percent of our business comes from omnichannel, retail and e-commerce. And with the growth in e-commerce over the past two years, it's more than just fulfillment; there's more returns management, more SKUs and more peaks in various markets at different times – it's all about efficiency at the end of the day.
That's where cobots come in. They work alongside our people. They help find orders and fulfill them. It's amazing technology that helps us increase safety and drive efficiency. And it can be scaled up or down in a very flexible way.
What else?
Another example is what I would call software and data-driven innovation. In most logistics operations, optimizing how you use resources is critical to drive efficiency. That's dependent on forecasts of how much product you're going to handle, what are the trends of the different categories within those products, and how are staffing levels flexing with demand. Technology helps us look at past trends, along with predictions and forecasts, to better optimize the planning of resources.
How do you know when your IT organization is succeeding?
We know when our customers are thriving. If they're succeeding, then we're succeeding. Another indicator is being able to attract and retain an IT team that is highly motivated, engaged and delivering for the business.
In today's competitive market, how do you attract and retain top IT talent?
We use a multi-pronged approach to attract and retain top IT talent. First and foremost, we demonstrate our strong organizational values-based culture. People work for various reasons, but when they see an environment that gives them the freedom to do what they aspire to do, that's powerful. This is based on our company values, which include a commitment to providing career growth and development opportunities in addition to diversity, fairness and openness. As a new company, there's so much happening at GXO. We have so many opportunities for our people. They can work on something they are passionate about.
The second aspect focuses on engagement and the employee experience, from recruitment to hiring to joining the team and the growth that follows.
It's also about using advanced technology. GXO is an innovator. The IT team is excited about our solutions, our roadmaps and the ability to be a part of the change that we're driving. We're experiencing significant growth, and that creates new opportunities for team members.
When you travel on business, what is your favorite place to go?
I've been fortunate to travel quite a bit throughout my career. I was born in India, but I've lived half of my life in Europe. Some of the locations I love most are in Europe. I would have to say my most favorite place of all is Lake Como, near Milan, in Italy.