The latest subject in our CIO career series is Erica Hausheer, CIO of Teradata. Hausheer joined the $1.8B enterprise data and analytics platform provider in late 2020.
Steve Rovniak: Can you provide an overview of your career leading up to your current CIO role at Teradata?
Erica Hausheer: I started my career in the United States Navy. I spent six years as a Navy officer, which allowed me to build a foundation of leadership skills and experiences. From there, I went back to school to earn an MBA, and then was hired by Hewlett Packard. I worked at HP for 20 years in a variety of roles — a little bit of time in supply chain, a little bit in human resources, and more than 16 years in IT.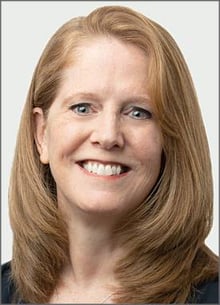 I had the opportunity to work in multiple aspects of the value chain as well as different business units in HP. I used to joke that I received one MBA from Oregon State, and then another at HP, through all the experiences I had early on. I believe that a diversity of roles –and of leaders – early in a career is very useful in building a foundation.
After 20 years with HP, I was fortunate to land a CIO role with 3D Systems, which is a 3D printing company. It's much smaller than HP, under a billion dollars in revenue, which was a fabulous place for me to start my CIO career. That was my first opportunity to sit in the CIO chair and to have holistic accountability for IT.
As we watch our CIOs, we anticipate what that job would be like if we had it. But you never really know all aspects of the role, including managing the C-suite, until you are in the chair.
How did you hear about the CIO position at Teradata? Was it through a search firm?
Surprisingly, no search firm was involved. I was happy at 3D Systems, adjusting to our newly hired CEO when the executive recruiter at Teradata reached out to me. He found me on LinkedIn, saw my background and my experience, and asked if I was open to a new opportunity and willing to talk.
Do you remember what first piqued your interest in the company and the role?
When the Teradata recruiter reached out, I had been at 3D Systems for just under four years. Time in the role, combined with a new CEO, created a natural inflection point for me: When was I ready to move? What did I want out of my next role? Did I prefer to stay in technology, or was it time to move out of tech as many of my former colleagues had done?
Two aspects of Teradata were of great interest to me – the culture and the company's purpose: To improve how people work and live through the power of data. The culture is very collaborative. At its core Teradata asks employees to 'hold each other accountable'—to have the tough conversations in a respectful way to make the right choices for the company. The CEO and the C-suite staff are also very committed to DE&I (diversity, equity & inclusion). Throughout my HP career, I saw the true benefit of diverse backgrounds and experiences, and I was excited to be part of another company that valued this.
A bonus was that they wanted someone in San Diego. One of the things that I wanted to do in my next move, was to be out in the community working with IT leaders and helping groom and grow professional women. The San Diego community provided an outlet for this.
I saw Teradata was a growing company, in technology, with a new CEO who had an exciting vision around data and culture, and the role would give me a chance to invest more in the local women-in-technology community.
What was Teradata looking for in their next CIO?
Teradata had been located in Ohio, and it moved its headquarters to the San Diego area in 2017. Much of the IT team within Teradata was hired after the HQ move. They were looking for someone who understood what that meant — somebody with CIO experience who had a mix of strategy and operations, who could partner with the newly hired leadership team, and could grow and groom the IT team to align with the strategic direction of the business.
About Teradata
Teradata (NYSE: TDC, $1.8B) is a multi-cloud enterprise data warehouse platform provider focused on helping companies leverage all of their enterprise data to uncover real-time intelligence, at scale.
Are you someone who prepares a lot in advance when you have a job interview? And if so, how did you prepare?
They say that they key to success is a combination of luck and hard work. I prefer not to prepare detailed answers to a lot of questions in advance, but I do think through likely questions and envision how I might answer, and the key elements of my working model and experiences that I want to bring forward.
As somebody who does a great deal of interviewing and hiring, I know the types of questions that will be asked. I always go through my standard questions that I ask candidates.
The second thing I do is think about my recent successes — What has gone well? What are the big things I have learned, even if that learning resulted from mistakes or struggles — to be prepared for those kinds of questions.
Then I think about what I am looking for. At this point in my career, it's not only whether I can sell myself to them, but are they offering me something that is interesting to me? I make a list of attributes about the company that are important to me. There's the must-haves and the nice-to-haves. As I'm being interviewed, I'm also evaluating whether this is a company where I feel I can deliver significant value, that I will enjoy, where I can thrive.
What is at the top of your 'must-have' list?
For me, the number one thing is culture. What is the culture of the company that I would be joining? As I thought about making this move, I was asking: Is the leadership team committed to creating an inclusive culture, a culture that enables people to talk to the right people, and is not hierarchical? Is this really a culture that encourages innovation, risk-taking and collaboration? So that was my number one requirement. I feel that in the right culture, I can figure out how to work at my best and truly add value.
Who do you report to at Teradata?
The CFO.
Once you had joined Teradata, what did you focus on first?
Before diving in and delivering specific technology projects, there were a couple of key steps that we needed to take. Number one, I had to develop relationships with the executive leadership team (ELT) and begin to build trust. Number two, I needed to build relationships at the ELT-minus-one level, the leaders that are both strategic and operational and can really address business engagement. We had to create forums, which we happen to call steering committees, that enable me and my leaders to collaborate with business leaders to make sure we're maintaining operations, delivering value, and to think strategically together about the business goals and strategies. What are the processes, the data and the architecture needed to enable that? I wanted to make sure we were putting target state architecture on paper so that we'd have a common mental model of where we are going, and what the technology footprint is that will enable the business strategies. That needed to be put in place first before we invested in significant technology projects.
With that in place, we're doing some exciting work around a content management platform for marketing, and we're embarking on research to define a new ERP system for the company. Additionally, there is a lot of investment going on in our CRM.
Have you changed your IT organizational structure, or operating model?
Early on, we brought the various elements of the IT function, including the analytics team and the security team, together under one organization. Part of that was just building a common group, with one aligned vision meant to address the following questions: why are we coming together, how are we going to work together, what are the synergies, and how are we going to accelerate our value-add to the company?
Another big thing was aligning with industry-standard practices around product project management and SDLC.
Pulling together security, analytics and IT sounds like a complex initiative. If you were to do it over again, would you do anything differently?
A tip that a friend gave me at my last job is to "assume nothing." Sometimes when you walk in and you lead a team of technical employees, it's easy to assume that their experiences have been similar to your own. You've all worked in technology for a long time, therefore, you must understand a lot of the same things. I think the thing that I would do differently is spend a little more time aligning on fundamental assumptions. Looking back, it would've been good to align better on some of the language and assumptions more quickly than we did.
In today's competitive market, how do you attract and retain top IT talent?
I think a lot of it relies on networks. And your networks rely on your reputation. If you and your leadership team have a reputation for investing in employee growth and development, giving them exciting challenges and great work to do that not only adds value to the company but grows their skills, their toolkit and their resume; if you have a reputation for leading and driving change, and enabling a company's overall strategic initiatives, people hear about that through your networks. People become willing to come work for you, and they encourage their friends to jump onto those opportunities.
So for me, a lot of how I attract new talent has to do with how I am retaining existing talent. How do you do that? You treat your employees with respect. You invest in them. You give them exciting work to do. You reward them. You let them see the positive impact they are having on the company. You allow them, through their work, to continually add to their resumes.
And everything is done through a team. Make sure your reputation is positive with your team so that they are leveraging their networks to bring in their friends. When you have top talent, their friends are also top talent, you can attract — and retain — a winning team.
How do you know when your IT organization is succeeding?
There are really two key measures for that, in my opinion. One is taking a look at attrition. You are always going to have some attrition that is healthy, but look at regrettable attrition or lack of attrition of your top talent. A sign that you are succeeding is that you are retaining the employees you want to hold onto – your high performers – so that they can continue to deliver for the company.
The second thing is some sort of metrics and/or survey with your business leaders. What are your business leaders' opinions? How do they think you're doing year over year, or quarter over quarter? Do they feel like they are getting more value, or the right value, from you and your team?
Outside of work, is there any consumer technology that you are especially excited about?
I will admit that when I'm not staring at my screen for work, I try not to stare at my screen. Living in San Diego, I spend a lot of my free time outside doing things that are not connected to technology. But I am very intrigued by the home fitness craze that got an injection of energy and money during COVID. I'm fascinated by rowing machines that now immerse you like you're rowing on the water, or biking apps that auto-adjust the incline to make you feel like you're on a trail ride. It will be intriguing to watch and see where this new trend goes.
What advice do you have for someone who considering stepping into the job market to find his or her next great opportunity as an IT leader?
My first piece of advice, which I give to everybody, is: make sure you are running to, not from. Even if you already know you want to leave your current job, make sure you put down on paper what you want to run to. Think about the attributes you want to see in the company. What are the things on your must-have list? In your ideal world, what would that next job look like? And think about what gives you energy, about who you are and what gets you excited. As you are looking for that next job, know what you want to find in the role in order to energize you to get up every day and tackle the challenges in front of you.
I think technology is such an exciting industry. Whether you're a CIO working for a technology company or in another industry, technology is dynamic and pervasive. Being a CIO is one of the most challenging and fulfilling jobs there is. You get to work in technology, you have the responsibility of leading employees, and you get variety every day in what you're doing. As CIO, there is never a boring day!
About Erica Hausheer
Erica Hausheer is CIO of Teradata and a veteran technology executive with extensive expertise in all strategic aspects of the IT function. Prior to Teradata, Hausheer was SVP and CIO of 3D Systems, and she spent 20 years at Hewlett Packard in various roles of increasing responsibility. She earned an MBA from Oregon State University and a Bachelor of Science from Pennsylvania State University.