The latest subject in our CIO career series is Kirsten Garen, CIO of CDK Global. Garen joined the $1.7B auto dealership technology provider in November 2020.
Steve Rovniak: Can you provide an overview of your career leading up to your current CIO role at CDK Global?
Kirsten Garen: I often talk about my career as having two chapters. Chapter One was the first 15 years on the East Coast. After getting an undergraduate business degree, I joined Aetna, in Hartford, and did a rotational program, went through different functions, did a little bit of sales and a little bit of marketing, and then ended up on an M&A team.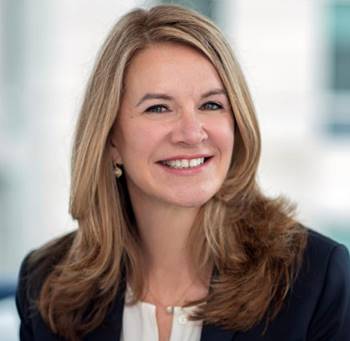 After getting my MBA at Wharton, I went into operations and client management at Banker's Trust in New York, and it was there that I started to work with our technology partners week in and week out. During my final couple of years there I led an integrated program management office.
Then a colleague of mine recommended me for a role in technology at Charles Schwab in San Francisco, which was the beginning of a shift out of the operations management and client management. I had always thought I'd run a P&L one day. Then this colleague of mine said, "You know, if you want to do that, you really need to understand technology investments, because that is the future." His comment really resonated with me because I thought, "He's right. How do you make those bets if you're not a tech-savvy business leader? And so, I met Dawn Lepore, then CIO at Charles Schwab, and we had a very honest conversation about my background, what I thought I brought to the table, the skills that I had, and what I didn't know. She wanted a diversity of styles and experience, and a strong general manager who understood the 401k business, which was new for Charles Schwab at that time, but it's where I had spent my time at Bankers Trust.
So that was the start of the second chapter of my career, leadership roles in technology, and a move to the West Coast. And it's now been 23 years. There were some moments along the way when I could have moved back into business leadership roles, but I fell in love with technology, with the people, and with the culture. I had wonderful mentors, especially Dawn Lepore, and peers and team members at Schwab, and that was the beginning of a very happy chapter for me.
You spent nearly 10 years at Schwab, followed by Visa, and CIO roles at Bank of the West, and Delta Dental. How did you come to your current role at CDK?
I thought it'd be fun to work for a firm whose strategy is to build a SaaS offering for its customers, a true B2B tech firm. And so CDK quickly became the most interesting of the opportunities out there for me at that time that I was looking for a new role, which was late 2020.
How does the CIO role at a tech company differ from the CIO role at a financial services firm?
It is absolutely very, very different. At both Schwab and Delta Dental, we did some proprietary development, but not the way a product company developing a SaaS product does it. At previous employers we were on that journey to full agile, product-based development, but we hadn't fully gotten there. CDK is much further along on that journey. There are hybrid methodologies used for the corporate applications team or in the infrastructure and operations areas, but not on the product side.
From an Infrastructure & Operations, and Security point of view, the role at a tech company is far broader and more complex. Our customers range from small to very large and some are very sophisticated technology businesses. And our products and services are part of their core retail offering. The level of resiliency, reliability and security we need to offer is quite different than in a direct to consumer or a pure services business. It's been a great learning opportunity to make the shift to a tech product and services company.
What else was CDK looking for in their new CIO?
There was a very large multi-year ERP transformation program underway that needed a little "TLC", so they were very interested in a strong people leader with strong program management experience, who understood ERP transformations. I'd say that was probably the most important criteria for their search, and large-scale change management is one of my core competencies.
What were you looking for in your next CIO role?
It was most important to me to be part of a company that is growing, and where I would be leading big transformations. I was also interested to have the opportunity to do something fresh and new, in a different industry, to keep myself current, bring different practices from the outside, and figure out how they fit in a new organization. I think that is lots of fun.
About CDK Global
CDK Global (NASDAQ:CDK, $1.7B) is a leading provider of integrated data and technology solutions to the automotive, heavy truck, recreation, and heavy equipment industries. Focused on enabling end-to-end, omnichannel retail commerce through open, agnostic technology, CDK Global provides solutions to dealers and original equipment manufacturers, serving nearly 15,000 retail locations in North America. The company's headquarters are in Hoffman Estates, IL.
Are you someone that prepares a great deal in advance for the job interview?
No, I'm not. I certainly think through what I believe I'm bringing to the table, but at this point in my career, I know what my core competencies are. But what's most interesting is how you connect with a person. It's all about who you are going to work with and work for. But I don't over-prepare because I like to see what the chemistry is like.
What were your first few weeks like on the job? What did you focus on first?
Honestly, it stinks to start a CIO position during a pandemic. If you're a people person, like me, and if you're a leader of a large group, starting virtually is a really challenging experience. It was not a lot of fun for me, personally. But the number of people I could meet and have access to in a short time period was vastly different than under normal circumstances because people weren't travelling. Top executives and their team members were more available, and I got some deep overviews very, very quickly by way of wall-to-wall Zoom meetings.
The initial focus was absolutely the ERP program. We had a lot of system integrators and some very immediate needs to assess the plan, the dates, milestones, costs, the strengths of some of the team members and system integrators.
Were there any surprises?
After I had been in the role for maybe a month, CDK announced that it would be divesting its international arm, and my Development VP, who was based in Wales, would be going off with the international divestiture. My most critical team member would be leaving with the deal. So the focus suddenly went from just the ERP program In the first month to the need to reorganize, and think through the divestiture of our international arm.
Who do you report to?
I report to the EVP of Product and Technology, Mahesh Shah, who we also refer to as the CTO.
What is the headcount in IT?
About 400
Besides ERP and the international divestiture, what have you been working on?
We have a portfolio of 75 projects across the whole of Enterprise IT, which is how we refer to my group. We have a big cloud transformation program under way, several major Infrastructure and Ops initiatives, and a new asset management platform. We're working with our product teams to accelerate movement of different products into AWS's cloud and to achieve a hybrid cloud footprint for the firm, so that is a big transformation effort. And there are many critical security initiatives.
Have you made changes to the Enterprise IT team?
Yes, we've redesigned the organization and all my direct reports are new. We have a new leader for infrastructure and operations, and a new corporate applications development leader, and a new principal architect. We also have a new integrated program management office, but that role hasn't been filled yet.
That is a lot of change.
It is, but I did a thorough assessment, then discussed it with Mahesh and my peer group. There was strong consensus around a redesign of the organization so that we have stronger services for our employees and customers. It has taken time to build the new org structure, probably longer than usual given the ongoing pandemic. Being close to having my final role filled is very exciting.
In this tight market, how do you attract and retain top IT talent?
Part of that organizational assessment was determining where we want to grow the team. I am located in our San Jose, California office, but this is a hard market for attracting the kind of mid-career talent that we're looking for, due to the fierce competition. So I've recommitted to hiring in Hoffman Estates, Illinois, our HQ, which is 40 minutes outside of Chicago, and Portland, Oregon, as our two major locations. Austin is a new and growing location too.
Portland and Hoffman Estates are wonderful locations to grow our talent base and we have strong teams there. Part of the attraction for candidates is the chance to work with wonderful people who are seasoned, and who really know the automotive tech services business and envision the next generation of digital retailing, and connected cars. We have a lot of team members who love cars and are passionate about serving dealerships and OEMs. They grew up in that world. Portland and Hoffman Estates are good markets to be in for that. And then it's just about having a wonderful culture and great communications, great compensation and benefits, and making it a fun place to work. I believe that in the end, it is who you work with, and for, that really makes the biggest difference.
How do you know when your IT organization is succeeding?
That's a tough one. We've worked very hard on measurement and metrics, so if you're workplace services, then you can do team members surveys. How are we doing fixing your problems, and how do you think we're doing generally? It's a little bit easier for that group. For infrastructure and operations, uptime is mission number one, so we have a great production dashboard. With the ERP program, are we meeting our milestones? Are we retiring older systems? Are we making progress on tech debt reduction?
Some of those metrics that I think are mission-critical for a CIO aren't necessarily visible to, or are not as digestible for a business leader. So, we're trying to add transparency and make those things visible, but also interesting to business partners.

How do you make tech debt reduction interesting to business partners?
I think that there is a growing understanding of how many investment dollars are wasted by sustaining end-of-life and aging assets; and that you don't want to be spending your money there. Putting a financial lens over the issue makes it more interesting to business partners and to boards. We do have an engaged board and executive leadership team here who see those costs and that pain, so that has been really positive.
What technology gets you most excited right now, be it at home or in the workplace?
I get that question all the time, but I am not the type of person who geeks out about consumer technology too much. I'm kind of old school – I'm the walk in the woods, swim, and read great fiction type. What is most fascinating for me about technology is in the medical arena, what they're doing at biotech firms with genome mapping, and developing new treatments based on CRISPR trials. My graduate degree is in healthcare management, so I love reading health care and science journals. I have a lot of friends who stayed in the healthcare management arena, and they are doing some amazing things.
What advice do you have for an IT executive thinking about entering the CIO job market?
I think the most important thing is finding executive alignment about what ground you're trying to take with enabling technology. Some CEOs would admit that while they appreciate the power of technology, they don't understand it, and they choose to delegate the technology function.
My advice is to find a company where the whole executive team is curious and has a point of view about how to leverage technology to benefit customers — where the team has a business-led technology focus, and wants to be your partners in creating a technology agenda and an investment portfolio. I've found that at CDK.