Author and CIO Greg Smith shares an excerpt from his new book, The New Normal in IT: How the Global Pandemic Changed Information Technology Forever.
Reprinted with permission from John Wiley and Sons, Inc. Copyright © 2022
Until 2020, the IT operational and strategic playbooks were pretty set and focused around deploying applications, knowledge management systems, technology infrastructure via a mix of cloud and on-premise installations, and security – mostly centered around physical office buildings and data centers. As a result of the global COVID-19 pandemic that landed in the U.S. in early 2020, everything about IT has changed, and will likely remain different forever.
Companies are moving to full or partial remote workers, with more tolerance for broader geographical ranges of resources. In addition, they are shedding corporate office locations or, at a minimum, reducing the office footprints significantly to reduce costs. Why? Because the pandemic showed how information technology can be used as a significant strategic asset within an organization. During the pandemic, IT executives who executed well have proven that organizations are more productive working remotely away from expensive corporate office buildings. Those who didn't plan as well are catching up quickly and learning the best practices of "the new normal in IT."
Everything Moving to the Cloud
The role of CIOs and CTOs going forward has changed globally forever as a result of the COVID-19 pandemic. Several key insights emerged related to technology and strategic IT. First, mobile and cloud will dominate. We're going to see less on-premise solutions in corporate IT-maintained data centers than before the pandemic as organizations accelerate migrations of applications and systems to the cloud. ERP applications, business intelligence, collaboration, and phone systems are rapidly moving to the cloud. Companies that used to make software for on-premise installations are quickly moving to SaaS cloud models because CIOs no longer want to install and maintain updates to those applications in their data centers.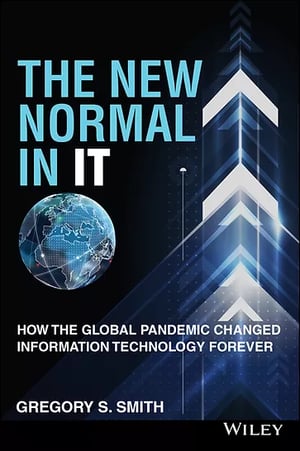 Organizations that were caught with more on-premise solutions in early 2020, especially phone systems, paid a heavy price. Unified communications as a service (UCaaS) solutions are expected to grow at a double digit pace through 2023. Companies that failed to prepare for a large portion of their staff accessing systems and working remotely were forced to scramble, especially at the start of remote work initiated by the rapid onslaught of COVID. The supply of laptops, mini-computers, and monitors dried up almost overnight. Today, organizations are moving to mobile computing with the bandwidth and scale to be able to handle far more concurrent users than prior to the pandemic. As a result, I believe the traditional desktop PC as we know it is dead. Laptops, docking stations, hoteling of corporate space, secure VPNs, and virtual desktops will replace the traditional desktop computer going forward.
Office of the Future
The office of the future is rapidly changing as well. Once companies learned that their corporate knowledge workers could work well remotely, they quickly figured out ways to reduce their expenses. Smart organizations started reducing their corporate office space through sub-leasing and outright sale of buildings during the pandemic. Organizations that waited are now dealing with the repercussions, which include lower sale prices and rents that are trending down. The ones that are keeping their corporate space are drastically redefining it.
My research shows that organizations are taking on one or more of the following five trends:

1. Mobility: Workers expect to have options in technology and locations as they leverage their ability to work remotely away from offices cut the time needed to commute to a corporate office.
2. Choice: Workers want options to be able to collaborate, and be versatile and agile, including the option to work from home, at flex offices space, in libraries or coffee shops that offer free Wi-Fi and socialization.
3. Privacy: Although the trend moving forward will likely include more open environments (and unassigned seating), employees don't want a full reversal of previous office environments. They want better space allocation that includes the ability to have some privacy, because they've become used to it while working remotely. That said – companies are shifting to more open work spaces that focus on collaboration, smaller conference rooms, better natural light, and occupational improvements in systems that protect their health while in the office.
4. Seating: Workers overwhelmingly favor a desk assigned to them and only them and may not be willing to trade the flexibility of working at home part-time for unassigned seating in the office. This contrasts with where companies would like to go, which is hoteling and unassigned seating as they look for ways to cut operational expenses by reducing overall space.
5. Health and Wellbeing: Even before the pandemic, studies showed that workers' desire for a healthy work environment was not being met. Employers will need to figure out how to make indoor spaces healthier, both physically and psychologically. The office needs to become a place where employees want to go to collaborate in person and communicate for a common purpose.
Remote vs. In-Office Productivity
IT teams seem to have done a really good job enabling companies to work remotely throughout the pandemic – perhaps too good. The majority of organizations report that their corporate knowledge workers gained productivity by working remotely. As organizations return to having the staff working from the corporate office, the average number of days in the office per week seems to be between two and three. One very interesting observation about staff working in the office is that they are less productive than working remotely. Employees spend more time getting ready for work, more money on commuting costs and dry cleaning, and a lot more time commuting – 1.5 hours per day on average. For the days they commute to the office, they're less likely to continue to work when they return home and thus, spend less total time working.

The other area where employers have learned to cut costs is in what has traditionally been the number one expense – wages. The technology industry led the charge during the pandemic with geography-based pay. Many tech firms announced that their employees could work remotely going forward, but staffers who moved to cheaper locations driven by less expensive housing had their pay reduced. Many New York-based companies are no longer paying staff who work remotely in cheaper locations a New York wage. Thus, an employee approved for one hundred percent remote work who moved to West Virginia makes less money than one doing the same job but who lives in or around New York City. A recent survey found that employees are willing to take between a ten and fifteen percent pay cut to work remotely one hundred percent of the time. Smart employers are looking very carefully at this as location-based pay is a terrific way to reduce operational costs. Doing so also means that they can source their employees from pretty much anywhere – a win-win for those wanting to live and work where ever they want without incurring traditional commuting costs and time.

Not all jobs are well suited for remote work. The McKinsey Global Institute recently took a look at a variety of industries and concluded the best and worst industries to support effective remote work with no productivity loss. Jobs well suited for remote work include: finance, insurance, management, IT, and telecommunications. Jobs not well suited for remote work include: agriculture, hotels, food services, transportation, manufacturing, mining, and utilities.