Stewart Douglas tells of his sudden, unplanned move from process controls engineer to IT leader, and other critical career moments on his journey to becoming a CIO.
Steve Rovniak: Where did you start your career?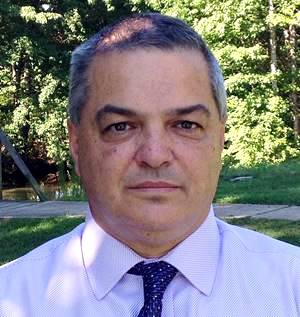 Stewart Douglas: I completed a "double-E" degree (electrical and electronic engineering) in the UK and then started my career as a process controls engineer. My first job was in an electric cable manufacturing business, a division of BICC plc, implementing automated process control systems in manufacturing. At that time, they were trying to implement an automated warehousing system that was going to integrate with their commercial applications. Well, this project was massively late, substantially over budget, and it didn't work. And for some reason that is still a little bit unclear, I was drafted to assist in the project. I was just one year out of college. A year later the IT leader at the site left on a medical leave and suddenly I was promoted to leader of IT for this manufacturing business. So there you have it, my unsophisticated and unplanned transition from engineering to IT.
Later I moved to a bigger business unit as the IT Manager, leading ERP implementations, and I eventually became European IT Manager. Then that business unit was acquired by ITT Cannon.
What were you doing at ITT Cannon?
There were several acquisitions happening and I ended up running IT integration, and eventually was named IT Director for Europe. This was all very opportunistic. I didn't have a well-mapped-out career plan. I stayed with ITT for another eight years. I joined Rohm and Haas UK in 1996, and transferred to the U.S with them in 2000, moving to Marlborough, Massachusetts, in the role of Global IT Director for the Electronic Materials business.
I led a series of SAP projects for Rohm and Haas on a global basis, which took several years. At the end of those implementation projects, we were into a steady-state period and there wasn't an enormous amount of new stuff going on. At that time I started wondering what I was going to do next.
Is that when you first joined AMETEK?
Yes. I got approached by a recruiter for a job at AMETEK as VP of IT for the Aerospace and Defense Group, which I joined in 2007. My responsibilities grew as AMETEK completed multiple acquisitions and the organization grew. Then in early 2021, the then CIO, Ken Weirman, announced that he was going to retire in the summer of 2021. I was then appointed as AMETEK's CIO in mid-2021.
You said you didn't have a well-thought-out career plan, but were you given any advice early in your career that has helped you?
When I was in that first IT manager role, there was a managing director there who told me, "You don't need to be brilliant all the time. You just need to be 5 percent better than your peer group every year. If you just do that, be consistently a little bit better every year (and the definition of better, of course, depends on the context) after a few years you will clearly stand out from the pack."
I thought about that a lot and tried to always do a little bit more or a little bit better all the time. I've tried to live by that approach, and I think it has worked out. I have been doing that for about 40 years.
About AMETEK
AMETEK, Inc. is a leading global manufacturer of electronic instruments and electromechanical devices, with 2021 sales of $5.5 billion. Headquartered in Berwyn, PA, AMETEK has 18,500 colleagues at more than 150 operating locations, and a global network of sales, service and support locations in 31 countries around the world.
What mistakes do you see up-and-coming IT leaders make?
There are a couple that come to mind. I have observed that people who are earlier in their careers often think they can solve big problems way faster than they actually can. The amount of inertia in most organizations due to the culture is way more than they recognize. Not being able to assess the culture and make changes at a speed at which the organization can cope with them can be a big career derailer.
The second mistake I see up-and-coming IT people make is viewing the world through a technology lens. 'If we install the new shiny mousetrap, we're going to solve all our problems.' The people who are successful are not just great technologists. You have to see beyond the technology to how it's going to fit into the organization, what the benefits are going to be, and how it's going to impact people.
Can you recall a pivotal moment in your career?
I think the defining moment for me was relocation to the U.S. I had been working in the U.S since the late '80s, but from the UK as a commuter, and I came to recognize that, because I was working for U.S.-based companies, the only way to really progress was actually to be in the U.S. So, I made what was, essentially, a life-changing decision to move myself and my family here. And it opened up a whole world of opportunities that would never have existed had I remained in the UK. My career accelerated a lot after that.
Can you give an example of a time when you took a huge risk that paid off?
When I was at Rohm and Haas, we had a joint venture company in Japan. The other company in the partnership was busy doing an SAP implementation in Japan. They were many, many years into it and it was going very slowly. Because we had done multiple SAP implementations by that point, we had a developed a pretty formulaic approach, and we had seen it work extremely well. I proposed to the U.S. management team that we don't use the local implementation partner in Japan. We actually took a whole U.S.-based team and did the SAP implementation in the Japanese company, which was massively high-risk due to cultural differences.
How did that turn out?
We were able to implement SAP in the same amount of time that it took to implement it in our U.S. and European locations. It could have gone horribly wrong, but it didn't. In fact, the Japanese consulting partner later adopted our methodology for doing these projects based on the success of our approach.
What would you say are the soft skills that you rely on most as a CIO?
A big one is developing strong relationships with all of the key people in the business, the operating people and other corporate executives. They assume that either you know the technology part of the job and how to do it, or you've got people who do. So, it's managing the business relationships. In the CIO role I think the biggest single change is more direct engagement with external constituents, working with the CEO and the CFO a lot more, the board of directors, and other stakeholders.
What part of the job of CIO do you love the most?
Building very effective cross-functional teams, with functional experts, business people, and third-party consultants, and then just letting them get on with it once you've got them pointed in the right direction. I find that to be very rewarding.
Another thing I like doing is M&A due diligence and integration because it's always new and different. You get to see neat technology, meet with new people in different places, in different industries. Very often we are acquiring a founder-led private company that has its own culture, and we are marrying that with our corporate culture. It's a tricky balance but it is a very rewarding part of M&A.
What part of the job is the hardest?
I can think of two, an internal one and an external one. The internal one is balancing the insatiable demand for IT services with the realities of how the company chooses to invest in the IT organization. Any company wants to control costs wherever possible, and yet, in IT, we have this massive amount of demand. So, choosing what to do is a continual challenge because you can never make everyone happy.
The other one is related to software vendors and managing the complex relationship between them wanting to be a business partner to grow their business with us, and their compliance departments who have a very short-term view about immediate gain. It comes down to managing the relationship at a higher level than just the local sales person and compliance group.
What is one of your most effective recruiting or retention strategies for top IT talent?
First off, you have to have a competitive compensation system. We spend a lot of time doing compensation comparisons using expert third-party firms.
Whenever we hire people, we're trying to project them into a job one or two levels beyond the current one we are hiring them for. We're giving them challenging assignments that they may feel that they're not qualified for. The objective is to stretch their ability so that we can grow them into the next couple of roles.
What do you think the CIO role will look like in five years?
Honestly, I am not sure. The pace of change in our field continues to increase. There are going to be things here in five years that we haven't even thought about yet. I think that the nature of the way people work is going to be different, but I can't really envision what that's going to be. The long-term changes caused by our experiences during the pandemic are not clear to me yet. Many things won't change. We'll still be running transactional systems, financial systems, and doing e-commerce and digitizing the businesses, but it's the nature of work that will be most different.
One subject that is very topical now is cyber threats and, based on the evidence of the last five years, the potential risks are only going to grow in the future. It will be a key part of the CIO role to ensure that the organization is educated about the risks and equipped to manage them and protect the company.
What is one piece of career advice you have for aspiring CIOs?
For somebody who wants to be a CIO in the future, I think they need to build a track record of continued achievement and success, of delivering projects and services. Do that over a sustained period of time, through multiple iterations of the economic cycle. It's easy to do things when you're in an economic expansion, but way harder in a contraction.
On a more personal level, I think you have to develop a reputation for integrity, reliability, and trust.