Chetan Balsara's first CIO role exposed him to the world of private equity, and led to his current role as CIO of Springs Window Fashions, a PE-owned business behind the window treatment brands Bali and SunSetter.
Steve Rovniak: How did your career in technology get started?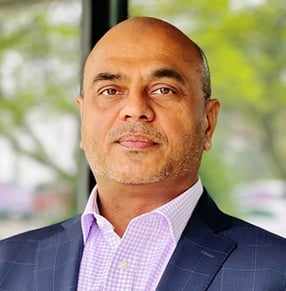 Chetan Balsara: When I graduated with a degree in electronics engineering, I was not very interested in programming. My first job out of college was in technical pre-sales.
Over time, I got more exposure to the programming side, and it caught my attention. I started playing around with it and eventually got trained. I discovered it was a lot more fun than it was back in college, so I decided to switch from working with hardware to programming, which really set things in motion career-wise.
What roles did you have after making the switch to programming?
I worked as a developer, which morphed into business analyst, systems analyst, system administration, lead architect, and project manager. So, I've seen all the facets of traditional IT. And eventually I was given broader responsibilities and leadership roles.
Was there a point in your career, working your way up in those various roles, when you realized that you wanted to be a CIO?
Yes. In fact, it was quite early when I was at Wilbur-Ellis, a chemical manufacturer I worked at from 2003 to 2008. During the latter half of my tenure there, I was given a broader set of responsibilities, which opened my eyes. I started to think, "Where can I apply technology more effectively? How can I engage with the business? Where can I add value by bringing the technology to the table earlier in business discussions?"
I realized that if I had opportunity to be part of the original discussion and thought process, and sit down with the business vertical leaders and P&L leaders to solve the problem together, it would allow IT to be an enabler instead of an order taker.
What was your first CIO position?
At Davis-Standard, which is a manufacturer. I held that CIO position for almost a decade, which is uncommon for CIOs. Typically, they last anywhere from three to five years. That is also where I cut my teeth in the private equity (PE) arena, which set the stage for the current CIO role with Springs.
What is the key to long tenure as CIO at one company?
Most CIOs are very good at setting a strategy, setting the vision, and building the five-year roadmap. But most fail at execution, not because of their ability, but due to changing economic conditions, market conditions, or the technology doesn't align or the vision no longer aligns with changing business challenges. Things morph.
The way I approach it is, rather than setting a rigid five-year strategy, I set a two to three-year strategy that stays aligned as the business changes. Develop a solid foundation that looks five years out, but keep things agile. Focus on the short term and put a strong emphasis on execution. This way you get the trust of the business, and you can ensure that projects actually cross the finish line, with the business benefiting from them. In turn, this allows you to have a seat at the table, to act as a partner and as an advisor.
Can you describe your current role at Springs Window Fashions?
Like Davis-Standard, Springs had never had a CIO, so this is a first for them in terms of understanding what the CIO can bring to the table. I'm responsible for all of IT, from security to infrastructure, enterprise applications, digital initiatives, and also our e-commerce initiative.
This is a broader CIO role than most traditional CIOs have. I participate in a lot of business initiatives and I bring a lot of business acumen to our discussions.
How did you hear about the Springs CIO opportunity?
Davis-Standard was held by a PE firm, and once you are involved in this community, typically you get approached by other PE firms looking for people with your experience. PE is a different kind of environment, and things are structured differently. Things are very execution-focused with a very short horizon. The runway is very short in terms of the holdings, so they're looking for people who can come in, understand the challenges, prioritize them, and execute very quickly, but also set the foundation for long-term sustainability.
I had spent a lot of my tenure working in high-tech, industrial manufacturing, chemical, energy, and electronics, with little exposure to retail manufacturing. So when this opportunity was presented, it was a perfect opportunity to segue into the retail manufacturing segment, which was experiencing quite a boom during the COVID period.
What is an interesting initiative that you and your team are working on right now?
We are working on the next release of something called 'Visualizer', which is very cool and exciting. You can pick up your smartphone, point it at a window and Visualizer will automatically identify the dimensions. Then, it can drop in different blinds, shades, shutters, and curtains, in different styles, sizes, fabrics, and colors. Using AI and augmented reality, you can add a photo of your living room or bedroom and visualize your window treatments before you make your purchase.
The next iteration will give customers full shopping cart integration so they can click-to-buy once they have selected the products and options they like most. That's the next creation we're working on, and it will be an industry first.
What is some of the best career advice you have received, and that you pass on to others today?
One piece of advice that has stood out to me is to remember to look inward and reevaluate what you have done, and how you will do things in the future. As CIO, you have to juggle multiple priorities, and you are constantly moving from one thing to the next. Unless there is a major failure, very little time is spent looking inward. But I've realized that on a quarterly basis, at least, I must look back and reflect on what I did, how I did things, what I could have done better, and how.
Another piece of advice that has resonated with me is about that, at the CIO level, you need to find a way to be resilient. Market conditions, economic conditions – they all keep changing, and your ability to be resilient and modulate as conditions change around you is something I talk about with those who aspire to be leaders in technology.
And lastly, successful CIOs are able to focus on the solution and not just the technology. It's very important for CIOs to gain business acumen and understand what drives the market. So step away from IT and partner with the product engineering group to figure out where the technology can be benefiting them, or with product engineering to provide the next generation of innovation. And build relationships with the business because that is what usually determines whether a CIO is successful or not.
What are some potential future roles you see for yourself?
These days, you see a lot of businesspeople who don't have the technical background taking on the CIO role. They end up leading IT because they have very strong business acumen, business knowledge, and execution capabilities. If that can be done, then I believe that CIOs can definitely fill COO and CEO roles. Absolutely. My eyes are on a COO or CEO role one day, or a Business Unit leader with P&L responsibility.
What are some key soft skills that are required in a CIO?
The ability to listen. As a top leader within IT, you always have an opinion. And nine out of 10 times you have an opinion even before the problem is fully presented to you. But I have learned over the years to not jump in. Let the team figure it out. Let them come up with options, solutions, and alternatives. Let them debate and deliberate. Then when they come back to you with a proposal you can challenge them with other options or approaches.
That allows a team to feel empowered, and it forces them to learn how to present information to the senior leadership team, who is non-technical. The ability to decouple technology when presenting is a critical soft skill that I've developed for myself, and that has worked out well.
Next is empathy and treating individuals with respect. Yes, there are deadlines, and some weekends that you have to go full speed ahead, but when the team feels respected and that they have a fair work-life balance, they will deliver a lot more than we even ask for.
One of the things I always let my team know is that it is okay to make mistakes. Nothing is going to be perfect. We will learn from our mistakes, but make sure the mistakes are not repeated. We have a good tagline here: "We either win or learn." So, there are no failures.
What are some of your most effective IT talent recruiting or retention strategies?
One of the things that has worked for me, both at Davis-Standard and here at Springs Windows Fashions, is giving the team cross-training and the opportunity to take different roles and responsibilities inside and outside of IT. It gives them breadth and opens up their possible career paths within the organization, which is good for retention.
The second thing is to give people challenges that are meaningful, and rewarding for them, not financially, but in terms of recognition, and the freedom to work on pet projects or to do interesting research. These allow people to get familiar with new technologies and expand their skillsets, which tech people want.
How do you know when your IT organization is succeeding?
We have KPIs, metrics and so forth, but I also rely on a non-traditional approach. One of my key indicators for our success is how much IT is involved in early phase, grass roots discussions taking place around business problems, new projects, and initiatives. The more IT involvement I see at that level, the more IT is being viewed as a business partner, advisor and enabler.
What do you think the CIO role will look like in five years?
The CIO role has morphed a lot in the last decade and has changed from a focus on technology into more of a business focused analytical role, driving data-based decisions. There will be a lot of machine learning and AI coming through, and the CIO has to adapt for that.
In the future, CIOs will need to have the ability to interpret data, and help the business understand what is in the data.
Have you read a book that has helped you be a better leader, and that you would recommend to your peer CIOs?
This may sound a little bit archaic, but my two favorite books that I keep rereading are The Effective Executive in Action, by Peter Drucker, and Who Says Elephants Can't Dance" by Louis Gerstner, the ex-CEO of IBM. Those books are probably two decades old, but they still resonate with me today in terms of the advice, in terms of the strategy, the leadership, and how to solve the business problems.
For perspective on physical and mental health balance, I recommend Management Mantras, by Sri Sri Ravi Shankar. And one of the books that I have on my to-read list is Rebooting AI by Gary Marcus and Ernest Davis.
What are your favorite places to travel for business or pleasure, and why?
Before Covid, while still at Davis-Standard, there was a lot of European travel and I got exposed to Iceland and Finland. Those two places really caught my attention. Iceland, more so from a data center perspective, just because the climate there is ideal for this. They are one of the pioneers tapping into the undersea data center concept, and they've successfully demonstrated they can do it. And another advantage over there is the renewable sources of energy, both from geothermal and hydroelectric power. That's very intriguing in terms of the current focus on clean tech energy.
And as much as we tout Silicon Valley, which is great, I am impressed with Finland as an innovative hub that also offers good work-life balance. There is a wealth of technical skill available there.