After a planned career in nuclear physics didn't pan out, Suma Nallapati pivoted to IT and never looked back.
Steve Rovniak: Have you been in IT your entire career?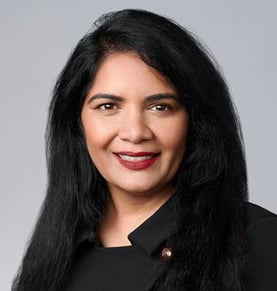 Suma Nallapati: Actually, my Master's degree is in nuclear physics and at first I was planning to pursue a career in that field, even go for my Ph.D. But I didn't have the chance because there were not a whole lot of jobs available in nuclear physics at the time. So, I had to fall back on my bachelor's degree, which was in electronics and computer science. Also, the technology industry was booming and I became a programmer.
Can you walk through your employment history leading to today?
One of my first jobs was as a programmer at EchoStar, a satellite communications company, where I later became a technical lead, then a manager, and eventually a director of IT. After leaving EchoStar I worked as a consultant for a while implementing ERP and CRM solutions.
In 2014 I joined the State of Colorado as CIO, a job I held for five years. I was Chief Digital Officer at Dish Networks and also at Everbridge before joining Insight Enterprises as Global CIO last April.
After years in in the commercial sector, did the CIO job at the State of Colorado give you culture shock?
Yes, it was difficult. But being the CIO for a public sector organization as big as the State of Colorado was also one of the most rewarding periods in my career. The technology was the easier part, but having to translate requests for funding and investments to a joint budget committee or joint technology committee, and talking to the governor's office in a language that they understood was the hardest part of that job. But when I look back, the amount of influence and impact we had by using technology to modernize the DMV system, modernize the unemployment insurance benefits program, Medicare and Medicaid benefits renewals, and Affordable Care Act eligibility programs – these are all things that I have extreme pride in.
What attracted you to the CIO role at Insight?
The company values –Hunger, Heart, and Harmony – align with my personal values. For me, being purpose driven is very important, so that is why I felt Insight was a great match.
Who do you report to?
The CEO, Joyce Mullen.
What is the size of your team in IT?
Over 500.
What are you and your team working on?
Insight is embarking on a journey to become a leading global solutions integrator, so we are transforming our business model to be of greater value to our clients. I am leading an internal systems transformation initiative that is moving us to cloud-driven and platform-driven technologies.
This initiative will also enable a data-driven operating model, where we will use data to uncover new insights and make more impactful customer decisions. Our new data-driven operating model, fueled by the cloud, will enable us to build foundational technology capabilities with reusable components and centers of enablement. One of my key objectives is to dramatically increase automation.
That type of initiative requires a lot of communications and influence outside of IT.
I would say it's mostly influence work. I'm a people leader first, and a technologist second. It can be hard for people to think about a CIO in those terms, but as I said, the technology is the easier aspect of this job. Leading people through change, making sure they understand the change and 'the why' behind it is very important. To do that, you need to be able to communicate in the language that business people understand and can embrace. It requires a great deal of intentionality on my part to be able to communicate about technology and business changes in their language.
About Insight Enterprises
Insight Enterprises is a Fortune 500 solutions integrator helping companies architect, implement, manage and secure new technology to meet the requirements of a digitally dependent world. Founded in 1988 and headquartered in Phoenix, Insight has 12,000 employees and operates in 19 countries.
Do you recall any good advice you received early in your career?
Definitely. Early on in my career one of my directors, who was a West Point graduate, taught me a lot about the discipline of execution – about being very open and disciplined in the way we communicate as business leaders. That has been very instrumental in shaping how I communicate even now.
When you're working on a problem, you may think you're communicating well, but the others around you, your stakeholders, may not have the same information you have at that exact time. Having the discipline required not only to execute, but to communicate the different layers of problem-solving has been very instrumental for me. I'm truly thankful for that advice I received early on. It has helped me be a better communicator and a better leader.
What are common mistakes you see up-and-coming IT leaders make?
For technology leaders, communication is the biggest challenge. I see many of them thinking in bits and bytes, and not about the business problem that they're trying to solve through technology. When I see technology leaders flailing, it's usually because they are not communicating the business value in a language that the business partners understand. But when they are able to successfully do that, their business partners and the leaders around them will become their sponsors and advocates.
If it doesn't come to them naturally, what can a rising IT professional do to improve their communications skills?
Get out and meet your business partners. Go out to their business areas and listen to what they're working on. It's so easy as technologists to hide behind our computer screens and not come out and think about the outside problems that you're trying to solve. So, be uncomfortable. Be okay with the discomfort of being in areas where business communication is happening.
Do you have any other advice to offer to future IT leaders?
My advice to the future leaders, or even to my younger self, is just one thing: be fearless. Try and solve harder problems. Go in search of new and non-linear perspectives, and know that every failure is a learning experience.
What part of the CIO job do you love the most?
For me, it's solving the challenges of tomorrow. It is being a provider of solutions to the various challenges that people and businesses are experiencing. An example of this was when, at the State of Colorado, my team and I were able to reduce processing times for Medicare, Medicaid, and food stamp benefits from months and weeks to days and minutes. Creating those outcomes, especially for the most vulnerable populations, has the biggest appeal for me.
What is the most challenging part of being a CIO?
It's always about people. That's the most challenging part because you're dealing with multiple stakeholders, your clients, business partners, your leadership, then there are your internal teams and external teams. How do we, as leaders, ensure that we are being as effective as we possibly can for all our various stakeholders?
In this competitive market for IT resources, how do you attract and retain top IT talent?
The technology talent shortage is real and every organization is facing that. I look at non-linear ways of attracting talent. For example, when I was CIO of Colorado, we were able to create relationships with organizations like the Blind Institute of Technology. Through them we hired visually handicapped employees who were part of the solution of creating accessible programs. We also had a partnership with Veterans Affairs, through which we trained retired military personnel, who tend to be very logical and analytical thinkers, on cyber security technologies. We also had an internship program that provided training to veterans who could then become part of our IT workforce on a permanent basis. I plan to establish similar strategies for recruitment here at Insight rather than just looking at the same pools of talent that everybody else is going after.
How do you know when your IT organization is succeeding?
You know, it's a continuous process. IT is on a continuous delivery path, so there is never a place where we can say, "Yes, IT has delivered everything," because the next business problem keeps coming up. But the more the business partners are talking and communicating with IT about their challenges, collaborating with us, and adopting the technologies we've built, I would say that IT is being successful. And that is the way we stay on a path of continuous delivery and continuous improvement for our teams.
Have you read a book recently about technology, business or leadership that has had an impact on you and your job as a CIO?
There is one book I read a long time ago, and that I am now rereading, called The 4 Disciplines of Execution. It's about how to create wildly important goals, and how to create the leading and lagging indicators that tell you whether you are on the right path. That book is very helpful for making sure you are looking at metrics and KPIs in the right way.
Outside of work, what type on consumer technology do you find interesting?
I love Google Nest. I have everything in the house programmed to my voice, so when I come home, everything's automated. It turns on the lights, sets the temperature and everything based on my voice commands.
I also see robots becoming a bigger thing. I stayed at a hotel three years back and I had forgotten to pack my toothpaste. I requested some from the front desk, and soon there was a knock on the door and there was this little robot at the door. It was programmed with my room number and my name so that it could greet me, and then it handed me the tube of toothpaste from a little tray. So, when we talk about the talent shortage, we also need to talk about bots.
What do you think the CIO role will look like in five years?
The CIO job will become – has already become, you could say – about value co-creation in partnership with other C-suite leaders. IT is evolving and it is moving to the center of the boardroom, because every company is a digital technology company right now. So, when they are doing their jobs right, CIOs are leading business conversations and creating new value streams and new business revenue models.