A self-professed lover of big challenges, Kellie Christensen accepted a CIO position in a new industry after 27 rewarding years at one firm.
Steve Rovniak: How did your career in technology get started?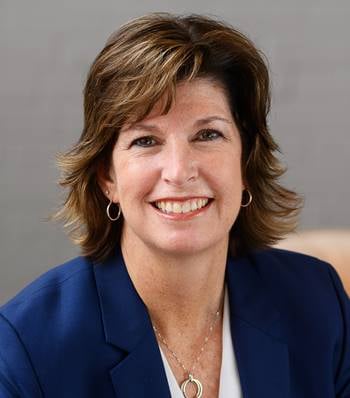 Kellie Christensen: When I was in high school, if you would have asked me if I was thinking about a career in technology, I would have said, "Absolutely not!" It was not an interest of mine until I was about halfway through college. I was working for the City of Bloomington, Minnesota, where I got an introduction to computer systems. I became friends with the manager of the Geographical Information System (GIS) and saw the plans for the Mall of America. That started to show me what systems can do.
At that point, I switched my business degree concentration to Management Information Systems (MIS) and started down the path of becoming a developer. My main interest was always rooted in what technology can do for a company. I was never interested in development just for development's sake. And I really did not want to be a developer for very long. I wanted to move my way into the management track so that I could have more impact.

Can you walk us through your career up to your CIO role at Gray?
I spent the first year of my career at a very large, 60,000-employee telecom company, US West, which happened to be imploding at the time. I ended up leaving there and moving to a small manufacturing company. I was planning to spend just a couple of years there and then move back to a larger company where I thought I would have more career opportunities. Surprisingly, I ended up staying there for 27 years!
That little manufacturing company, Banner Engineering, started growing and expanding quickly after I started, and my career opportunities grew with it. Within three years I was manager of all the information systems. Three years after that, I was promoted to the IT Director and had responsibility for the whole IT Department.
Soon after, the company expanded internationally, which afforded me the opportunity to travel all over the world implementing technology and helping to open manufacturing plants and sales and distribution offices. Fortunately, I love to travel. I love to learn about the various cultures and the different ways of doing business in different countries. As long as I was being challenged, was learning, and felt I was being treated well, I had no real reason to leave. It was a very collaborative culture, and I felt highly valued. In 2014, I was promoted to VP of Information Technology and then CIO in 2018.
Did you have a career strategy with a CIO position as the goal?
Early in my career, I thought I would go into consulting because I really love what technology can do for companies and I thought it would be more interesting to broaden that exposure. I've done a little consulting over the years to try it out. I'm an active learner and am really interested in learning different environments. As my career progressed, I liked the impact that I could make within a single company and witnessing how that impact grew over time.
To continue to grow in my career, I realized that I first needed to work on networking. As an introvert, it's very hard for me to go out, meet new people, and stretch myself outside my comfort zone. But I made myself reach out, and I honed my networking skills. As a very young IT Director, I met some wonderful, seasoned leaders – CIOs and VPs of IT, both male and female – who became role models. I found my way into a group of women CIOs who have served as great mentors for me. Seeing what they did and the impact they were having at their companies quickly showed me that CIO was the career path that I wanted.
Looking back at that networking and the mentoring that you received, is there one piece of advice you were given that proved especially valuable?
When I was networking with an IT leader from another company early in my career, he said, "You really need to go back to school and get your MBA." My brother had his MBA and I thought I would probably go back and get mine someday, So, not too long after that conversation, I enrolled in a program and got my MBA.
I really enjoyed the classes and I used almost everything that I was learning from the program in my job. It gave me a much greater understanding of business than I had received in my undergraduate business courses, especially because I could apply it right away. It made me more curious about business and more mentally involved from a business aspect in my current company, which enabled me to provide more business value through technology as well.
After 27 solid years at Banner, what led to the decision to join Gray?
Like I said, I love a challenge. That is what attracted me to this role. It meant learning a new industry and a new company. It is also part of a larger family of companies, which adds to the challenge and opportunities for my growth. I'm starting out in the construction company, which is the largest company within the umbrella organization but I'm already leading projects for the larger family of businesses with a path to become the CIO for the whole organization. The construction company has had tremendous growth in the last few years, which created a lot of exciting opportunity related to scalability and process enhancements. These were things that I was confident I could help with quickly.
About Gray
Gray is a fully integrated, global service provider deeply rooted in engineering, design, construction, digital, equipment manufacturing, and real estate services across the following markets for domestic and international customers: Food & Beverage, Manufacturing, Automotive, Distribution, Mission Critical, and Commercial. Founded in 1960, Gray has nearly 30 offices across North America, Europe, and Asia.
What else are you working on?
I'm building and transforming the IT department in the construction business right now with an eye on being able to offer managed services to the other companies across the organization in the future. Services such as help desk, infrastructure, security, and some shared application support for the CRM system.
What do you think Gray saw in your background that was attractive for the CIO role?
The company realized that with its explosive growth, as well as future growth planned for the construction company and other Gray companies, it was time to hire a business-minded CIO. They also wanted to make sure that the new CIO was a really good cultural fit. I think we all sensed a very good fit right away, even during the first remote interview. They appreciated the background and experience I'd gained at my previous manufacturing company with optimizing processes. They were looking for a partner to help them optimize their processes to scale with their growth.
Who do you report to?
The CEO
What soft skills do you rely on the most as a CIO?
Collaboration and communication. You have to make sure that you honor the past and show people the path going forward, how it will help them, and the value that it will create. You can't come in disparaging where they've been, or how they have done things in the past. You have to offer solutions in a collaborative way. You want to come in as a partner.
When people are resistant to change, how do you win hearts and minds?
Patience. You really need to talk through what their concerns are. What is the reason for the pushback? What is the reason for their resistance to change? If it is a manager, they may be concerned about how changes will negatively affect their people. You need to understand where they're coming from so that you can address their concerns rather than just telling them what to do. You have to take the time necessary to bring them along.
What part of the CIO job do you love the most?
Anything that has to do with business strategy – both internally and externally focused. The CIO is in a unique position to see how the entire company operates and see the opportunities for improvement, departmentally, cross-departmentally and with external partners. The most exciting part of my job right now is the strategic conversations that we are having surrounding the explosive growth that Gray has had and how we can continue to improve our processes to scale for future growth. These aren't technology-focused discussions. Making sure you have the best processes in place first, supporting them, and finally optimizing them with technology is the right sequence for improvement. I absolutely love being a part of that. And when you are improving processes, the positive impact it can have by making the lives of team members easier is very rewarding.
In the future, what other leadership role could you fill in the right organization?
At my previous company, had I stayed there, I was interested in the COO role. With the knowledge I had built up to that point, I thought that could be a natural fit for my skills and knowledge of the company operations. I don't think that's appropriate here at Gray because I don't have the industry background and knowledge. But I think COO is often a natural fit for a CIO to move into given the operational focus CIOs have.
In a tight market for strong tech talent, what is one of your most effective recruiting or retention strategies?
The culture here at Gray is a significant recruiting tool for us. It's a fairly large company, with a solid growth plan – both organic and through acquisition – and the culture is people-centric. For everyone whom I've brought on to my team, the culture here is one of the primary reasons they chose to come to Gray. The servant leadership philosophy makes everyone feel valued and cared for.
How will you know when your IT organization is succeeding?
That's a great question. From my perspective as a business person first, I want IT to be in step with – and preferably a step ahead of – the business. It's all part of being in those important conversations. If you know what's coming, you're ready to go. As a result, success to me is that the company is never waiting for IT to be able to execute on its business plan. Instead, IT is enabling and enhancing the business strategy. Right now, we're still playing catch up, so I'm not quite in that spot yet. But that's my plan.
Have you read any books recently that you would recommend to other IT leaders?
I'll give you two. The first is not a new book but one that definitely had an impact for me is Now, Discover Your Strengths. Don't try to change people. Focus on their strengths and continue building on them instead of trying to change or fix the areas where they are likely not going to be able to change. The subsequent books, StrengthsFinder 1.0 and StrengthsFinder 2.0 build on that theme. I've given these books to my direct reports so that we can share each other's strengths, which is powerful in team building and working collaboratively.
And the other more recent one is The 20-Minute Networking Meeting for honing in on your networking skills. The IT profession attracts a lot of introverts, so networking is not something that we're naturally great at nor do we really want to do it. The book is a short read, and it helps you to really be thoughtful about your intentions when you are networking with people. It's a critical skill that people often don't think about that is really important. Your network is how you expand your professional knowledge and also how you find job opportunities throughout your career.
What do you think the CIO role will look like in five years?
I've seen companies interchange CIO, CDO, and CTO titles more and more, or put them together in the same title. As technology continues to disrupt industries, I think Chief Digital Officer will be a more appropriate title because it communicates the importance of an encompassing digital strategy.