Phil Noe started his career in healthcare IT, then taught it at the college level before eventually becoming a CIO. After 10 years in the role, Noe shares what he has learned.
Steve Rovniak: Can you provide an overview of your career leading up to your current CIO role at Cross Country Healthcare?
Phillip Noe: I've been in IT my entire career. I started out in healthcare IT in the late eighties and early nineties, when I was part of a company that developed software that ran hospitals, way back in the green screen, AS/400, RPG and COBOL days. That company got acquired by Keane and I stayed with them for a couple years before I decided to move on.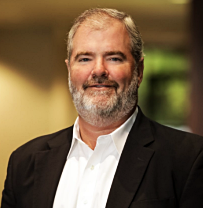 Next, I taught healthcare IT, healthcare administration, healthcare finance, and MIS at the University of North Florida, and that was just fantastic. I loved engaging with students, and talking with them about healthcare and about IT. But I didn't want to go back to school for a Ph.D., which I would have needed to stay on that career path, so I went back into the commercial space.
I joined Cognizant and worked as a consultant doing all kinds of different things in education, finance, manufacturing and logistics. One of my biggest customers was Walmart, where Cognizant had about 2,500 delivery personnel, including offshore and onshore. I was overseeing delivery for Walmart from Cognizant. I worked there until 2013, when I was approached to join The Adecco Group in North America as CIO.
Was that your first CIO role?
Correct. The Adecco Group at that time was a 23 or 24 billion euros company, the largest company in the staffing industry. The company is based out of Zurich and I was the CIO for North America and global head of solution delivery, which was my sweet spot, the applications space. Five years later I was approached by Vaco, out of Nashville, to become their CIO. I was with Vaco for three years before joining Cross Country as CIO in 2021. So, I've been a CIO for coming up on 10 years, and all it in staffing and workforce solutions. But I have worked in IT for almost 30 years now.
Were you given any advice early in your career that has helped you advance?
Something I learned a long time ago from one of my mentors was to surround yourself with people smarter than you. And I realized that it's really hard to do that early in your career, when you're trying to prove yourself.
But I think the thing that has the biggest impact on my success today is the ability to build strong teams and recruit and retain superior players, those smartest people in the room, so that when something comes up in their subject space, I can just shut up and listen.
It is so important to give people on your team the opportunity to step up and show what they can bring, to let them have a voice. At times it is so much easier to just think, "I've got this. I've done it this way a hundred times, so we're going to do it that way again." But then you miss out on both the mentorship opportunity and the chance to give an up-and-comer a chance to show something.
About Cross Country Healthcare
Cross Country Healthcare, Inc. (Nasdaq: CCRN) is a leading provider of workforce solutions, tech-enabled talent platforms, and staffing, recruitment, and advisory services. Founded in 1986, Cross Country solves complex labor-related challenges for customers while providing high-quality outcomes and exceptional patient care. The company has approximately $1.7B in revenue and is based in Boca Raton, FL.
Do you mentor up-and-coming IT professionals?
I think it happens naturally when you become a manager. But as you move up in your career, and you go from entry-level management, like a team lead, for example, to middle management, and then executive management, your mentorship role changes. You're trying to help people achieve the last level that you've recently achieved. It can be more challenging for a senior executive, somebody in a CIO role like mine, to be a mentor to someone who is entry-level.
But that said, I love hiring and having interns. I really like exposing somebody who's at the college level to as broad of an opportunity in the organization as possible, and then seeing what sticks. Do they gravitate towards security, or towards intranet and communications? Can they code already?
Can you recall a pivotal moment in your career?
Coming into an earlier CIO role, my expectation was that there would be executive alignment on the strategy. For a large corporation with multiple lines of business, and technology playing a key role to enable the strategy, you would think there was a plan, and a playbook, and that the CEO, board, and line of business leaders were all bought-in. The pivotal moment for me was coming to realize that that was just not the case. It wasn't something to take for granted, and I did.
So, the pivotal moment was when you realized there was no alignment on strategy among the executive leadership team.
A hundred percent. Absolutely. So, I ended up doing a lot of backpedaling and had to figure out how to present a new plan for IT and align the executives around what we were trying to achieve.
Can you give an example of a time when you took a huge risk that paid off?
I would say it was when I left my practice management lead role at Cognizant and decided to step up to be CIO at Adecco. That was a major change from a work-life perspective, and I'd be lying if I said I wasn't nervous. It was a 23 billion euro company. Was I ready for that?
It took a little coaching and help from my own mentors about how to prepare and how to do it. But now, here I am almost ten years later and I'm still very much embedded in this industry, and I love it.
As a CIO, what are the soft skills that you feel you rely on the most to be successful?
That's easy, it's relationship-building. When you think about what is going to make you successful as CIO, there is achieving your project and program goals, and your technical strategy, and so forth. And then, there is the relationship and my reputation with my internal customers, which could be business sponsors, field experts, divisional presidents, whatever. If I don't have credibility with them, it doesn't matter what I do. I can't get things approved, I can't get things started, I can't get their people attached to projects. So, the most important soft skill is the ability to understand who are your key relationships, your key customers inside an organization, and how to work with them. That is what will set you up for success.
What part of the CIO job would you say you love the most?
Honestly, I'm a geek at heart. I guess it would be hard to be in this industry and not be a geek, but I love talking about new technology. I love talking about technology trends, being on panel discussions, going to conferences, and networking with other industry leaders. I love having those conversations about what we're doing, hearing what other companies are doing, and constantly learning and evolving my thinking about the IT space. That's the part of my job that I find most fun.
Do you also geek out about consumer technology? Do you have lots of toys?
Yes. Over time I have been investing in a lot of smart home technology. I mean more than just voice assistants, like Alexa. I have replaced light switches with automation devices, programmable thermostats, and am gradually turning my house into a smart home. But these smart devices are not that smart, it turns out. They don't always work well, and my family gives me the hardest time about it. They get mad when it doesn't work and they have to stand up and walk over to flip the light switch old school.
What is the hardest part about being a CIO?
It's saying no. Saying no to the executive team. We have limited resources. There are limits to what can be spent, to the available people in your IT organization and the business people you need to bring in as subject matter experts. Saying we can't do it, or, "I can do it, but here is the list of 13 things that we're doing. Which one do you want to stop so that I can do this other one?" That's the hardest part. You want to be able to make everyone happy, but unfortunately, you can't always do that. That expectation has to be managed.
What is one of your most effective recruiting or retention strategies for top IT talent?
It probably sounds a little bit cliché, but I will say culture. As an executive, you are the best representation of what somebody should expect in the culture if they come to work at your company. And it's not just about the honeymoon period. You have to continue to walk the walk long term.
You might be successful in recruiting people because you can sell them that the job sounds like what they want to do, and that the environment is the kind they want to be working in. But then, to retain them you have to spend time creating and maintaining that environment they were attracted to.
People tell me that I am an enthusiastic and engaging person, and that is how I see myself as well. I want candidates to feel like, "Hey, Phil is going to be very present here, we're going to have huge open conversations, communication is going to be big, and I am going to be key to our team's success." So, then I actually have to do that. It can be March Madness competitions, it can be team dinners, town halls, blogs, whatever is needed to keep this workplace culture engaging. I would also encourage leaders to remember the power of the written word. Getting a hand written thank-you note is quite fulfilling.
What do you think the CIO role will look like in five years?
That's a hard question, but in my opinion, the importance of our vendor management skills will grow. Those relationships are what will get you the level of service, the level of success that you're going to need. So that's one part.
I think the second piece is effectively managing a remote workforce. This is the new norm; we are never going back to where we were two years ago. So, being an effective technology executive means you can fully integrate the remote or hybrid workforce into every decision being made about your technology ecosystem. And the security and risk management part of it is going to take more of your time. Securing a building with four walls and a roof is one thing, but securing your remote workforce, where there are as many locations as you have people, is a totally different story. I think those are skills that we're going to have to really continue to develop.
What is one piece of career advice you have for aspiring CIOs?
Learn your audience. Know your audience. You're going to go from talking to direct reports one day, to doing town halls for your entire division the next day, then speaking to the executive team or the board of directors. Every one of those different settings calls for a different rhythm in how you speak, a different vocabulary, and different levels of engagement or personality. You might make one comment to your direct reports and get a laugh out of them, but choose to skip it when you address your board of directors, even if humor comes naturally to you. Remember that as your audience changes, your skills in presenting and selling yourself, and establishing your brand, also have to change.
Did you seek training or coaching to help you in this area as you advanced in your career?
Not really. I think I just learned it by doing it. One of the most important things to know is that the level of detail you provide should change as your audience changes. With your direct reports, you want to include lots of details so that everybody is aligned. At your town hall, you want to just give them just enough. But with the executive leadership team and your board, it's more like, "Here are the major points." But be prepared to provide details when they ask.
Also, don't be shy about asking for feedback afterwards. "What did you think of my presentation to the board? How was my talk at the town hall? Did I talk too fast? Was I too loud? Did I provide the right level of detail? Was it too long?" Asking for feedback is the only way you will know whether or not you're hitting your mark, and how to do better next time. This is one way to keep improving.