After two decades in IT, Ishmael "Ish" Cooper recently moved from his CIO role at Nordson Corp. to Vice President of Optical Sensors and Metrology. Ish says the career shift fulfills a longstanding ambition to lead a business division. Here's what he says about that goal, the unique skills IT professionals bring to the business, and the need for a "business-first mindset."
Mary K. Pratt: You recently had a pivot in your career?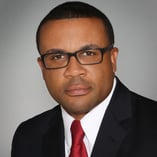 Ish Cooper: I had been in a CIO role for about 14 years in total, and I had been CIO for Nordson for two-and-a-half years – I had joined in January 2021 – but I recently stepped down as CIO to run one of our businesses, with full P&L responsibility. It's a unique move and somewhat uncharted territory for a lot of CIOs, but I've always had an interest in driving value directly, I have a great relationship with our CEO, and he understands my business aptitude and interest, so I made the jump.
Have you always wanted to move from IT into a business role?
As I've progressed in my career, as I got closer to value creation in my various CIO roles, as I developed a better understanding of growth and top-line objectives, I became more and more interested in leading a business.
Did you join Nordson thinking it was the right place to make such a move?
I did think, when I joined Nordson, about the potential to move to the business side because of the diversity of the company. The company has three business segments: Advanced Technologies, which is where I sit, and which is primarily dispense and test and inspection applications for semiconductors and electronics; our Medical Fluid Solutions division; and our Industrial Precision Solutions business. Within those segments, we have multiple divisions. When I started at the company, one of the things that was intriguing to me was the diversity of the business itself and then, second, the fact that the company has a division-led business strategy. This presented opportunities to get more directly involved and potentially lead one of the businesses.
As a CIO, how do you define value creation?
It's really defined by the business strategy of an organization, and it presents itself in many forms. For some companies, value is very clearly focused on inorganic growth. So if you want to be a part of the value-creation equation for one of those companies, then it could be about becoming a stellar integrator of companies. But if the core business strategy is organic growth, then value creation is - often focused on operational efficiency and driving waste out of the organization. That means, as a CIO, you have to understand the business strategy and what drives growth and get close to it. A CIO should know as much as the business leader of a respective area. What's happening in their markets? Who are their top customers? What are the competitive threats facing that particular business? You have to know these things, because in that way you're able to really think through how technology might help solve a problem.
Do you think CIOs are focused enough on value creation today?
It's getting better. But it is not where it needs to be. There have been some catalysts that placed CIOs in a more prominent position from an executive leadership team standpoint. The obvious is Covid; it brought the importance of technology to the forefront. Two, is risk management; Companies are developing a much better perspective on enterprise risk and technology's role in mitigating that risk. Third is everything digital and how digital brings technology leaders to the forefront. But the onus is still on those technology leaders to understand how they can drive value. CIOs need a business-first mindset.
What creates a business-first mindset?
It's understanding: How does the business make money? How does the business lose money? What are the risks to the business? What are its top markets? You need to know the information in detail. For markets, are your top customers, what are your products, what's your go-to-market strategy. And you've got to know how to read a P&L. You need to understand a balance sheet. Those things are fundamental because that's how businesses run.
Where did you get this business-first mindset?
I started my career in consulting, so I've always been aligned to using technology for business solutions. I've never been in a role where it's just about how to build technology independent of trying to solve a business problem or pursue a business opportunity. That connection between technology and business has always been there for me. Having a base in consulting planted that seed, which continued to grow as I've developed my career.
What has helped propel you forward?
I've met and worked very closely with a number of CEOs, and I asked myself, "Why not me? What prevents me from getting there?" I thought, "I have a good understanding of business. I've been very successful in my roles. So why can't I be CEO or COO? What's missing in terms of my experience to get there?" I also started thinking about what I might want to do after my career as a CIO, and I was really drawn to board work. I've worked on a few nonprofit boards, and I've been to a number of board prep programs. So, I said, "Okay, it's great that I can bring my technology acumen and my experience on risk. Those are the things I can absolutely contribute to the board. But wouldn't it be great if I also could bring direct P&L experience and operational experience? That would really round out my board profile."
Do you think there's something unique that CIOs such as yourself bring to business leadership beyond the technology component?
The one thing that stands out the most to me is the acceptance or aptitude for change. Because there are so many rapid changes in technology, you develop a tolerance for change that I think is very unique. Your tolerance for change is much higher, and you're able to move faster, than others.
How do you bring that CIO aptitude for change to the business side?
Frankly success is a cure-all. If you're able to achieve your business objectives and deliver on your plan, then the proof is in the pudding. And you lead by example: You yourself have to be a walking example of change enablement and change acceleration.
What lesson has your career experience taught you that you'd pass on to others?
There are no defined boundaries. Maybe you have to further your education, maybe you have to go back and get an MBA, or maybe you have to go get formal training in product management or marketing or whatever. So just do that. But don't place limits on your career.