A guest blog by Jim DuBois, the former CIO of Microsoft, excerpted from his book, 'Six-Word Lessons to Think Like a Modern-Day CIO.'
I got to experience the culture of three very different CEOs at Microsoft.
In 1993, my very first project was to modernize our IT systems off our legacy DEC VAX and IBM AS400 environment. We picked SAP as the software package to implement on a Windows Server environment. In those days, a project of this magnitude had to be approved by Bill Gates directly.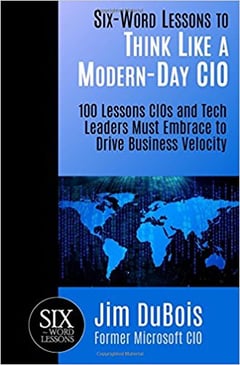 The approval meeting only lasted a few minutes because Bill looked ahead in the deck we passed out, and before we'd really begun the meeting he said, "Wait a minute. Millions of dollars to implement a software package? Are you serious?"
His exact words were more colorful, but he killed the project. Fortunately, we were empowered to rethink our strategy, allowing us to implement SAP in smaller projects that paid for themselves as we went, and to go faster than a big bang effort. Lessons like this started to change how I approached IT, but change was slow.
With Steve Ballmer as CEO the company continued to grow, but the culture changed and became more siloed since all major decisions did not have to go through Bill. I remember a customer experience meeting we had with Steve, where he was visibly frustrated that he couldn't immediately solve cross product customer issues we raised. He wanted to, but he would have needed to override the priorities he'd set for separate product teams.
I watched Satya Nadella learn from the different cultures under Bill and Steve. When he took the reins as CEO, he took the best of both and added his own magic to inspire everyone to want to work together.
Six-Word Lesson #1: Culture does eat strategy for breakfast.
I learned from Satya Nadella that culture really is more important than strategy, or vision, or any of the other things taught in business school. I intentionally start with this lesson because it is the foundation for everything else. If the culture in your organization loves the status quo and does not like making material changes quickly, the culture will fight against the challenges you are trying to make and will slow everything down. Spend time on purposefully defining and building the culture and values you need.
I realized from watching how Satya drove his company-wide transformation, that I was also fighting culture. Historic thinking about IT, both inside my organization and how we interacted with the rest of the company, was bogging down the change I was pushing.
In addition to the mindset change, we needed to strengthen some people skills. We had tried learning how to collaborate better as a company, and I was struggling with this in my own organization. As we tried to transform the old Microsoft traits into new, there were a lot of people who liked the sounds of what Satya was evangelizing: changing from knowers to learners, from trying to prove that you are the smartest, to trying to understand what our customers need and to be curious about diverse perspectives. But it wasn't easy and there were missteps as people learned.
Six-Word Lesson #2: The future belongs to the fast.
I've heard this repeated often in the last few years, and determined that I did not want to be left behind. I learned to bring my team along, leveraging those who are ready, and helping the rest understand that the pace will not slow down. Our faster pace is "the new normal." Companies cannot thrive by operating like the past. Team culture needs to embrace the transformation and accept the changes in order to thrive in the modern world.
Some people would call you out for not collaborating if you didn't agree with them. Or on the other extreme, people became so respectful that they avoided difficult discussions. I learned that collaboration requires both working respectfully and achieving a positive outcome together. To make progress quickly we could never avoid the discussions that needed to be resolved, but how they were addressed was important. These were skills we needed to improve, but the culture had to support the change, and no longer value the old ways. Without the purposeful drive to change culture, we could have never made as much progress.
Six-Word Lesson #3: Promote communication. Build psychologically safe environments.
Healthy escalations help cultivate safe environments where people are encouraged to speak up. To go fast, you must break down historical hierarchies and communication blockers. If employees feel safe, you will get the best ideas, questions for clarity, and criticisms that help you improve.