The latest subject of "How I Landed My CIO Job," our ongoing CIO career series, is Rajeev Rai, who joined Wynn Resorts as CIO in July 2018.
Heller Search: Where were you working before you joined Wynn Resorts as CIO?
Rajeev Rai: Most recently, I was at Neiman Marcus as CTO, and prior to that I was at Best Buy as Senior Director, Digital Commerce. Both were incredible opportunities that brought me closer to something I have always been passionate about, which is the customer experience and engaging with brands.
Neiman Marcus recruited me in 2012 to take a 110-year-old brand and bring it into the omnichannel world. Talking with the CEO during the interviews, she said "we have always done the right thing for our customers, and our customers are demanding this capability." That challenge of laying down the foundation for omnichannel engagement with customers and serving them where they are was attractive to me.
How did you first hear about the opportunity?
I was approached by Pam Kurko at Heller Search Associates. At first, I wasn't sure about Las Vegas as a location. And in addition, I didn't have any hospitality experience. But Pam and Carol Lynn Thistle from Heller Search convinced me to continue the discussion by phone and eventually to come to Las Vegas, meet people, and look at the city.
What got you more interested in the position?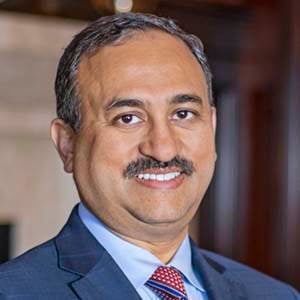 It was immediately evident to me that Wynn is an amazing product in terms of what they have done with the properties. A service delivery mindset is built in everywhere, down to the front line level.
However, they were behind on the digital and data journey to take the experience to the next level. For example, the website, had not been modernized or changed in over four years, and was far inferior to the real products and experiences Wynn provided. I was candid with the CEO about that during interview.
In the hospitality business, it is all about the customer experience, and I began to realize that there were a lot of similarities with high end retail. High end customers are discerning, and they expect a brand to live up to their promises. That was the challenge that excited me.


What was Wynn Resorts looking for in their new CIO?
They were not looking for a traditional CIO. Wynn was looking for someone with more of a CTO background, skillset and mindset. That was a very big alignment point for me because at the core of my heart, I am a solution architect. What I enjoy most is solving complex business problems, driving friction out of a process, and empowering people to deliver excellence to the customer. Technology is a means to that end.
What they needed was a technologist focused on the customer experience, personalization, and digital transformation, who could also create a roadmap to catch them up in the areas of technology where they had underinvested.
About Wynn Resorts
Wynn Resorts (Nasdaq: WYNN, $6.7B) owns and operates Wynn and Encore Las Vegas, Encore Boston Harbor, Wynn Macau, and Wynn Palace, Cotai. Wynn and Encore Las Vegas feature two luxury hotel towers with a total of 4,748 spacious hotel rooms, suites and villas, approximately 192,000 square feet of casino space, and 22 dining experiences. Encore Boston Harbor features a 210,000 square foot casino, and 671 hotel rooms, and is the largest private, single-phase development in the history of the Commonwealth of Massachusetts.
How did you prepare for your interviews?
I wanted to be prepared to outline my story succinctly and highlight what I have been able to do in my career and what my progression has been.
I looked at the roles of the people I would be meeting, and mapped out what their expectations for this CIO role were likely to be. I wanted to make sure that when I met them, I'd be able to pull out the pieces of my journey that were most relevant to them based on their roles. Technology is a big field and you can talk all day long and lose your audience if you haven't taken the time to understand what their concerns might be.
I also spent some time listening to investor calls, an investor day event, and CNBC interviews with the CEO to learn all I could about his vision for the company.
I can't overemphasize the importance of this last one: I prepared questions to help me figure out whether this was the right place for me. I had questions mapped out for each of the people I was to interview with, to learn how they perceived IT, their concerns, and what success looked like for the person coming into the CIO role, from their point of view.
How did you prepare to start your new role?
I called some of my mentors and got some advice, including Scott Heise, who was my boss at Best Buy. He is now the CIO Lands' End. Also Michael Kingston, currently CIO at L'Oreal Americas, who was instrumental in hiring me at Neiman Marcus. I sought their advice on what they had done for their transition into the CIO role at new organizations.
What were the first 90 days like?
I prepared a 30-60-90 days plan. The first 30 days were focused on building relationships, learning the context, getting to know people and the business.
The second set of 30 days was about starting to understand and influence decisions, understand key challenges, opportunities and starting to formulate a go-forward plan.
In the third set of 30 days was drawing up a roadmap, starting an initial change journey across people, process and technology dimensions. We developed a new org chart with new roles and responsibilities, and also a vision for the new IT org, which we decided to call "Five Star IT for Five Star Wynn Resorts".
Could you please elaborate on that?
The image of IT was in need of improvement when I arrived. There was a three or four-year project backlog, lack of visibility into our work, low morale in teams, recurring problems in our core systems, issues with stability, and some key vendor relationships were not in good state. The charter was to move from a "keep the lights on organization to a "business enabling transformation organization". We had to overhaul the image of IT and rally the team around that.
As the name suggests, there are five tenets to the "Five Star IT for a Five Star Wynn" initiative:
Operational excellence
Project delivery with agility
Modernization and cloud adoption
Security and compliance
Continuously optimizing IT costs
But even before all this, our first step was to implement a more direct communications strategy for the IT team, part of which is a quarterly town hall. In fact, the first town hall was used to introduce me as CIO to the rest of the team. At subsequent town halls we unveiled the new org chart and roles, and the Five Star IT program.
How is the Five Star IT program going?
Very good so far. We are implementing the tools for world class IT and leveraging ServiceNow, which had been implemented but was not really being used. We have resolved some very persistent network instability issues. To resolve that, we brought all of our vendors together on one call, and we were able to determine the root cause of the outages. It turned out to be relatively simple to solve in the end, and it has been stable for nine months now.
What new IT roles were created?
I saw the need to scale up, and we were able to get the hiring journey started early and get some new leaders in place quickly, with Heller Search's help. We added a VP of Application Development & Architecture, a VP of Infrastructure and Shared Service Operations, and we hired a VP/CIO for the brand new Encore Boston Harbor.
What is the headcount in IT?
When I started we had about 130, and we have since added 30 for the new Encore Boston Harbor. This year, as part of my strategy to upskill and add talent to the team, we have created 27 in new headcount while holding our operating costs flat. Once these roles are filled, it will bring the total close to 180.
How are you adding net new headcount while keeping costs flat?
We looked very closely at how we were operating and delivering projects. We realized we could take accountability ourselves rather than just cut checks to vendors. We shifted work inside, including digital, data and Salesforce.
Also, we were not disciplined about the way we applied internal resources to projects, so we changed that. We created time sheets and added the discipline of people booking time to projects. We looked at the areas where our expenses were not yielding results, and we shut some of those areas down.
We are investing more in the areas that are aligned with the business strategy and that drive growth, including new headcount. This includes new websites for both Las Vegas and Boston, personalization and contextual relevant marketing. In fact, we are doing new releases of our websites every two to four weeks now. Previously, they were updated every few years. Now, we are continuously optimizing the websites based on customer feedback, regular testing and learning, which is the key to all innovation.
IT must have played a large role in opening the new Encore Boston Harbor.
Absolutely. It was huge. We opened Boston with 200 new applications, or new instances of applications, and a brand new infrastructure. These support what are essentially four different businesses: the hotel, the restaurants, of which there are 12 in the Boston property, the shows, and of course the casino, which has 3,000 slot machines and 232 gaming tables.
We put in amazing in-room technology so guests can control everything via Alexa, like the curtains, lighting, thermostat, TV, et cetera. These are things our customers are using at home so we want to meet their high expectations at the new Encore Boston Harbor. It has won lots of accolades.
In this hot market, how do you attract and retain top IT talent?
There is no silver bullet to that, and Las Vegas is a little bit tougher than other cities because not many people think of Vegas as a place with a lot of technology. But I think there are three basic requirements.
First, people like to work for an organization that is evolving and adopting the right technologies to deliver a great experience. As an IT employer, you have to be able to tell a story about moving away from "keeping the lights on" and toward delivering cutting edge capabilities.
Secondly, brand matters. Wynn is a very strong brand. We always have to make sure we are talking about our brand and what it stands for.
The third piece is the work environment. Who are the people they'll be working with if they join the team? Will they learn and grow? Technology professionals don't like to be stagnant. They want a peer group that challenges their skills, and pushes them to grow. So the work we have done with mobile apps, data analytics and the cloud helps us attract people.
I will add that good people attract more good people. They talk a lot amongst themselves. We are slowly getting the word out about IT at Wynn.
What do you like to play at the casino?
I do not gamble very much but I have taken an interest in learning craps. Blackjack is probably my second favorite. I don't play the slots. I'd rather sit at a table, engage with people and see the excitement. That is what attracts me when I do decide to gamble.
About Rajeev Rai
Rajeev Rai is Chief Information Officer of Wynn Resorts, a role he has held since July 2018. Previously, Rai was Chief Technology Officer for Neiman Marcus. He earned a Master of Management Studies, Information Studies from Birla Institute of Technology and Science, Pilani, India.