Edward Marx believes that his career-long commitment to talent development and succession planning may have secured him the CIO job at Cleveland Clinic, the renowned $8B medical system. Marx is the latest subject in our series, 'How I Landed My CIO Job'.
Heller Search: Can you start by describing your career background before coming to Cleveland Clinic?
Ed Marx: About 20 years ago, I developed a career plan that included working in all the major healthcare environments – non-profit, for-profit, public health, faith-based health, and academic. Over time I fulfilled that plan, most recently at NYC Health & Hospitals Corporation – that is the public health category.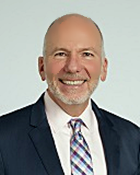 I was very happy at NYC Health & Hospitals and had no plans to leave when Cleveland Clinic called. I declined to pursue it initially – two times in fact. When they called a third time, my wife convinced me to take a look. Cleveland Clinic is the most highly regarded healthcare system in the world. The chance to be part of it was hard to resist. I only hesitated because I wanted to be sure that what I started in New York was in a strong enough position to continue if I were to leave.
What sort of opportunity would entice you to leave New York?
I wanted to work in an environment that was forward thinking, highly innovative, patient-first, and all about quality and safety. It would need to challenge me every day, and give me the opportunity to work with some of the brightest people in the world. In New York we were transforming a wonderful city. In Cleveland, we are transforming the world.
What was Cleveland Clinic looking for in a new CIO?
They wanted someone who was innovative, transparent, an accountable leader with a track record of success. They wanted someone who had experience serving on the clinical, business and technical sides and could find the synergies between the three. But they also had to be personable so as to be the right cultural fit. They were interested in a demonstrated track record of innovation, new ideas, and new ways to lead an IT organization.
What were the 'new ideas' they recognized in your background?
At Texas Health Resources, where I was CIO from 2007 to 2015, we were known for the work we did in mobile health. We were leaders in that category. I'd also led the social media movement way back in '07 and '08, when others were hesitant or cautious because it was new and unknown. I have always been about pushing the edges and looking for new and improved ways to work. At University Hospitals and again at Texas Health, my teams developed innovative strategic partnerships with vendors that led to improved outcomes, lower costs and opportunities for shared innovation.
I talked all about those innovations, but I think what impressed them more was my commitment to developing the people on my teams. I believe the number one role of a leader is to replicate yourself - develop other leaders. I was able to point to 14 healthcare CIOs who used to report to me. In northeast Ohio, all the healthcare CIOs have reported to me at one time or another. We recently got together for dinner and we continue to help one another.
Any success I have experienced is because I have been able to replicate my leadership, which then gave me the time and the ability to do those other things, like mobility, social media projects, and strategic vendor partnerships. It makes it possible for you to press on the edges, and to make new innovative things happen.
How do you attract and retain top talent in IT?
The best people want to be part of a team that is doing the next big thing; doing something significant. I always ask during interviews, "what is your ultimate vision for your career?" And I tell the ones I hire that I will help them get where they want to go – if they help me and my team and organization get where we want to go. That style resonates and I have always been able to recruit the best.
To retain the best folks, I have worked hard to live up to the promises I made when I brought them in, and give them chances to grow and be challenged, offer them the training they need, the exposure, opportunities to do new things and take on more responsibility. As a result, I have had very few people leave. But when they do, I am usually the "proud parent" giving them a glowing reference as they take their first CIO position. "Grow and let go," I say.
What else was the hiring committee looking for?
They all wanted me to explain, in detail, why I wanted to be part of Cleveland Clinic. They were really after something, like what was I going to contribute to this amazing institution's storied history. Would I be a good steward? As amazing as it already is today, was I committed to making Cleveland Clinic even better?
How did you prepare to start your new role?
First, my loyalty remained with my previous employer, so I gave them sufficient notice and I never took my eye off the ball there until the day I left. After my commitment to NYC Health & Hospitals was done, I took time off to spend with my family because I knew that the first year at Cleveland Clinic was going to be intense.
With those bases covered I reached out to various people and reviewed documents about the Clinic, the IT strategy, the challenges facing IT, the top 10 projects, and so on. I also took a little time each week leading up to my start to connect with my future direct reports to talk through things and learn so that, when I did arrive, I wouldn't be starting from scratch. By the time I arrived, we had the framework for our 30 day plan.
Who do you report to?
The CEO, Dr. Tom Mihaljevic.
What is the headcount in IT?
900
Once you started, how did you learn about the organization and build relationships?
I did something I like to call "hit the ground listening". I figured out who the top 100 leaders are, including people I call "influentials." These are people who may not be in a formal leadership position, but are looked at as influencers. There are influential physicians, nurses, other caregivers and administrators who aren't necessarily in high positions of authority, but who provided significant insight that influenced our plans. They can share keen insights that formal leaders may not have.
What have you been able to accomplish since you joined Cleveland Clinic?
In the first 180 days, we stood up IT governance for the first time, we had our first ever comprehensive cybersecurity plan funded and approved, and our first approved IT roadmap. We also strengthened our PMO so we could execute on our plans.
We have implemented ITIL for IT service management – now everyone has to be ITIL certified as a condition of employment. And we have become Agile across all of IT. We are "failing fast", releasing minimum viable product, we have product owners, business relationship managers (BRMs), and domain architects. We have completely redefined the way we do work, and our customers have already seen a difference.
Leveraging Agile, we developed a comprehensive digital strategy in six weeks. To us, this is the crown jewel: How do we make disruptive improvements to how we deliver healthcare? How do we reduce clinician burnout with the help of digital technology? How do we improve quality and safety? How do we improve the patient experience? And by the way, all of the journeys detailed in this digital strategy are led by non-IT people. Digital is more culture then technology but I am happy to bring the global enterprise team together to develop and execute.
We have also filled a number of key IT leadership positions that were vacant. So it has been very busy.
What were some of the positions that you filled?
I hired an Associate CIO, and as well as a new head of IT business operations, a new role whose responsibilities include IT strategy, PMO, and governance. We also created a new domain called "Agile" and hired the leader. Her role is to provide guidance on implementing and perfecting Agile. It is likely others in our organization will adopt Agile as we demonstrate success, so her role may expand beyond IT.
What does digital transformation mean at Cleveland Clinic?
For us, it is about new technology innovation, but also a cultural phenomenon. We talk about digital as part of everything we do, all our processes. We need to rid ourselves of as many manual steps as possible and take full advantage of automation so we can deliver the highest quality and safest care at an affordable price. We need to create improved experiences for our patients and caregivers that make it easier to access our services, so there is a heavy emphasis on design and convenience.
How do you know when your IT organization is succeeding?
The IT organization is succeeding when you, the CIO, and members of your team become trusted advisors. Obviously, there are feedback mechanisms, performance metrics, and dashboards. We have them and use them. But if my CEO brings me in and asks for my advice on all things, not just IT; or a hospital president tells me she doesn't know whether the BRM works for her or for me, that is when I know we are succeeding.
What new consumer technologies do you find exciting personally?
On April 7, 2018 I suffered a heart attack (left anterior descending artery, a.k.a. The Widow Maker) while running the last mile of the 2018 USAT National Duathlon Championships in Greenville, SC. (I finished the race, by the way and made the Team). I am recovering nicely, and have since become a user and a big fan of wearable health monitoring technologies, like Bluetooth-enabled EKG, BP, etc. The data goes right into my medical record automatically, so my clinician has real-time access to my vitals, and is able to send me adjustments to my prescriptions in real time. That is digital at its finest. In hindsight, I was saved by digital. When I crossed the finish line and checked into medical they used an iPhone, and in transit another EKG was sent, so when I arrived at the hospital I was immediately whisked into the cath lab. My now cardiologist from the Cleveland Clinic also had access to my wave forms and was consulting in real time.
About Edward Marx
Edward Marx is Chief Information Officer at Cleveland Clinic, an $8 billion medical system with 52,000 caregivers that includes a main campus, 10 regional hospitals, and facilities in Florida, Nevada, Toronto, Abu Dhabi and London. Prior to joining Cleveland Clinic, Marx served as Senior Vice President/CIO of Texas Health. In 2015, he spent over two years as executive vice president of the Advisory Board, providing IT leadership and strategy for New York City Health & Hospitals.
Marx is a Fellow of the College of Healthcare Information Management Executives (CHIME) and Healthcare Information and Management Systems Society (HIMSS). He is on the CHIME Faculty for the CIO Boot Camp, training aspiring healthcare technology professionals. He has won numerous awards, including HIMSS/CHIME 2013 CIO of the Year, and has been recognized by both CIO and Computer World as one of the "Top 100 Leaders." Becker's named Marx as the 2015 "Top Healthcare IT Executive" and the 2016 "17 Most Influential People in Healthcare."