Vikram Nair, who became CIO of Amneal Pharmaceuticals in January 2020, reflects on the soft skills that he believes are essential to being an effective leader.
Last January, as I entered the board room on my first day as SVP & CIO of Amneal Pharmaceuticals , I wondered what I would say to my new team. The company had recently completed an integration following M&A activity, and I could empathize with the uncertainty that many of them must have felt.
For this initial meeting, I chose to focus on one of my most closely held beliefs about how to make a positive impact. "It's all about We, not Me!" Many readers may already know this, but this is a core management tenet I urge all new and aspiring leaders to adopt.
In IT, a lot of focus is placed on understanding the business, and technical and functional skills. What is often missing is an emphasis on the "soft skills" essential to being an effective leader.
These soft skills can't be taught in a classroom and can only be learned through experience if one is lucky enough to receive quality leadership training and coaching. I have been lucky enough to have had that through my work experience at McKinsey and Pfizer.
While the list of critical "soft skills" for the CIO is long, these three have already fostered quality teamwork and created business impact in my short time here:
Caring
Vision and purpose
Courage
When I joined Amneal I knew that my efforts would not be successful unless the team believed that I truly cared. Secondly, before we could begin to think about technological innovation, the team would need a unifying purpose. And the third thing I knew was that I would have to have the courage to call out undesirable behaviors when I saw them.
Caring
On my first day, I met with one-on-one my direct reports to get to know each of their backgrounds, responsibilities, and top projects. That's pretty typical for a new manager, but in each of these meetings, I asked about their professional interests. I genuinely care about their growth aspirations and I wanted them to know this.
Vision and purpose
Next, I met with most members of the executive leadership team, followed by visits to each of our manufacturing and distribution facilities to meet with the IT staff and business leaders. At each of these meetings, in addition to discussing priorities and goals, I asked for feedback on IT's performance, and what they believed the purpose of IT at Amneal should be.
After the first few conversations, a purpose for IT began to emerge. Then, with every subsequent meeting, whether it was a group meeting or one-on-one, I asked for feedback on the purpose that was emerging from prior conversations, and listened carefully.
We pulled the entire IT team together for a two-hour virtual workshop to play back what we had heard and present three options for them to mold into a group purpose. To ensure a mix of opinions, we broke the group into cross-functional sub-teams. Our HR business partner, the CFO, and Manager of IT Communications played key roles as facilitators.
As the session went on, one thing was evident. The first month of conversations had opened the team up. People felt comfortable expressing themselves and were willing to consider and accept ideas other than their own. They began building on one another's ideas.
Then, something unexpected happened.
I had expected the team to reach a consensus and select one of the three purpose options that had emerged from the virtual workshop. But they came up with something totally different. It wasn't only a "purpose", but something even more useful because it represented a shared mission that they had co-created - TEAM IT: Together, Everyone Achieves More Inspiration and Transformation.
One team member was so motivated by the session that he created a graphic for our new slogan. By the next day, most team members had pinned printouts of the new slogan on their cubicles.
Later, I realized why they didn't simply select one of the purpose options from the list during the workshop. Due to the inclusive process we had followed, the team was ready to adopt any one of them.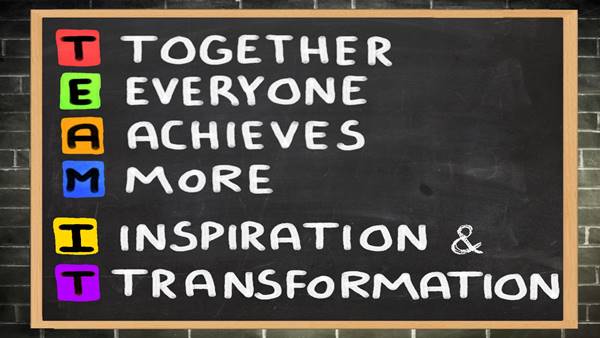 Courage
Integration following a merger or an acquisition can often be difficult. Introducing new people, processes and ideas can sometimes create insecurities and fractures within a team. So, it shouldn't have come as a surprise to sometimes hear teammates blaming each other when things went wrong. We also heard some teams speaking condescendingly about other teams' capabilities.
The only way to deal with such situations was to send a clear message that they were totally unacceptable. I called people out, in group meetings and in our one-on-one's, when they used the word "they" or "them" to describe a problem. We stopped using the word "legacy" to describe the former company from which a team member came.
I pointed out to everyone the importance of changing their mindset from Me to We, and I can see that the results of this shift are measurably positive in just the seven months I have been here.
Here are just a few examples: The backlog of open items has decreased substantially, as has the time to resolve them. Our business partners have acknowledged how well TEAM IT supported the swift move to work-from-home in response to the Covid-19 pandemic. We deployed work-from-home workstations in record time, implemented Adobe e-signature, ramped up support for Microsoft Teams, and extended service desk coverage, all in less than a week.
Last, but certainly not least, we have brought several at-risk projects back on track, while successfully implementing a couple of high-impact new solutions in a very short timeframe.
We have more work to do and will continue growing together, but TEAM IT is well-positioned for the future.