Andy Rhodes, who joined UNICEF USA as its first CIO in April 2018, is the latest subject in our ongoing series, "How I Landed My CIO Job."
Top image courtesy of UNICEF


Steve Rovniak: Where were you working before you joined UNICEF USA?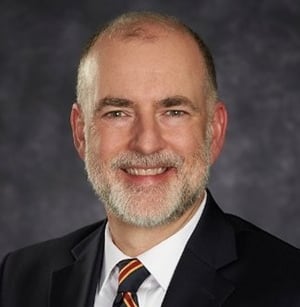 Andy Rhodes: I was in my 3rd year at the Unites States Golf Association (USGA), where I was their first-ever CIO. The USGA made a commitment to utilize technology to drive engagement and support the growth and enjoyment of the game, and it was a thrill to be leading that work.
How did you hear about the CIO opportunity at UNICEF USA?
A recruiter I had a relationship with asked me if I knew of anyone who may be interested in the UNICEF USA CIO position he was working on. I am always willing to point recruiters to people if I think the opportunity will help them advance their careers, and I believe that is an obligation that we have as CIOs. As my contact described the position over the phone, I realized that it appealed to me personally.
Why did this opportunity pique your interest?
First and foremost, I was impressed by UNICEF's mission - to advocate for children's rights and ensure they have the opportunity to reach their full potential. My wife and I have traveled around the world, and in doing so we have become aware of and in tune with the plight and challenges of different people. The opportunity to help resonated with me and was really appealing.
Also, this opportunity had a lot in common with a start-up. There had never been a CIO for UNICEF USA so I would be standing up new teams and a new technical infrastructure.
The fact that I would report to the CEO was also a big factor. The organization had just made a strategic decision to leverage digital and data technologies to engage supporters and deliver programs, and the CIO would be leading that transformation. I knew that having active support of the CEO would be critical.
Can you briefly describe UNICEF USA?
The United Nations Children's Fund (UNICEF) works in more than 190 countries and territories and has helped save millions of children's lives over the past 70 years by providing health care and immunizations, safe water and sanitation, nutrition, education, emergency relief and more. UNICEF USA, where I am the CIO, is UNICEF's presence in the United States. We work to support UNICEF's global mission through fundraising, advocacy and education.
This is an organization full of people totally committed to helping and empowering kids around the world. The entire staff is working for the good of the cause, and many have spent their whole careers in service-based roles. We may sometimes question what to do, or how best to do it, but we never have to question why we do it.
What was UNICEF USA looking for in their first CIO?
They wanted someone with a broad base of technology experience, including security and infrastructure, but most importantly, someone who had experience leveraging digital and data to drive stakeholder engagement and revenue growth. Our stakeholders include donors as well as advocates.
It was also evident that they were looking for someone fully committed to the cause. I feel fortunate to be a passionate world traveler, because it created a natural connection to the mission and it made a big difference for this role.
How did you prepare for your interviews?
I did a lot of reading on the humanitarian field, and a lot of networking to find people who work in humanitarian organizations. I talked to people who could help me better understand the organization, the motivations, critical success factors, and ultimately, what will make UNICEF USA successful. With that perspective, I was able to relate my own experiences as a CIO in other environments directly to UNICEF's goals and objectives during my interviews.
How did you prepare to start your new role?
I spent some time speaking with representatives from our key vendors to help me develop a full picture of the existing technology landscape and to formulate a framework of a plan to start with. I also connected with other CIOs in my network to get their advice and learn what worked and didn't work during their own on-boarding period.
Who do you report to?
As part of UNICEF USA's executive team, I report to the President and CEO.
What is the headcount in IT?
Currently, we have approximately 20 people, not counting contract and vendor resources. That will likely grow as we build new capabilities to support the organization's mission.
What steps did you take to to learn the business and build relationships?
The entire organization was incredibly gracious with their time as I asked a lot of questions - and still do! Additionally, I had two unique opportunities early on.
I was able to attend UNICEF's annual gathering of fundraising and program delivery experts from around the world, sharing best practices. For me that was a crash course on everything UNICEF does, and it taught me a lot about the depth and breadth of the organization. I learned a great deal and built relationships with people I have since followed up with.
The second great opportunity was joining a contingent of folks travelling to Bangladesh, to the Rohingya refugee camps in advance of the one-year anniversary of the exodus there. I was able to see first-hand the impact UNICEF has on people's lives. It was an incredibly powerful experience. I came back fired up to do everything I can to help the organization, and pass that energy on to my team.
What challenges did you face when you first arrived?
There were a number of good established processes in place when I arrived. There was, however, a lot to do to get ready for our fall fundraising campaigns, as the majority of our fundraising happens in the fourth quarter. When I arrived in April, it was approaching fundraising readiness time, as we had to have everything locked and loaded by September.
What have you been working on from a technical perspective?
I have been focusing on three things: stability, security, and scalability.
Given the importance of our fourth quarter, stability really matters as downtime can mean lost revenue, which can be measured by the minute in the last quarter. Security is critical because, if we were to have an incident, it could do serious damage to our credibility. And scalability is key because we see major spikes in resource utilization any time there is an emergency. Hurricane Maria in Puerto Rico, for example, drove a lot of interest in our mission and huge traffic to our digital properties. We have to be able to handle those rapid spikes.
Next, I am focusing on selecting the digital and data technology that we will use to attract our best supporters, and the organizational alignment that needs to happen to get the most out of the technology. The CIO role will be a catalyst for those changes and we have already made a lot of progress to-date.
What about changes to the IT organization?
I was fortunate to inherit a strong infrastructure and operations team and have been working to make sure they have the tools and skills to meet the demands of the new strategy. I am also standing up a new digital team and a new data team. There were pockets of those skills that existed in IT and in the lines of business, and we are organizing them into a cohesive unit while enhancing our capabilities through targeted hires and vendor support.
In your opinion, how has the role of the CIO changed in recent years?
The CIO role has become more broker than builder. Previously, we would install, build or create technology. Now we acquire it and put it together. Our job is as much about being a broker for those conversations and an integrator of those systems.
It is a relationship-building role more than ever. You have to find champions in the business lines willing to work with you and help drive the operational changes the technologies will require. A high predictor of success for any initiative is whether I have a true partner from the business standing beside me as we make important decisions.
What do you feel is an important new CIO competency?
In addition to being able to build partnerships, business skills are really important – like a deep understanding of sales and marketing, corporate finance, product manufacturing and distribution. You need an ability to understand the lines of business at a deep level in order to craft solutions that will help them succeed.
In this market, what is the key to retaining top IT talent?
One thing that is universal for non-profits - or any company really - is that you have to give your staff opportunities to learn and grow and feel connected to the mission. People like to be challenged and rewarded with new opportunities when they succeed. And they like to know that their work is important to the organization's success. Additionally, I feel we have to give people opportunities to try their hands on the latest and greatest technology, and the space to experiment with it if we can.
How do you know when your IT organization is succeeding?
I will know we are succeeding when we have built a track record of success and enough trust with our business partners so that they consult us as soon as they are thinking about a new technology solution. I'll know that we are sustaining that success when we are bringing ideas to them.
What new technologies do you find exciting personally?
I am a data geek. I love using products that help me discover patterns and tell stories with data. Data visualization tools are really exciting and have a lot of applicability in business, and I don't think we've even scratched the surface. I am really intrigued by AI and machine learning to better serve our mission. For example, UNICEF is exploring the use of drones for delivery of products to hard-to-get locations. Cryptocurrency may be a way to get funds to and from places in a transparent way where geopolitical or other challenges exist.
What is your favorite place to travel?
As I mentioned, my wife and I have traveled all over the globe, and we seldom go back to the same place more than once. But Southeast Asia is a place we return to because of the natural beauty there, and the genuine nature and kindness of the people. We've been invited into people's homes for tea or for a meal, and their warmth and generosity is something we always think back on fondly.
Do you have an airport vice?
I am a sucker for a McDonald's vanilla milkshake. The only time I indulge that craving is when I am at an airport waiting for a flight.
What advice do you have for an IT executive thinking about entering the job market?
Make a list of the things that are important to you and always refer back to that list as you evaluate opportunities. You likely won't get everything on your list, but the closer you get, the higher the likelihood of you landing in a good spot.
About Andy Rhodes
Andy Rhodes is Chief Information Officer of UNICEF USA. He has had a 30-year career as an IT leader, including roles at the United States Golf Association, Publicis and Mattel, plus consulting work with Nike, Victorinox, Singapore Airlines and Estée Lauder. Rhodes earned a BS in Information Systems and Economics from the University of Pittsburgh.