Once again, technology and business executives in the Heller Search community have contributed to help us recommend the very best books!
Thank you for your recommendations! If your submission doesn't appear below, it means the title has already appeared on a previous list. Enjoy!
(Listed alphabetically by author's last name. Titles link to Amazon.com page for the book.)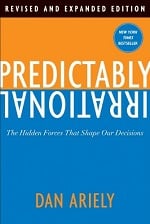 Predictably Irrational: The Hidden Forces That Shape Our Decisions
by Dan Ariely
Recommended by Deepak Seth
"This is an old favorite which I keep revisiting. As technologists, we often assume that everyone makes smart, rational decisions (the same way we'd like to believe we do ourselves). But reality is a bit (or a lot) warped. Dan sheds light on how humans consistently overpay, underestimate, and procrastinate. However, he establishes that these misguided behaviors are systematic and predictable, making them predictably irrational. Knowing about these predictably irrational behaviors (which you'll get from bosses, peers, employees, vendors, etc.) makes IT leaders better informed and equipped to respond to them."
Loonshots: How to Nurture the Crazy Ideas That Win Wars, Cure Diseases, and Transform Industries
by Safi Bahcall
Recommended by Gary Hoke
"I found this book to be quite inspirational in that it provides historical examples of what many deemed unrealistic ideas at the time, but which came to fruition through persistence, lessons learned through failure, and sometimes a little luck along the way. In today's complex technology organizations, some ideas are quickly dismissed without the depth of analysis that their potential outcomes may warrant. This book highlights the need to be more open-minded and iteratively focused on ideation to overcome small hurdles in the quest to achieve big goals."
Inside the Box: A Proven System of Creativity for Breakthrough Results
by Drew Boyd and Jacob Goldenberg
Recommended by Pradeep Chankarachan
"Inside the Box provides a unique approach to Systematic Incentive Thinking (SIT). This is a practical method that makes everyone in the organization part of the transformation. In a world filled with assumptions and constraints, the book helps to break the legacy myths and leapfrog. The real life examples of how Fortune 500 companies use SIT give you a structure for a successful future. The book is out-of-the-box!"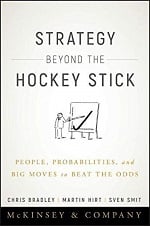 Strategy Beyond the Hockey Stick: People, Probabilities, and Big Moves to Beat the Odds
by Chris Bradley, Martin Hirt, and Sven Smit
Recommended by Brad Whitehall
"Provides data to help an organization realize that it must think about larger initiatives, and why incrementalism is a path to demise."
The Starfish and the Spider: The Unstoppable Power of Leaderless Organizations
by Ori Brafman and Rod A. Beckstrom
Recommended by Cindy Leavitt
"Who is the president of the internet? This is just one question in this fascinating book about how leaderless organization and structures are part of our current business environment. Very thought-provoking and interesting."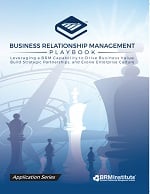 Business Relationship Management: BRM Playbook
by Business Relationship Management Institute
Recommended by Anonymous
"Business leaders and aspiring relationship gurus take note; the BRM Playbook contains answers to every organization's most pressing questions! Want to understand how to get IT, HR, and Finance to function as co-leaders while achieving a clearly defined organizational purpose? Read this book!"
Atomic Habits: An Easy & Proven Way to Build Good Habits & Break Bad Ones
by James Clear
Recommended by Sanjeev Agarwalla
"I have read many books that talk about tips and tricks, but I found this book really helped me cultivate good habits and remove a few bad ones."
Recommended by Craig Williams
"It's all about playing the long game but making small incremental changes to improve yourself and your life. Great examples and a very practical guide."
The Manager's Path: A Guide for Tech Leaders Navigating Growth and Change
by Camille Fournier
Recommended by Gustavo Saraiva
"I highly recommend it for anyone interested in technical leadership at any level."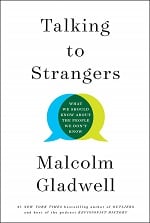 Talking to Strangers: What We Should Know about the People We Don't Know
by Malcolm Gladwell
Recommended by Earl Newsome
"We all have to talk to strangers, and we are not good at it. This book gives you clues on how to be better at it."
Recommended by Ty Tastepe
"Continuing in his tradition of using remarkable real world examples, Gladwell shows how we can misinterpret what we hear, suggests that we should challenge our assumptions, and provides advice on getting to know others better."
What Got You Here Won't Get You There: How Successful People Become Even More Successful
by Marshall Goldsmith and Mark Reiter
Recommended by Ed Portolese
"Excellent book on how to transition from individual contributor or manager to leader. Real life stories from someone who coaches executives you've heard of and some you haven't."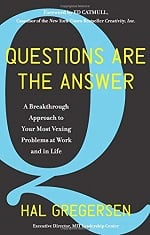 Questions Are the Answer: A Breakthrough Approach to Your Most Vexing Problems at Work and in Life
by Hal Gregersen and Ed Catmull
Recommended by Maryfran Johnson
"This book presents an effective, easy to learn "question burst" method developed by the author (an MIT professor) to reframe some of the biggest questions and concerns in both professional and personal life."
High Output Management
by Andrew S. Grove
Recommended by Gustavo Saraiva
"A legendary book."
The Savior Generals: How Five Great Commanders Saved Wars That Were Lost - From Ancient Greece to Iraq
by Victor Davis Hanson
Recommended by Joshua Jewett
"Hanson chronicles the indispensable value of personal leadership through an analysis of five military leaders who persevered against great odds to save their nations from almost certain defeat."
HBR's 10 Must Reads on Change Management
by Harvard Business Review, John P. Kotter, W. Chan Kim, and Renee A. Mauborgne
Recommended by Carmelo Antonio Cavaliere
"This is the best collection of articles about achieving change initiatives. It includes ten selected Harvard Business Review articles to help everyone spearhead change in their organization."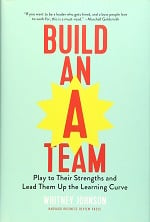 Build an A-Team: Play to Their Strengths and Lead Them Up the Learning Curve
by Whitney Johnson
Recommended by Geof Corb
"Whitney continues her Disrupt Yourself (also recommended) concepts in this book and applies them to teams. A great read."
The Inevitable: Understanding the 12 Technological Forces That Will Shape Our Future
by Kevin Kelly
Recommended by Earl Newsome
"A must read for people in technology. It gives you a way of looking at your business from 12 vantage points – and peering into the future a bit."
The Unicorn Project: A Novel About Developers, Digital Disruption, and Thriving in the Age of Data
by Gene Kim
Recommended by Sriram Iyer
"A great novel on digital transformation. I really enjoyed the book as it talks about developer productivity, scalable architectures, value of big data (the 'new oil'), and the need to reduce technical debt to become simple, nimble, and quick – all needed to succeed in the marketplace."
Technical Impact: Making Your Information Technology Effective, and Keeping It That Way
by Al Kuebler
Recommended by Vinod Krishnan
"A simple and well-written book that sums up a lot of informal knowledge that CIOs have, but in a way that even non-technical leaders would understand. A good book to give a stakeholder of IT to understand how the management view impacts IT."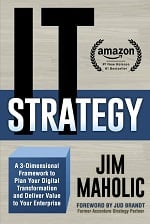 IT Strategy: A 3-Dimensional Framework to Plan Your Digital Transformation and Deliver Value to Your Enterprise
by Jim Maholic
Recommended by Anonymous
"Excellent, thorough approach to IT strategy from current state to digitally transformed future state."
Building a Story Brand: Clarify Your Message So Customers Will Listen
by Donald Miller
Recommended by Russell Stalters
"Even though this is a marketing book, it is valuable for IT leaders to sell their ideas and initiatives, and to influence stakeholders. Often IT leaders struggle to get their team on the same page or to market the change necessary in an organization when implementing digital transformation. This book can help IT leaders create compelling messaging that focuses on the benefits to the organization and stakeholders."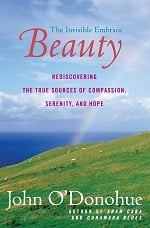 Beauty: The Invisible Embrace
by John O'Donohue
Recommended by Alex Shegda
"Leading a transformation requires us to model the work of transforming. With leaders' increased attention on mindfulness and mental well-being, John's book invites leaders to be present to the small and seemingly unnoticeable moments of beauty that surround us."
Building the Bridge As You Walk On It: A Guide for Leading Change
by Robert E. Quinn
Recommended by Drew Saur
"There are all sorts of books about agile thinking, but most of them are purpose-built and don't seem timeless. This book conveys why it's hard – and critical – to lead through agility, without espousing any particular framework. It is timeless, and it's a must-read for anyone interested in the importance of agility as a key leadership strength."
Designed for Digital: How to Architect Your Business for Sustained Success
by Jeanne W. Ross, Cynthia M. Beath, and Martin Mocker
Recommended by Vipin Jain
"Designed for Digital offers practical advice on digital transformation, with examples that include Amazon, BNY Mellon, DBS Bank, LEGO, Philips, Schneider Electric, USAA, and many other global organizations. Drawing on five years of research and in-depth case studies, the book is an essential guide for companies that want to disrupt rather than be disrupted in the new digital landscape."
Recommended by Venkata Modugula
"Strategy for digital transformation and how IT can play a role."
Leading from Your Best Self: Develop Executive Poise, Presence, and Influence to Maximize Your Potential
by Rob Salafia
Recommended by Matthew Taylor
"Understanding why storytelling is important is one thing. Learning how to do this, particularly through real world examples, is another. Built on his foundation as a performing artist for decades, Rob has parlayed this experience into helping leaders enhance their executive presence and dramatically improve their storytelling abilities."
Trillion Dollar Coach: The Leadership Playbook of Silicon Valley's Bill Campbell
by Eric Schmidt, Jonathan Rosenberg, and Alan Eagle
Recommended by Ed Aractingi
"This book provides various tips and advice inspired by Bill Campbell's visionary principles when he coached dozens of Silicon Valley executives and tech leaders. His mentees include Steve Jobs, Brad Smith, Larry Page, and others who used his guidance to run their businesses. Some of them are quoted in the book through interviews about his coaching style. You will find many valuable lessons and plenty of opportunities to apply principles to your organization, as I have learned reading this book."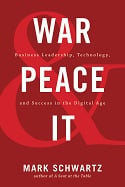 War and Peace and IT: Business Leadership, Technology, and Success in the Digital Age
by Mark Schwartz
Recommended by Jeetendra Kumar
"Breaks down the walls between IT and business. My view is that IT is part of the business. The author does a great job describing the role IT plays in driving the growth of the business and the increased collaboration needed between the functions."
Radical Candor: Be a Kick-Ass Boss Without Losing Your Humanity
by Kim Scott
Recommended by Geof Corb
"A delightful read filled with real world experiences to support a really thoughtful approach to modern management."
The Optimism Bias: A Tour of the Irrationally Positive Brain
by Tali Sharot
Recommended by Earl Newsome
"An amazing book that looks into the brain and how it functions; you are not in control as much as you think. A great complementary read for Talking with Strangers."
Digital Transformation: Survive and Thrive in an Era of Mass Extinction
by Thomas M. Siebel
Recommended by Anupam Khare
"This book skillfully describes the new technologies that every CIO must understand to gain confidence to ask the right questions and drive change that delivers both short-term results and long-term competitive advantage."
Alchemy: The Dark Art and Curious Science of Creating Magic in Brands, Business, and Life
by Rory Sutherland
Recommended by John Spade
"Great book to challenge your thinking on why people make decisions to purchase products or services (or make almost any decision). Do you brush your teeth because you want to practice good hygiene or because you don't want people to smell your bad breath? Favorite quote: 'A flower is a weed with an advertising budget.'"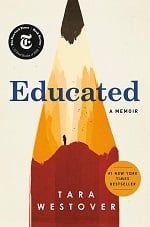 Educated: A Memoir
by Tara Westover
Recommended by Mark Wiseley
"While I can't say that there is a ton of great information in this book, it is very entertaining. What makes it such a great book is that it is based on the author's real life. Reading this book and listening to what she went through growing up and what she has accomplished is simply amazing. This book can be a bit graphic at times, but it is very entertaining."
Radical Focus: Achieving Your Most Important Goals with Objectives and Key Results
by Christina R. Wodtke
Recommended by Eric Schvimmer
"This book provides thorough description and guidance on the use and implementation of OKRs to drive business results. Written in the same fashion as Inspire by Marty Cagan (who is a contributor to this effort), this book is a must read for anyone involved in managing an organization."
See the 2019 CIO Recommended Reading list.