Fortive CIO Victor Fetter is featured in the latest installment of our career series, 'How I Landed My CIO Job.'
Steve Rovniak: How did you get your career start in technology?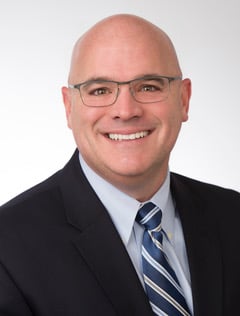 Victor Fetter: I started my career at EDS (Electronic Data Systems). While my role was technical in nature, I enjoyed a diversity of assignments and the opportunity to impact large organizations. Through those experiences, I discovered strengths that I didn't know I had, leadership and strategic thinking skills that propelled me into senior roles that were really about driving business transformation.
Later I joined Dell, which offered me a broad-based opportunity to hone these skills in the context of scale and global reach. It was there that I shaped my own 'blueprint' for guiding organizations through digital transformation.
How did the CIO opportunity at Fortive come about?
In 2019, I had left my Chief Digital Officer role at Vertiv, and I actually thought I was going to retire and enjoy some time off. But I quickly realized that that really wasn't for me—at least not yet. I heard about the Fortive CIO role through a search firm, who knew about me as a result of networking with them. Networking and mentoring are an ongoing thing for me. When you regularly give back to others and are willing to coach, mentor and share ideas, that creates visibility into a broader set of opportunities. That is the 'network effect', if you'll pardon the phrase. You have more exposure to what's out there. You get to hear what some companies are doing and you may find yourself attracted to those companies.
What were you looking for in your next job or CIO role?
There were three things on my list, and they had nothing to do with industry or geography.
First and foremost was the people. I wanted to work with people that I could learn from and have fun with. And I wanted to have people in the leadership suite that had a mutual respect for each other and were on a mission together.
The second one is culture—the heartbeat of the company. I wanted to understand how they respond and support customers in their journeys. What are they doing in the marketplace at large? How do they support colleagues in what they do? And, what are the processes and the systems that they embrace?
And third, I wanted an organization that appreciated innovation—practical innovation; innovation that drives transformative change for customers. When I looked at all of Fortive's operating companies, I saw that each of them has their own expertise, their own spark of imagination with which they're driving results and marketplace change. For me that was exciting.
About Fortive
Fortive Corporation is a provider of essential technologies for connected workflow solutions across a range of markets. Their business segments—Intelligent Operating Solutions, Precision Technologies, and Advanced Healthcare Solutions—include well-known brands that design, develop, service, manufacture, and market professional and engineered products, software, and services for a variety of markets. A $4.6B public company, Fortive operates in more than 50 countries across North America, Asia Pacific, Europe, and Latin America.
What

was Fortive

looking for in their new CIO?
There was recognition that technology is now front and center to the evolution of great organizations – digitization, bringing new solutions to customers, new SaaS platforms, the use of data, AI and machine learning. Fortive wanted to dive in, build on the strength of their portfolio and become a leading software player, and scale it. They wanted to leverage their understanding of IoT and harness the power and value of data to deliver customer value. So they were looking for a change agent—someone who's experienced in driving change and using technology in unique ways.
What else attracted you to the role at Fortive?
A key to the Fortive opportunity was a desire for partnership with the operating companies to drive change. That is something that is unique about my role. Many of our companies have CIOs or strong IT executives leading innovation and change for their company.
Rather than having my own large team, I have partnerships with a portfolio of companies. I am a partner to those CIOs, and the presidents of those companies, and I serve as counselor to them. Together, we are on a quest to add value.
Fortive isn't about 'command and control', but rather innovation and value delivery. The position presented an opportunity to be a collaborator, a source of inspiration for the operating companies, somebody who could drive change while respecting the unique differences of every operating company and the customers they serve.
As the enterprise CIO for an organization that has strong business units with their own

IT leaders

, what is different about the role

? W

hat skills and talents do you need to call on different

ly

?
I spent a lot of time thinking about this before I joined Fortive. It's about leading through influence. It's about leading through collaboration. It's about respecting the ideas of others, and at the same time, how you find sources of value in that model.
All the operating companies have their own strategies designed to meet their unique market needs. However, through a partnership with them, we can quickly identify opportunities to leverage their learnings and opportunities for value creation.
What's also different about this type of CIO role is that you don't come in as the leader and say, "Tomorrow, we're doing X." It's about bringing the community together to define the strategy and approach.
When did you join Fortive?
January of 2020
W

ho do you report to?
Fortive's CEO.
What have you been able accomplish so far?
The pandemic was a powerful moment for us as a technology organization, across all of our operating companies, in that it propelled us into this world where we needed to collaborate across operating companies and support hybrid working models. The pandemic gave us the opportunity to become stronger as one virtual technology team, enabling nearly 20,000 colleagues. That was significant in terms of the culture change and the shift of how we think about technology delivery across borders. So that is number one.
Number two is about leaving a talent legacy. As you think about how the operating companies can drive different value to the customer, there is a shift. One becomes less focused on basic compute, and more focused on what is done to enable digital transformation. Our leaders continue to embrace the opportunity to deliver transformative outcomes through technology. In addition to many tenured and experienced technologist at Fortive, we've also expanded our team with individuals who bring outside-in thinking, who challenge us to change how we work, and expand our capabilities. I would argue that every CIO needs to have this as a charter--to leave a technology talent legacy.
Finally, like many organizations, we have made progress in building a scalable delivery platform. From how we think about utilizing the cloud, securing our assets, leveraging our data, and modernizing our client experiences, to name a few, we've made progress on this journey of adaptability. This investment will provide for greater agility as change continues.
Where else has technology enabled innovation?
Through our continuous improvement culture , which we call Fortive Business System (FBS), we continue to innovate. Staying ahead in the marketplace requires continued innovation and we thrive on learning and innovating. For example, during the early days of COVID, our team at Fluke converted their plastic facilities to produce face shields in less than three weeks. Setra Systems quickly built the AIIR Watch negative pressure machine, which uses ultraviolet light and HEPA filters to remove airborne contaminants, including coronavirus. We've enhanced employee workflows through our offerings at Accruent, enhanced our oscilloscopes offered through Tektronix, and even participated in the Mars rover launch.
You've mentioned IT talent. In a tight market, what

is the key to attracting and retaining top

team members

?
I believe it all starts with being an authentic leader. I can't pretend to be somebody I'm not. Whether people are reading what I post on LinkedIn or Twitter, or interviewing with me for a job, that's first and foremost. Candidates want to work for somebody as much as they want to work for some company. Being authentic is key.
Next is that you've got to find people who have the passion for the problems you're trying to solve. I'm not trying to fill a role with somebody who checks all the boxes. I want somebody who is eager and excited about what we need to accomplish together. I am looking for passion!
The third key to building a great team, is getting out there, networking, talking, mentoring, and just connecting. You've got to be willing to go out there, be vulnerable and shake the tree, and have conversations to see what is taking place around us.
Part of my talent legacy is that I want to create a pipeline of great technology professionals. In our business model, we do a lot of acquisitions and those acquisitions often come with needs for great talent. So I have to create a pipeline of potential candidates who may want to join the Fortive team and contribute in different ways.
How do you know when your IT organization is succeeding?
The Fortive Business System is the cornerstone of our culture and competitive advantage. As such, we embrace continuous improvement. One way to do this is 'going to Gemba', or in Lean and Kaizen terms, showing up at the 'real place' where the work is happening. Doing this, coupled with daily stand-ups and a strong metrics-based program, enables a clear understanding of progress.
On my team, we like to "embrace the red." Most companies have their heat maps with red, yellow, green, and I've been in organizations where if something wasn't green, you get beaten down until you're compelled to change the color.
My team isn't like that. We want to see the red because the red allows us to mobilize to get things back on track. It allows us to come together to solve whatever the challenge might be. This culture allows us to be even more successful in the attainment of our goals and objectives.
That is the quantitative way of measuring progress. The other way we know we are succeeding is qualitative. We listen. We go around and we ask, "How can we help? What do you need us to do today? Where can we add value?" When we bring these together, we're able to get a pretty good view on how well we're serving our customers, both internally and externally.
You're an angel investor?
Yes, I am part of an angel investor network. Through this forum I have the privilege of seeing some fantastic ideas come through, by some great entrepreneurs. For me, that's been a lot of fun. The diversity of ideas and using technology in different ways, it opens my eyes every day.
Besides the promising business idea, what you are looking for in those entrepreneurs?
When I first got into it, I was trying to be smart. I was thinking I need to fully understand the financials and the market, and that was heavy on my mind as I looked to make investments.
However, what I've learned from doing this for several years—which, in hindsight, I should have known—is that it's really about the team and their passion. Whether it's the CEO, founder, CTO who is doing the pitch, if I don't see the spark in their eye, if they're not communicating, "Hey look, we're doing this and we're gonna go make an impact with or without you,"—if they're not conveying that, if they're not showing that passion for what they're doing, I'm out. I don't care what the project is; it's about passion.
And, frankly, I expect my own team to bring that same passion. If we can't wake up every day and have fun and be excited about what we are doing, well then, all we're doing is a 9-to-5 job, and who wants to do that?
As a career mentor, what some advice you find yourself giving repeatedly to rising IT leaders?
First, be very clear about what you want to do. Second is be very clear in the articulation of what you've done so that the reader of your resume, can say, "I want that. I want one of those."
I had a mentoring session recently and I was looking at a resume, and this guy had everything but the kitchen sink on it. I said, "You are a great Swiss Army knife. You have this fabulous experience. Blades are sharp, multifunctional, I get it."
But companies don't hire Swiss Army knives. They go to market with specific talent needs. "I need somebody who has done X. Someone who has driven digital transformation. They have secured the environment. They have leveraged the hybrid scalable compute environment."
Candidates get it wrong by thinking they've got to put everything in their resume, and I think it actually dilutes who they are. Shrink it down to the most basic view of who you are so that when someone reads it, they say, "I want that."
About Victor Fetter
Victor Fetter (@VPFetter) is Chief Information Officer of Fortive, an industrial technology company, where he partners with the portfolio companies to develop the platforms of the future and deploy digital capabilities. Prior to Fortive, Fetter was Chief Digital Officer of Vertiv, a private-equity backed provider of critical infrastructure. Prior to Vertiv, he was Chief Information Officer at LPL Financial. Fetter holds a BS in Computer Information Systems and Business Administration from Spring Hill College. He currently serves on a number of advisory boards member and is a member of the National Association of Corporate Directors (NACD).