Rebecca Maffei recalls how reflection and self-assessment led to her new CIO role at re-commerce company FASHIONPHILE.
Last year, I found myself wanting to pivot in my career. I was seeking a new challenge and continued personal growth. To make the right next step, it was critical for me to examine my key drivers through a self-assessment journey.
The goal was to validate my purpose by identifying the type of opportunity I wanted to attract, reaffirming the value I create, and the job I needed in order to be my best self. Through the support of my executive coach, my network and family, along with the courage and confidence to change, I started my journey.
Career Stage and Focus.

I validated the widely published research about career phases and focus. Entering into the later career phase, I am indeed focused on mentorship, empowerment and sponsorship. I have a desire to give back by growing others as my mentors have done for me. The ability to connect more deeply with peers as a strategic partner, share my technology and leadership experiences, set achievable strategies to help a company be successful, and make a difference every day are all important. These foundational elements reaffirmed my purpose.





Life Balance

. My Executive coach challenged me to update my Wheel of Life. The

Wheel of Life

is a powerful visual tool that allows you to assess your total balance across career, finances, health, family, fun and spirituality. To be high performing at my next opportunity, I needed to ensure my wheel would be balanced and that my deal breakers were well understood. For example, relocating or being a road warrior would not strike a balance on my wheel.
Role and Industry.

I continue to be fascinated by technology and all the processes and policies that are required to use technology for good. I was certain I wanted to stay in technology in a CIO leadership role. I have been working in omni-channel retail almost my entire career in roles such as technology consultant, developer, QA analyst, program manager, application development leader, and executive in the fashion/apparel/footwear, musical instruments, and pet supply industries. I wanted to leverage my experience but also challenge myself to learn and discover new applications for technology.
Company Size.

I had spent most of my career in large market businesses with $2 billion or more in revenue. By networking and some consulting opportunities, I found small and mid-market businesses to be very interesting, and they offered some attractive new ways of working, including:

Opportunity to have a seat at the table and more input into company strategy

Ability to mentor and grow deeper relationships on a smaller team

Solve more problems yourself and not being forced to solve problems you don't have

More room for creative thinking, brainstorm and innovative problem solving with intimate groups

Bigger daily impact from decision making



Mission, Vision and Values.

It was important to me to align with a company that is rooted in the circular economy to minimize waste, focus on sustainability and has a strong moral compass in both operations and the team.
Related article:
By Rebecca Maffei
Once I understood my key success drivers and my balance on the wheel, I rewrote my personal brand statement. Personal brand statements are critical to marketing yourself and a good reminder to yourself about your uniqueness and the value you can create for a company. The brand statement should be concise to showcase your experience, skills and passion. I updated my resume and my Linkedin profile and continued to share my desires with my network all to ensure I was attracting the right opportunities.
In the Fall of 2022, I was approached by an executive recruiter for a CIO opportunity at FASHIONPHILE, a local ultra-luxury re-commerce brand. After a thorough interview process and learning more about re-commerce, I joined the team. I was intrigued by the business model because FASHIONPHILE isn't a traditional retailer. Founded in 1999, FASHIONPHILE was the very first ultra-luxury re-commerce brand of its kind. Now, after more than 23 years, the company has become the country's largest resale platform for buying and selling ultra-luxury, pre-owned accessories including Chanel, Hermès, Gucci, and Louis Vuitton. FASHIONPHILE's tagline – "Shop. Sell. Repeat." – is all about circularity and extending the lifecycle of these items.
There are unique challenges and customer needs that are addressed by innovative technology to ensure the authenticity of our products and to create a trusted, personalized luxury experience.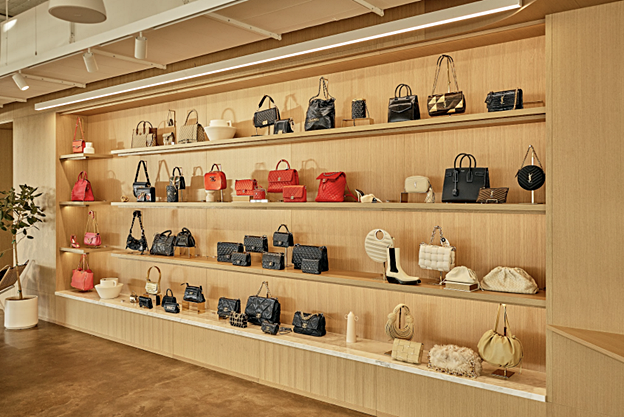 I am learning that regardless of company size, the core fundamentals of running a profitable business are the same - culture, growth/money management, obsession over the customer, and overall efficiency in operations. The scale, magnitude and way you solve challenges to build your strategy will be tailored to the size of the business.
As I immerse myself in the fascinating world of re-commerce, innovation of omnichannel technology, and the importance of being a mentor, leader and strategic partner, I look back with gratitude for my courage to pivot in my career.