How I Landed My CIO Job: In New Jersey Transit, Lookman Fazal saw the chance to improve lives and give back to the state he loves.
Steve Rovniak: Where were you working before you joined NJ TRANSIT as Chief Information and Digital Officer?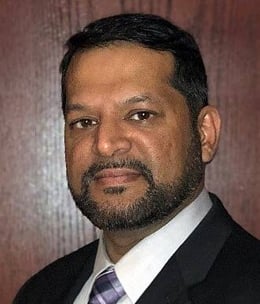 Lookman Fazal: I was the CIO for Argo Turboserve Corporation, a supply chain company in New Jersey. ATC was a global, privately held company that sold parts and services to highly regulated industries like airlines, nuclear, government, oil, and gas. I was with the company for five years until we divested the company and spun it off.
How did you hear about the opportunity at NJ TRANSIT?
It came in an interesting way. I had built up an excellent team with some very talented people at ATC. As I was involved in the spinoff and knew well in advance that this will end, I started reaching out to my network of contacts on behalf of my team, saying, "Listen, this is a really great member of my team, his or her job will be going away as the result of a spinoff, so here is your opportunity to get them, here is the LinkedIn profile, and I can personally vouch for the quality of their work," and so on.
Well, this recruiter at an executive search firm remembered that about me. It stuck in his mind that I am a people person and recognize talent. Then later on, when they were working on this position, and the leadership requirements, they thought of me and they called me.
Why did this opportunity pique your interest?
I had always worked in B2B industry, but I started thinking that perhaps I would be happier working in an industry where I can see my work impacting people's lives on a daily basis. I thought about healthcare, the non-profit space, education. I have been a professor for many years, and I really like teaching. These are all industries where you can give back. NJ TRANSIT, of course, is in the public sector, and fit my criteria.
But I thought about this particular opportunity. New Jersey is the first state I came to when I first landed in the US. This is the only state where I've ever lived. I got my bachelor's degree here (Ramapo College), I did my master's here (Stevens Institute of Technology). I came from a poor background and now, you know, I have had great success with my career, my friends and family, and financial security. And in my mind, it's all thanks to New Jersey.
So it's the chance to give back by impacting the lives of our commuters. NJ TRANSIT provide more than 925,000 passenger trips each week day. I imagined impacting and changing the lives of New Jersey residents for the better, whether it's by saving them a few minutes of precious time every day by providing more accurate alerts, or converting their commute from a journey into an experience. That was powerful for me and the driving factor that led to me accept this job.
Were either you or NJ TRANSIT concerned over your lack of experience with public transportation or the public sector?
NJ TRANSIT was focused on hiring the right leader, I don't believe it mattered to them. It was about transformation and a drive to bring in more of a private sector mindset into the public sector, getting the best of both worlds. They were looking for a change agent.
How do you think like a change agent in this job every day?
I try to approach everything from the perspective of the customer. I call it Human to Human (H2H). What are they facing? That Monday morning ride to work, that experience they go through. It's all about changing our thinking. Companies usually fail if they think there is no competition and they are a monopoly. Competition is always there.
When you switch to a customer-first mindset, you think about how you provide the most value to customers and residents for the money they've invested in transportation.
Who do you report to?
I report to the CFO and I sit on the Executive Management Team. The previous CIO actually reported to the CEO, but the CEO had 22 direct reports, which is too many, so IT and several other functions were moved under the CFO. Usually, I don't like to report to a CFO but I'm very fortunate to have a CFO who's all about investment and getting us to the next level. He understands technology, how it is the differentiating factor, and he realizes that we are a business-to-consumer company.
What are your priorities in IT?
We have established three main goals, all of equal importance:
The first one is foundational technology: How do we move from a reactive organization to a proactive organization, from a firefighter to a fire marshal?
Number two is customer-facing technologies: How do we create that best customer experience? The tagline there is, "Moving them from a journey to an experience."
And the third area of focus is business technologies: How do we move the company ahead by 40 years when we have just five years to do it? So every one year of work must move us ahead by eight years.
You have been in the role for over one year. What have you and the team been working on?
There is a total of 38 initiatives identified, all of which fall into one of the three categories I just mentioned.
Some of the key projects we completed were remote workplace, converting the company into a distributed workforce, insourcing our Service Operations Center (SOC), and upgrading our networks.
On the customer facing work, we completed an On Time Performance dashboard, rolled out our new ticket vending machines with improved accessibility for customers with disabilities, upgraded our external and internal website using newer technologies, redeveloped the mobile app and created separate native versions for iPhone and Android to move closer to our contactless/touchless initiatives.
In July of last year, the revenue coming through the app exceeded paper revenue for the first time. 55 percent of our revenue now comes in digitally, 45 percent comes from paper-based purchases.
How else are you innovating with technology?
I come from an R&D background, so innovation is pretty key. This is because of my work at Bell Labs in my earlier career. We filed two patents, a first for NJ TRANSIT. They are in the areas of text-to-speech and our Alexa app.

Our year two theme in IT is innovation. It's also one of our five company goals. We recently created an innovation framework which helps us evaluate companies that provide technology solutions to solve a transit problem.
What are you working on in the area of talent development and upskilling?
We are building clear career paths for everyone in the IT organization. I now have four direct reports and each career path is aligned with those four vertical functions. I have a CTO of applications; a CTO of infrastructure and operations; a deputy CIO who manages the non-technical verticals like IT finance and PMO; and a CISO, the security track.
Because of these four verticals, people can choose the career track where they feel most comfortable. So if you have kept up on technology and you want to be a technical lead, you can be in one of the two CTO organizations. Others may want to move into a finance, admin, or PMO track. Now people can see that they have a path forward.
We are also recognizing and promoting our team members more, which is creating excitement in IT. Folks who had left IT and went to other business units are coming back to IT because they want to be part of this journey and the whole transformation.
Is "IT" the official department name?
Actually, there was a lot of confusion about this when I first came in. Some people called us I.S., and some people called us Office of Information Systems, or the Systems and Services Organization.

Officially, the name of organization is now "Office of Information and Digital Technology." That is now what it says in everyone's email signature. Conversationally, you still hear "I.T." because that is an industry standard, and we are fine with that.
In this competitive market, how do you attract and retain top technology talent, especially given your public sector compensation limitations?
We don't pay what financial services companies pay nor do we have a bonus program like them. We have to attract them other ways. Our benefits are the best, so from a total comp perspective we are pretty close, if you add it all up. Many join us to serve the public and to make our state proud. Many are looking for transformative work, stability, and a positive environment. Those benefits are priceless.
What new consumer technology do you find exciting personally?
All consumer mobile technology. I am always on my smartphone. Amazon, Google Drive, LinkedIn, YouTube are my most frequently used apps that I use at home. I'm very fascinated with how Amazon has taken over. Amazon is in the Business-to-Consumer space, too. They solved the problem of not knowing where your package is, and now give customers real-time information about exactly where a package is and when it will arrive. So even though I am using these apps as a consumer, because they are B2C, I am also thinking about what I can learn from them for NJ TRANSIT.
What advice do you have for an IT executive thinking about entering the job market?
For CIO jobs, make sure you have a brand going, that you are networking and connecting with the right people. Few CIO jobs are posted online. They will come either through the executive search firms or through contacts, connections and the brand that you have created. Let the recruiters come find you rather than you looking for them.
For myself, I want to have one article per quarter published. I am accepting speaking engagements. I am also accepting governing board positions, which help create that visibility.
About Lookman Fazal
Lookman Fazal is Chief Information and Digital Officer at NJ TRANSIT. Previously, he served as Chief Information Officer and Chief Information Security Officer at Argo Turboserve Corporation, and Senior Director of IT at Emblem Health. He earned a BS in computer science and mathematics from Ramapo College, NJ, and an MS in management from Stevens Institute of Technology, NJ.
About NJ TRANSIT
NJ TRANSIT is the nation's largest statewide public transportation system providing more than 925,000 weekday trips on 253 bus routes, three light rail lines, 12 commuter rail lines and through Access Link paratransit service. It is the third largest transit system in the country with 166 rail stations, 62 light rail stations and more than 19,000 bus stops linking major points in New Jersey, New York and Philadelphia.