Analysis of a recent poll by The Hackett Group explains why IT demand management is as challenging as ever, and while solutions exist, the path is far from clear.
Everyone knows that demand management in the Achille's Heel of technology organizations (IT). If you can't rationalize business demand for technology projects effectively, you fall behind schedule, deliver inferior output, add to stakeholders' negative impression of your team, and earn monikers like, "IT – Where great ideas go to die," or "IT – The department of 'No We Can't.'"
Nobody wants to see that happen. That's why it is painful to see the hypocrisy that taints efforts to improve demand management and could ultimately doom them. The Hackett Group fielded a poll on this topic in August, the second such poll we've run in the past four years. Analyzing the results, I came away with three rather gloomy conclusions:
The problem is as bad as ever
Everyone knows how to fix the problem but can't
The reason they can't is a hypocrisy that undermines even the best efforts
First, an assessment of the problem as it manifests today. The volume of technology portfolio projects (those that have objectives, deliverables, resources, estimates of hours, budget and schedule) has never been higher. It has grown an average of 17 percent over the past two years and is expected to increase 25 percent over the next two, according to our poll respondents. We know conclusively that fewer portfolio projects lead to substantially better project outcomes. Top performers in our poll are the 25 percent that had the highest percent of projects delivering anticipated value, as well as the highest rates of on-time, on-budget and to-spec project delivery. These companies reported 50 percent fewer projects in their pipelines per 1,000 end users supported. So, the bottom line is clear: Less delivers more.
It's not just numbers that boost improved outcomes, it's the quality and nature of the projects. Top performers have fewer enhancement-type projects to contend with, and more projects that are strategic in nature – 41 percent more according to the poll (see figure 1).
Figure 1: Percentage citing project vetting methods currently in use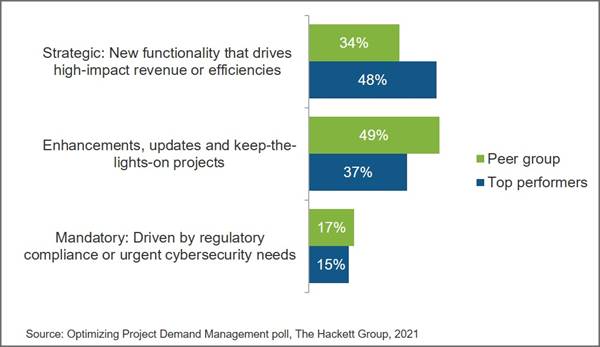 IT Project Vetting
In our 2018 demand management poll, respondents told us they were accepting 55 percent of project requests and rejecting or postponing the rest. That number has climbed to 64 percent of requests accepted in 2021. It's logical to attribute the increase to two factors – slightly more resources in the technology organization plus better – and more worthy – project requests.
We definitely see a shift in technology resources moving out of operational roles and into development or "build" roles. This shift is particularly true in technology functions that have effectively automated their core end-to-end processes with AI-augmented tools such as RPA and chatbots. In our latest benchmark study analysis, these "digital world-class" organizations increased their FTE allocation to development roles by a remarkable 21 percent.
But what about the "more worthy projects" hypothesis? Are project proposals getting better? That would mean that stakeholders are doing a better job aligning their need to strategic business goals and framing their requests in terms of strategy value. It would mean that technology leaders are being successful in raising the bar for project go-aheads, using business value and strategic alignment as a strict standard for project green lights. Well, it's nice to think that. But the facts don't seem to bear it out.
CIOs will tell you they must constantly push back on the flood of enhancements and update requests they get from stakeholders. They talk a good game when they say that business merit must be the standard for projects. Yet our poll results show that this is far from happening. Nearly 50 percent of portfolio projects are of the enhancement type. The majority of rejections are not due to lack of merit, but lack of capacity in the technology function.
Everyone says that business value and strategic alignment should be the gold standard for what commands and consumes technology's valuable time and resources. What's more, projects with enterprise value should be prioritized over those of value to only siloed parts of the business. Those expressions are hypocritical at worst and naïve at best. Our poll respondents, confident in our promise of anonymity, were brutally honest – the project approval criteria that carry the most weight in their organizations are those least associated with value.
Figure 2: Ranking of project vetting factors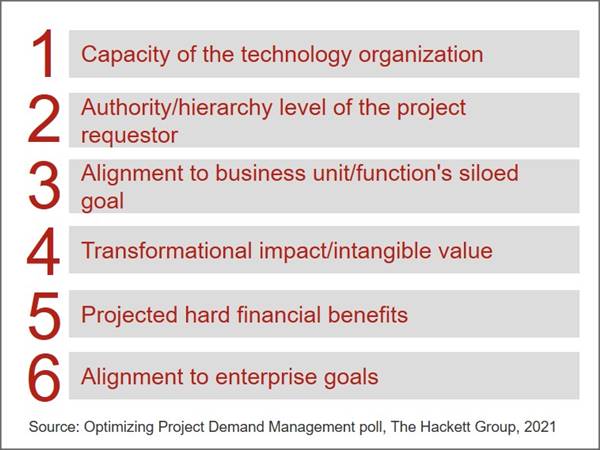 Why haven't technology functions moved beyond this subjugation to highly placed squeaky wheels? Why do they allow their work pipelines to be dominated by certain stakeholders? (I'm talking about you, finance department.) Why isn't enterprise value and strategic impact front-and-center, the common playbook for every business leader? Why aren't these folks doing what they say they do?
Here are a few uncomfortable reasons:
CIOs still don't have the clout that other C-suite officers command. I wish I didn't have to admit that. The CIO is routinely engaged in business strategy discussion and decisions in only 15 percent of the peer group (non-world class) companies we have benchmarked, and 28 percent say the CIO is rarely if ever engaged.


Technology organizations are often not great at measuring and communicating value. One-third of benchmarked functions have no stakeholder communication plan, system, or strategy whatever. Among our poll respondents, only 30 percent of projects were measured on their value achieved post-implementation (top performers measured 48 percent of their projects – still less than half). This is, of course, deplorable. And it deprives CIOs of the empirical evidence they need to bolster their cases to hold project requests to higher standards of value.


Governance isn't working. Project and portfolio governance should be a mechanism for rationalizing project demand because it gives decision-makers an established, standardized forum to examine stakeholder petitions and exercise judgement. But it just doesn't seem to improve demand management that much.
For example, governance sets the standards by which proposals are evaluated. That standard, we all hear repeatedly, should be first and foremost business value (and regulatory and security requirements of course). Yet, as shown in figure 3 below, value-based governance has only a moderate impact on improving demand management (albeit it tops all other tactics on the list).
Figure 3: Impacts of technique on demand management improvement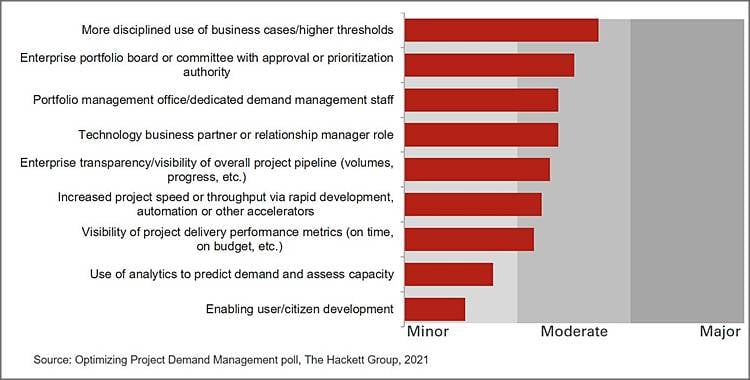 The second most effective technique is also governance – an enterprise portfolio oversight board. This too has had only a moderate improvement impact for poll respondents. With business factions equally represented in such committees, it is logical to think that enterprise value would prevail over parochial. But apparently, it doesn't always work that way. Fewer top performers trust portfolio oversight boards with primary demand responsibility, compared to peer group respondents. That says something right there.
But maybe these panels haven't been given enough of a chance. Board responsibility for demand management is only secondary among poll respondents, trailing technology organization leaders and business unit/function leaders, who are the most common primary decision makers. This could change, however. Board-level demand management is the only governance model that is predicted to increase by a majority of respondents, so stay tuned.
I know this is a lot. But one more aspect of governance and demand management has me disappointed. Fast-track governance, something we have hailed as essential for accelerating digital transformation, may be doing more harm than good. Less than one in four project top performers apply fast-track governance to project decisions, compared to 60 percent of the peer group. That's a pretty stark contrast. Good old-fashioned consistency and the rigor of proofs-of-concept seem to work better, based on their popularity among the top performers (see graph below). Could it be that fast-track governance is being used to circumvent rigorous vetting and standard diligence. Is it contributing to proliferation of non-strategic, lower-value projects? Would stakeholders stoop to exploiting the fast-track option to suit their own ends? Seems quite likely, doesn't it?
How to Optimize IT Project Demand
Let's end this on a constructive note, with a couple recommendations by our team for optimizing technology project demand. We know these efforts make a difference over time. But even so, technology and business unit leaders must get beyond the hypocrisy of value-based demand management and make real changes in how they develop, pitch, and judge project proposals.
If capacity is to remain the dominant factor in accepting, rejecting or postponing projects, then establish guidelines that favor strategic projects over enhancements and other nice-to-haves, and nuisance projects.


Monitor and report the allocation of portfolio capacity to different categories of projects – strategic, enhancement, mandatory, and keep-the-lights on. This visibility should help raise awareness of the need to push back on non-strategic project requests.


Expect demand to continue exceeding supply. To increase internal capacity without adding staff, it will be necessary to apply hyper-automation to the technology function's operational processes, allowing a shift of operational FTEs to development.


To meet the need for more project speed and responsiveness, modernize technology's operating and service delivery models with rapid, agile and DevOps methodologies, and strategic IT business relationship management.
Good luck, and keep those projects moving!